Communities across Colorado are working each and every day to become more livable for residents of all ages.
In support of that work, AARP is excited to be able to provide funding to organizations through the AARP Community Challenge, now in its third year. These "quick action" grants are being distributed to 159 organizations, with at least one in every state, Washington D.C, Puerto Rico and the U.S. Virgin Islands, including five right here in Colorado.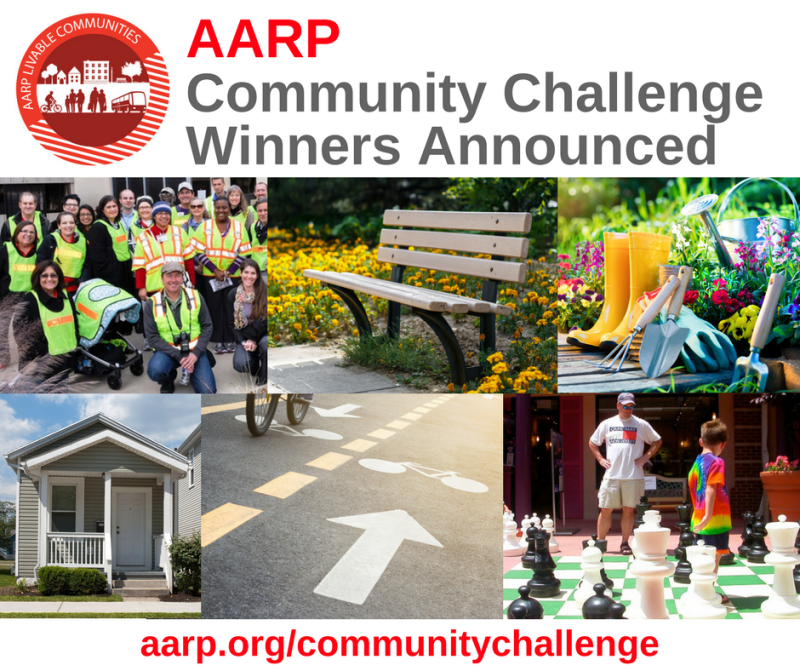 The Community Challenge grants fund innovative projects that can inspire change in areas such as transportation, open spaces, housing, smart cities and more. The Community Challenge is part of AARP's nationwide work on livable communities, which supports the efforts of neighborhoods, towns, cities and counties across the country to become great places for all residents. We believe that communities should provide safe, walkable streets; affordable and accessible housing and transportation options; access to needed services; and opportunities for residents to participate in community life.
After funding 217 projects between 2017 and 2018, AARP has increased its investment to nearly $1.6 million for 159 projects this year. Here in Colorado, we are excited about the work that the Community Challenge Grants are supporting this year, which include:

Intergenerational artists will beautify the town's main street by creating a series of unique artistic murals.
This project will enhance inter-generational engagement by improving the Discovery Garden with comfortable and safe walking trails and places to sit and enjoy the surroundings.
Electricity and lighting will be added to a pavilion in a public park frequently used for gatherings and events.
To activate a downtown park space that has been neglected and underutilized for many years, the city will host listening sessions with the community and install new seating and a fire pit.
An underutilized pocket park will be improved with new lighting, a "conversation circle" with tables and benches where residents can gather in a friendly social space, and other improvements to increase access for those with limited mobility issues.
"Our congratulations and thanks go out to all the grantees for the work they do to improve their local communities," said AARP Colorado State Director Bob Murphy. "So many communities will benefit from these grants and the fact that five are being awarded in Colorado communities is truly outstanding."
To learn more about the work being funded by the AARP Community Challenge both here in Colorado, as well as across the nation, visit aarp.org/CommunityChallenge. And to learn more about how AARP is working to make communities across Colorado and across the U.S. more livable for all residents, visit aarp.org/livable.