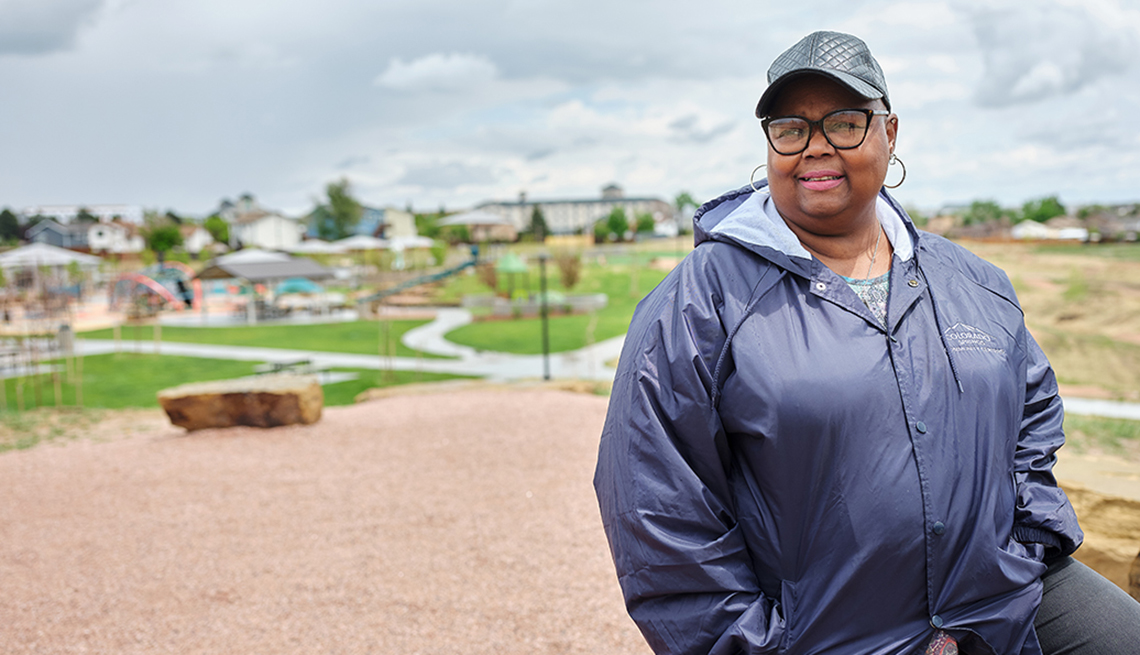 Over the decades, Panorama Park in southeast Colorado Springs fell into disrepair. Its 13.5 acres and limited number of amenities—a playground, small pavilion, baseball backstop and dirt parking lot—became overgrown with weeds and littered with broken glass.

"At some point, irrigation was shut off to the park, and to put it nicely, it went back to nature," says Jody Derington, a parks operations administrator for the city. "It became a hazard and an eyesore."

But today, hundreds of people flock to the park to enjoy its new walking paths, playground, sports field and other amenities. It reopened last August after an $8.5 million overhaul—the largest neighborhood park renovation in city history.

The city undertook the project with the help of the nonprofit Trust for Public Land and RISE Southeast—a resident-led initiative to revitalize southeast Colorado Springs. More than a dozen businesses and non-profits, including AARP Colorado, also helped fund the effort.

Panorama Park, at 4540 Fenton Road, includes a bike park, universally accessible playground, skating area, climbing boulder, multiuse sports field, AARP-sponsored fitness area, outdoor event space, shade structures and a bathroom.

The project stemmed in part from a 2018 report by the nonprofit Urban Land Institute, which noted that the southeast is the most racially diverse area in Colorado Springs.

It is home to residents with a wide array of cultures, incomes and faiths. Many families have deep ties to the area, with multiple generations living there.

The area has struggled because of "poor transportation links, historic biases, and limited representation in the civic process," the report found.

The park revitalization helped bring a sense of equity to an area where people often felt disenfranchised, and it changed how neighbors felt about their community, Derington says.

"They felt safer," she says. "Residents were more active, more engaged in community events."

Focus on improving health

The Urban Land Institute report found that, among other improvements, the southeast Colorado Springs area could benefit from more places to exercise and socialize.

Panorama Park offers just that. Its new trails provide a safe place to walk, which is good for people's physical and mental health, says Lelia Gibson-Green, 61, who lives near the park and is a resident leader with RISE Southeast.

"Mostly people of color live (in the southeast), and so we have a lot of barriers," such as access to transportation, Gibson-Green says. A cancer survivor, she sometimes walks with a cane, with a 10-pound oxygen tank in tow.

"If I can get out here with my limits, I want others to get out with their limits," she says.

AARP funded a fitness area, with exercise equipment from the nonprofit FitLot, that is designed for people of all abilities and fitness levels. AARP has installed FitLot equipment in every state, Puerto Rico, the U.S. Virgin Islands and Washington, D.C.

Fitness instructors from the YMCA of the Pikes Peak Region lead free, 45-to-55-minute classes at the FitLot area. Learn more at ppymca.org/programs/health-fitness/fitlot.

The Trust for Public Land estimates about 3,350 people live within a 10-minute walk of the park. Project discussions began in 2017 after residents advocated for a community space to gather.

"It was amazing the way everything came together," says Joyce Salazar, community outreach coordinator for RISE Southeast at El Paso County Public Health. "It really is a space that is inviting and inclusive of all."

Cynthia Pasquale is a writer living in Denver.

More on Livable Communities

What Is a Livable Community?