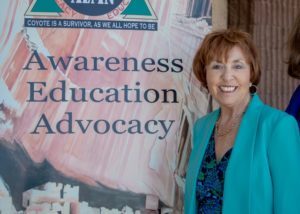 Dear Friends:
This week, we will be celebrating Thanksgiving. Many of us will be busy cooking or making other arrangements for this special Holiday. It is a "time out" to appreciate our forefathers who founded this wonderful Country.
For many of us who 'live' with cancer, it is an opportunity to be thankful for a loved one who is still battling and surviving cancer. For some it may be the first Holiday season since a loved one was diagnosed with cancer. Your life changed forever – you became a Cancer Caregiver. Oncologists, hospitals, and medicines and tests are now part of your changed life. You begin to count each Holiday and wonder if there will be another one with your loved one. Planning ahead becomes difficult. Should we buy that Cruise 6 months ahead? Will he/she be able to drive for a vacation next year? Will I be able to take care of the house and housekeeping if the patient becomes incapacitated? There is no one answer. But, planning and being positive can help. Personally, my husband and I make our future plans as if he does not have cancer, but we always buy travel insurance for future trips!
For those of us who have cancer or a loved one with cancer in our family, Thanksgiving may not seem the time to be especially grateful. Try to focus on the remarkable cancer researchers, pharmaceuticals, counselors, support groups and medical community that are working so hard on our behalf! We are all very grateful to them for their efforts.
You may be far away from family and friends and don't have the support or energy to enjoy the Holiday.
How can we create our own 'Thanks Giving'? We each have to find our own way and not feel obligated to be cheerful if we aren't. Or, think that as a caregiver, that we have to try and provide the Thanksgiving meal regardless of how we feel .
Some of us feel better if we are keeping up a family tradition, and have friends and family to help us.
But if you don't feel up to it, make a reservation at a local restaurant, or order a 'to-go' meal from a restaurant. A lot of grocery chains have prepared dinners you can buy. And, there are also private caterers who can provide the Thanksgiving gathering for you.
If you do have a family or friends in the area, please remember to ask for help. People feel better at this time of year if they know how they can help you. Make of list of what you need…driving to the doctor; picking up medicines; housekeeping help; shopping; mowing the lawn; shoveling snow; financial help. And, if friends or family are far away, there are other ways that they can help I think you will be pleasantly surprised at the positive response. Sometimes we don't want to burden others or let people know that we are sad, lonely, or just plain tired! It may not be easy to ask for help, but I know from my own experience that often it is equally difficult for those who know and care about you to know what they can do. They truly will feel better knowing how to help, whether it is this Holiday or any other time!
I wish us all love, hope, and gratitude for our loved one, for those who love us, and for each other.
I give thanks for all Cancer Caregivers, whether young or old, family, friends, neighbors, and the organizations and resources who are there for us. And, this is a good time for the 'caregivees' to express their own appreciation with a kind word, extra hug, and a loving smile!
Together, we are creating Awareness and Educating ourselves and others about the challenges for the Cancer Caregiver and our important role on the treatment team.
Together, we are Building a Cancer Caregivers Community.
Warm Thanksgiving Wishes!
Barbara Kavanagh, MSW, Founder and CEO of AzMN and Cancer CaregiversAz
Visit our website: www.cancercaregiversaz.com to see our photo gallery and other cancer caregivers information.


Barbara Baroff Kavanagh, MSW, LCSW
Barbara B. Kavanagh is the Founder and CEO of Arizona Myeloma Network (AzMN). She is a published author and served as faculty for universities including Boston University, Boston College Graduate School of Social Work, and Arizona State University. She holds a master's degree in Social Work from Boston University and a bachelor's from Duke University. Her first business, People to People Associates, Inc., a counseling, consulting, and training company, operated for fifteen years in Lexington, Mass.
AzMN is 501(c)(3) nonprofit organization started in 2004 by Barbara and her husband Jack who is a 27-year survivor of multiple myeloma. In 2003, they moved to Arizona to be near the Mayo Clinic for his ongoing treatments. In 2005, Barbara organized the first of many Living with Myeloma Roundtable and Conferences in Scottsdale, AZ. The conference attracted more than 300 attendees annually. All AzMN programs are designed to educate cancer patients, cancer caregivers, oncology healthcare professionals, researchers, and the public on the newest in cancer treatments and how to give and receive the best possible care.
AzMN has delivered hundreds of cancer patient and caregiver conferences throughout the State. Multiple Cancer Caregiver Education Program (CCEP TM) conferences are scheduled in 2018. Conferences are free and open to the public. They provide cancer patients and their caregivers the practical knowledge, skills and strategies necessary to effectively care for themselves. CCEP TM is a customizable program for companies and healthcare organizations that want provide onsite training for employees and constituents.
The Office of the Governor of Arizona recognizes AzMN with a proclamation annually designating a week in March as "Arizona Myeloma Awareness Week." AzMN is recognized by Great Nonprofits as a "Top-Rated Nonprofit" for multiple years. Barbara, herself, continues to receive awards for her work. She is the recipient of the prestigious Hon Kachina Outstanding Volunteerism Award, The Phoenix Business Journal's Healthcare Hero Award, the Arizona Rural Healthcare Association Volunteer of the Year award and the 2014 Arizona Business Magazine's Healthcare Leadership Award for Community Outreach. She was profiled as a Woman of Distinction in the 2016 edition of WOD Magazine. She is featured on radio, television, and in publications.
Barbara and Jack are mentioned in Tom Brokaw's book A Lucky Life Interrupted: A Memoir of Hope. Her books on volunteerism and patient advocacy include The New Volunteerism, A Community Connection; The New Partnership: Human Services, Business and Industry; and Training Volunteers in the New Millennium: An International Connection reflect a life dedicated to teaching and mentoring others to achieve their goals and transform their own lives and those they touch. She is currently working on her next book "Caring for the Cancer Caregiver". Her intent is to provide practical information on how to navigate the complex world of cancer patient and caregiver survivorship