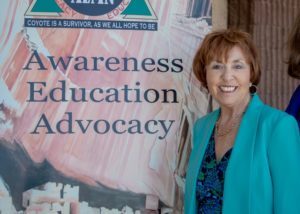 After the initial cancer diagnosis, most patients have a structured treatment plan with appointments, and a time structure. As the caregiver, you are adjusting your life to help the patient with medications, getting to the doctor visits, and handling the everyday responsibilities of running the household, and trying to continue a job, business, or career of your own. You will try to balance 'his/her needs and your own. If you have children, you are also trying to maintain a 'normal' family life and keep your own fears and concerns to yourself and not burden them.

Amanda was a busy wife and mother, enjoying her job as a hairdresser, active in her Church and volunteering with a local women's shelter. Her husband, Tom, an accountant, was active in Rotary and his son's activities. Both in their late 40's, they had worked hard to buy a small home and were planning their 1st real vacation to celebrate their 20th anniversary. Their son, Danny, was 17, and busy with baseball practice, 'girls',and applying for college.

Life was good! Just before their trip,Tom had a cough that wouldn't go away. He finally went to the doctor. After lab work, xrays, etc., the doctor made his diagnosis. It was lung cancer. For all of us who have heard those dreaded words: 'You have Cancer'. You know that your plans and life is changed forever. Amanda became a full time caregiver . Danny decided to put off college and help his mom take care of his Dad.

Fortunately, Tom was diagnosed 'early' and correctly. He started his chemo treatment and was responding well. But, due to side effects of the treatment, he was not able to resume his work.
And, required a lot of assistance as well as transport to weekly doctor's appointments, physical therapy,etc. Amanda needed to continue working part time to help cover insurance and other
expenses. This meant that Danny had to take over a lot of the caregiving for his Dad.

When Amanda and Danny attended one of our Cancer Caregivers Seminars last Fall, our topic was: How to achieve 'balance' in your life and not get caught up in 'over‐care'.
Both of them were so caught up in being available to Tom that they had given up most of their own interests, friends, and activities. The result was that the patient felt guilty and also
resentful that he was made to feel 'useless' and a 'burden'. Other caregivers attending our program, as well as our professional faculty, shared advice and
strategies for how Amanda and Danny could give Tom more control and independence as well as take 'time' for themselves.

Learning how to communicate with one another, planning activities they could do together, such as 'Movie nite' at home, board games, and pizza parties with friends helped. Danny got
back to baseball practice, and going out with friends. Mom and son came up with a schedule of 'sharing the caring'. Danny had his time and mom had her Spa visits, and 'girl's night out'. It
truly made a difference for the whole family.

As the patient's needs change during treatment, the family also needs to change the way they are providing care and not 'over‐care', which can lead to depression for the patient and
resentment for the caregivers.

Enjoy your time together but make sure you also take care of yourself! Please keep sending me your ideas and stories. Together, we will build our own Cancer Caregivers Community!

Warm Regards,
Barbara
www.azcancercaregivers.com












Barbara Baroff Kavanagh, MSW, LCSW

Barbara B. Kavanagh is the Founder and CEO of Arizona Myeloma Network (AzMN). She is a published author and served as faculty for universities including Boston University, Boston College Graduate School of Social Work, and Arizona State University. She holds a master's degree in Social Work from Boston University and a bachelor's from Duke University. Her first business, People to People Associates, Inc., a counseling, consulting, and training company, operated for fifteen years in Lexington, Mass.

AzMN is 501(c)(3) nonprofit organization started in 2004 by Barbara and her husband Jack who is a 27-year survivor of multiple myeloma. In 2003, they moved to Arizona to be near the Mayo Clinic for his ongoing treatments. In 2005, Barbara organized the first of many Living with Myeloma Roundtable and Conferences in Scottsdale, AZ. The conference attracted more than 300 attendees annually. All AzMN programs are designed to educate cancer patients, cancer caregivers, oncology healthcare professionals, researchers, and the public on the newest in cancer treatments and how to give and receive the best possible care.

AzMN has delivered hundreds of cancer patient and caregiver conferences throughout the State. Multiple Cancer Caregiver Education Program (CCEP TM) conferences are scheduled in 2018. Conferences are free and open to the public. They provide cancer patients and their caregivers the practical knowledge, skills and strategies necessary to effectively care for themselves. CCEP TM is a customizable program for companies and healthcare organizations that want provide onsite training for employees and constituents.

The Office of the Governor of Arizona recognizes AzMN with a proclamation annually designating a week in March as "Arizona Myeloma Awareness Week." AzMN is recognized by Great Nonprofits as a "Top-Rated Nonprofit" for multiple years. Barbara, herself, continues to receive awards for her work. She is the recipient of the prestigious Hon Kachina Outstanding Volunteerism Award, The Phoenix Business Journal's Healthcare Hero Award, the Arizona Rural Healthcare Association Volunteer of the Year award and the 2014 Arizona Business Magazine's Healthcare Leadership Award for Community Outreach. She was profiled as a Woman of Distinction in the 2016 edition of WOD Magazine. She is featured on radio, television, and in publications.

Barbara and Jack are mentioned in Tom Brokaw's book A Lucky Life Interrupted: A Memoir of Hope. Her books on volunteerism and patient advocacy include The New Volunteerism, A Community Connection; The New Partnership: Human Services, Business and Industry; and Training Volunteers in the New Millennium: An International Connection reflect a life dedicated to teaching and mentoring others to achieve their goals and transform their own lives and those they touch. She is currently working on her next book "Caring for the Cancer Caregiver". Her intent is to provide practical information on how to navigate the complex world of cancer patient and caregiver survivorship.