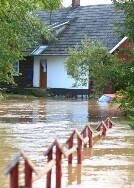 Federal Emergency Management Agency is saying everyone is at risk for spring flooding, but too many people remain unprotected. Just a few inches of water can cause severe damage and threaten human wellbeing.
"Don't be caught off guard," said Morie Smile, AARP Colorado State Director. "Know the risks and take action to protect yourself, your family and your business before it's too late."
According to FEMA, you can reduce your risk by considering the following:
Prepare now: Visit ready.gov/floods and

createthegood.org/toolkit/operation-emergency-prepare

for ways to prepare for a flood and other emergencies. Remember to have an evacuation plan, put an emergency kit together, and keep important papers and valuables in a safe, dry place. Gather supplies, strengthen your home and review your insurance coverage.
Only flood insurance covers flood damage: Most standard homeowners' policies don't cover flood damage. It takes 30 days for most policies to take effect, so get your policy now.
o Visit floodsmart.gov, or call 1-800-427-2419 to learn more among individual flood risk, explore coverage options and to fine an agent in your area.
Practice your emergency plan: Know your evacuation route from home, work and school to higher ground.
Conduct a thorough home inventory: Documentation of your belongings will help you file your flood insurance claim. Visit ready.gov/insurance-vital-records for more information.
During a flood: Monitor weather conditions, follow the direction of state and local officials, go to higher ground, avoid areas already flooded and never drive through flooded roadways.
After a flood: Check for damage, especially to utility lines; remove wet contents and disinfect everything touched by flood waters immediately; contact inspectors and/or local planning offices for building requirements prior to making repairs; and file your insurance claim with a detailed list of damaged or lost items and photos.
Visit readycolorado.com/hazard/flood for more information.


photo courtesy of IStockPhoto/tramper2