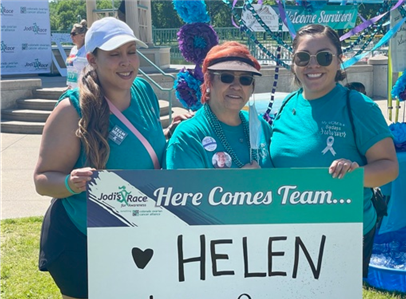 Jodi's Race for Awareness Provides an Avenue for Ovarian Cancer Education, Support and Inspiration

14th Annual Event: June 10, 2023 at Denver's City Park

Helen Alvillar (71), Jean McKibben (80) and Roxie Strong (77) are all ovarian cancer survivors with a common passion: educating others about the symptoms of ovarian cancer and the importance of advocating for your own health. Each year, they join thousands who gather in City Park for Jodi's Race for Awareness ─ the second largest ovarian cancer run/walk in the country. It's a festive scene with lots of teal (the color of ovarian cancer), personalized team t-shirts, and signs celebrating loved ones who have battled the disease. All to support women who have battled ovarian cancer and to increase awareness of the disease, which is the deadliest gynecologic cancer and is most frequently diagnosed in women aged 60+.

McKibben knew nothing about ovarian cancer when she was diagnosed. She first visited the ER with sharp abdominal pains that were attributed to a burst ovarian cyst. After a follow up visit with her gynecologist, she was diagnosed with ovarian cancer and underwent surgery a week later. She's had three recurrences and is extremely thankful she found a Support Group run by the Colorado Ovarian Cancer Alliance (COCA). "This is a disease few people know about so you need a group that is going through what you are and can support you," shares McKibben. Although her last recurrence was in 2011, McKibben still participates in support groups to help others going through ovarian cancer.

Although Alvillar lost a sister-in-law to ovarian cancer years ago, it didn't occur to her that the pelvic pains she experienced were a symptom of the disease. "The symptoms are so subtle," says Alvillar, who encourages women to pay attention to their bodies and inform their physician of any changes. She remembers attending her first Jodi's Race in 2018, during which women receive a strand of beads for each year since diagnosis. "Seeing women with 10, 15 and 20 strands gave me such hope," she recalls.

Strong, who was diagnosed with stage IA fallopian tube cancer in 2005, likes the Survivor Breakfast at Jodi's Race best. "There's such positivity as survivors and loved ones gather and encourage each other," she reports. Strong also continues to participate in COCA's support groups and credits the ability to share experiences with helping her on her own journey. She too encourages friends to get regular check-ups and discuss things that 'aren't normal' with their doctor.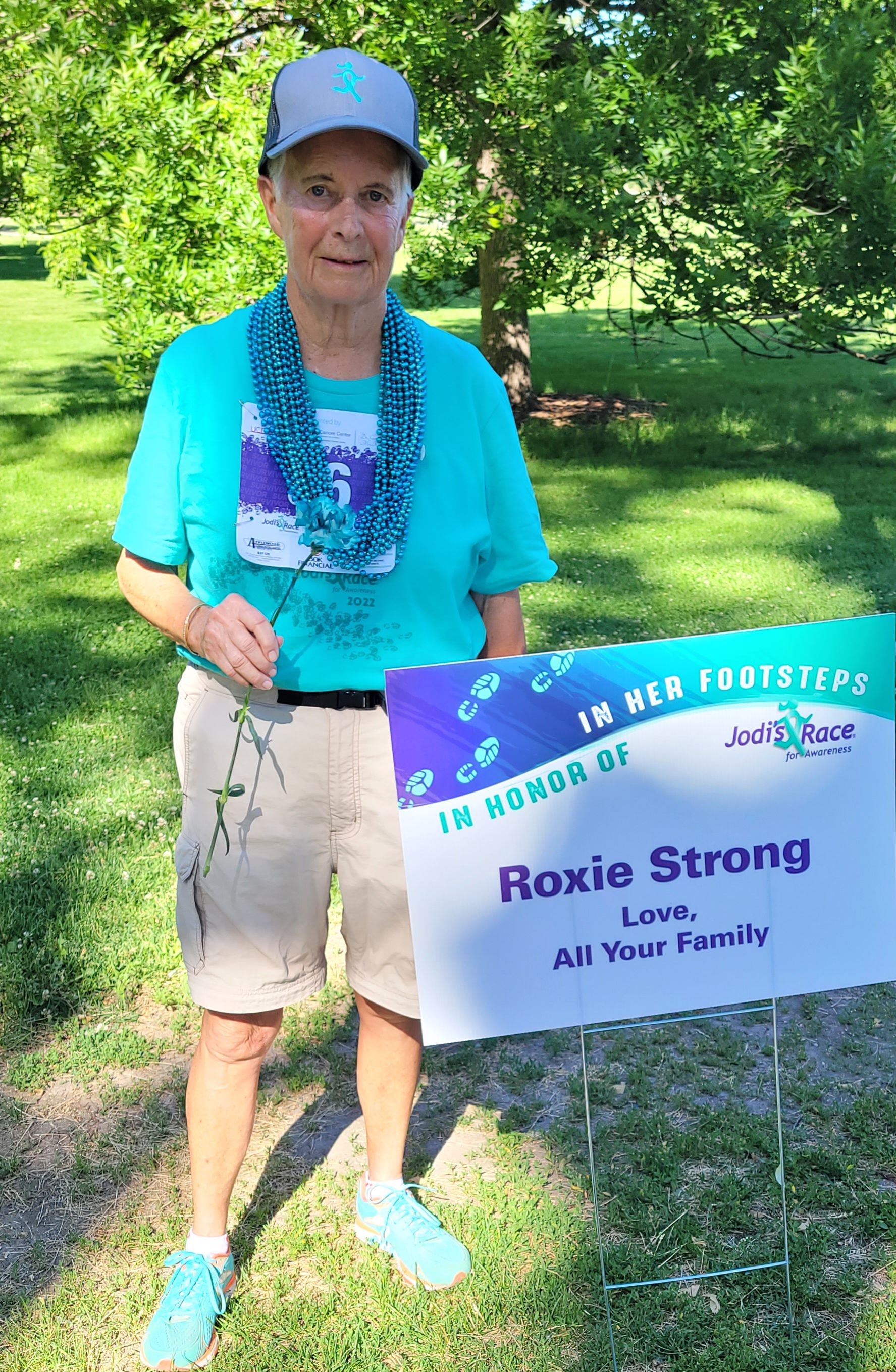 In addition to offering hope and celebration, Jodi's Race is an educational event and fundraiser for COCA. Because there is no screening test for ovarian cancer, it's important for women to recognize the most common symptoms ─ bloating, pelvic or abdominal pain, difficulty eating or feeling full quickly, and urinary urgency or frequency. Symptoms that last two weeks or more or recur frequently should be reported to a physician promptly. Funds from Jodi's Race support COCA programs including support groups, individual counseling, financial assistance and insurance navigation, COCA's Ovarian Cancer Resource Guide, comfort kits, educational programs and more. To learn more, visit www.jodisrace.org.

This is not an AARP event. Any information you provide the host organization will be governed by its privacy policy