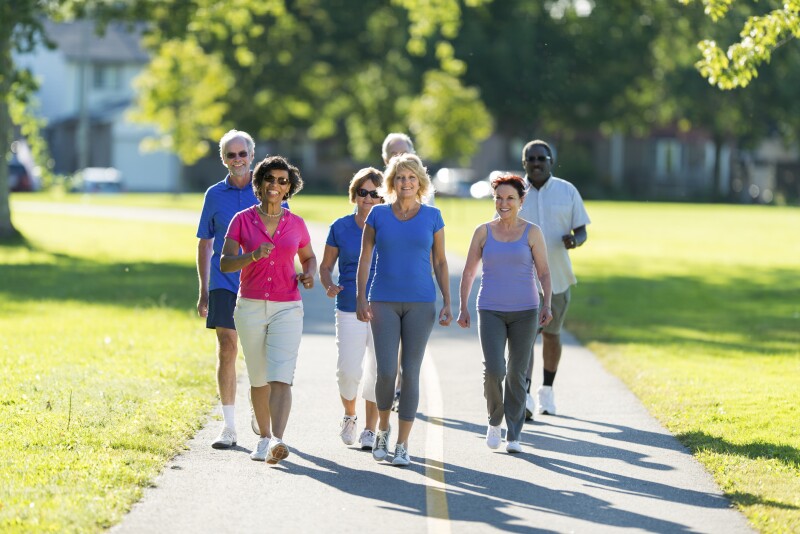 Enjoy guided historical walks through some of Denver's most beautiful and interesting neighborhoods. Meet others in your community, learn the history and join the fun.
The goal of Neighborwalks is to get more people walking every day for health, transportation, environment, and community. The walks are designed to be inclusive and are themed, educational and social events that bring neighbors together to explore neighborhoods and enjoy the cities walking and pedestrian infrastructure, historic and cultural districts, parks and public spaces.
Check out the walks we have planned for you this season.
You can register for one or all of them! Guests are welcome at these events, and pre-registration is required. Each attendee must register themselves and agree to the waiver of liability in order to participate in the walk.
Tuesday, May 7, 2019   Cherry Creek Art District
10 a.m. – 12 p.m.
What was once a sewer has been turned into an amenity. Cherry Creek's walls, built to control flooding, are now being transformed into a place for art. Stretching upstream from the confluence of Cherry Creek and the South Platte River, we'll explore some of the art and hear how the collection will continue to grow, perhaps one day becoming a new Guinness Book of World Records holder. Leave your palette at home, just bring your artistic eye! This tour will start at the SW corner of 15 th Street and Wynkoop.
Saturday, May 11, 2019  LoDo Architecture Tour
10 a.m. – 12 p.m.
Union Station and Lower Downtown (now known as LoDo) share a mix of old, historic buildings and the budding steel-and-glass structures of a burgeoning downtown. We'll examine the juxtaposition of old and new, learning of architectural expressions over many decades. From Italianate and Second Empire to Meisian and Modernist, it's a feast for the eye, with history to spare. This tour starts at the flag pole in front of Union Station, intersection of 17 th and Wynkoop.
Monday, May 13, 2019   Downtown Denver Scavenger Hunt
9 a.m. – 11 a.m.
An unusual challenge awaits you as you use your powers of observation and deduction to solve cryptic clues, finding landmarks and items in downtown Denver. No need to run! The 16 th Street Mall Shuttle will get you where you need to go. All the same, will you be able to find the answers more quickly than your competitors to become the Champions of Trivia, Denver-Style? Grab your comfortable shoes and let's see what you've got! This tour starts in front of Union Station, intersection of 17 th and Wynkoop.
Thursday, May 23, 2019  Montclair Neighborhood
10 a.m. – 12 p.m.
Once a city on the eastern flanks of Denver, Montclair has now become a popular neighborhood. There are some signs left of the city of the past, and many beautiful houses for your enjoyment, each with stories to share. Join us for a chance to learn of the neighborhood's fascinating history. From the power of cows to bring health to tuberculosis sufferers to fabulous castles of stone, there is richness for all in Montclair. This tour starts at the SW corner of 12 th and Oneida.
Thursday, June 13, 2019  LGBTQ Tour
10 a.m. - 12 p.m.
This tour celebrates the diversity and history of the LGBT community in the Capitol Hill neighborhood and guides visitors to points of interest along Colfax Avenue. Learn about the GLBT Community Center; Cheesman Park, the site of Denver's first Pride celebration; Charlie's, that hosted the Colorado Gay Rodeo Association; and Smiley's Laundromat, a community landmark that generated intense debate about historic preservation and community identity.
This tour will start at 1290 Williams Street, Denver.
Monday, June 17, 2019  14th Street Neighborhood
10 a.m. – 12 p.m.
Today's 14 th Street is a busy and bustling place, recently decorated to take its place in downtown's pantheon. Many fine and historic buildings rise along its length, from the City Auditorium and Telephone and Telegraph Building to the Convention Center and Larimer Square. Some things have been lost, however, like all signs that 14 th Street was once the Richest Row in Town. Join us for a walk along the engrossing and ever-changing story of 14 th Street. This tour starts at the City Hall Bell, corner of 14 th and Larimer.
Friday, June 21, 2019  Fairmount Cemetery
10 a.m. – 12 p.m.
Although not the first cemetery in Denver, Fairmount Cemetery would eclipse all others, becoming the resting place for everyone who wanted to spend their below-ground years in the city's emerald gem. With many city luminaries, from the noble to the ignoble, and art and architecture to delight the eye, it's a shady walk through the silent stories of the past. Let's rouse the ghosts of those stories together! This tour starts at the Ivy Chapel, accessible from the west entrance.
Thursday, July 18, 2019 Westminister Campus
10 a.m. - 12 p.m.
As Denver and environs grew, the need for higher education drew many institutions to our part of the world. To illustrate the lofty heights their graduates would attain, many of these institutions of higher education chose high ground to act as physical representation of their scholastic prowess. The beautiful Westminster Campus has gone through many changes over the years, while still retaining much of its beauty. Join us for a walk through collegiate history, with a view to spare! This tour will start at 8201 King Street.
Thursday, July 24, 2019 Englewood Artist
10 a.m. - 12 p.m.
"Beautiful places make beautiful people" was an adage that guided the City Beautiful movement in the United States, and one of the keys to achieving these goals was public art. Englewood has fully embraced the ideal, bringing forth rich and diverse offerings for the betterment of its citizens. The art may leave you scratching your head, make you inspired to create something of your own or just start a conversation, but whatever the result, it is the nature of art to touch us. Join us in Englewood for a chance to see art in action. This tour will begin at the front of the Englewood Public Library, 1000 Englewood Parkway.

Wednesday, July 31, 2019 Historic Aurora
10 a.m. - 12 p.m.
Long before it became the leviathon of today, Aurora started out as a simple place growing along Colfax's flanks. We'll wander the homes and businesses of Original Aurora, where the city is attempting to build a new downtown. We'll see an old business transformed into a new inter-city gateway of commerce and change, Stanley Aviation. History-old and history-made-new awaits you in Aurora! This tour starts at the SE corner of the Stanley Aviation Marketplace, 2501 Dallas Street.