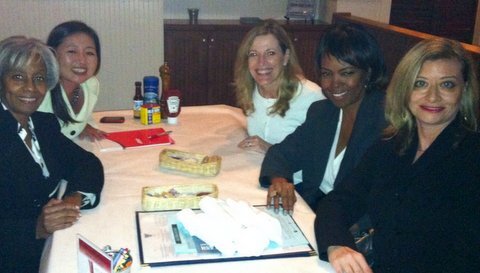 AARP's Vice President for Financial Security Jean Setzfand joined the Delaware State Office in October for two days of interviews, meetings and workshops designed to educate Delawareans on the value of planning for retirement and the many options and tools available to consumers from AARP.

Prior to her arrival, Jean had two call-in radio interviews to WDDE 91.1 FM and WDEL 1150 AM to talk on the topic Retirement: Never Too Early, Never Too Late! and to promote her upcoming workshops.

Jean kicked off her first day in Delaware by joining a meeting of ministers from Delaware's African American Churches. She gave them highly relevant information pertaining to African Americans and retirement security and entertained their questions. Following that meeting, Jean had dinner with State President Jean Nutter, State Director Lucretia Young, and Delaware's Secretary of Health and Social Services Rita Landgraf. The Secretary plans to use much of the information she gleaned from the dinner meeting to begin crafting a program to address the financial security needs of Delaware's aging population.



On her final day in Delaware, Jean presented two workshops at the AARP-sponsored "Purses to Portfolio" conference. Attendance at the conference was nearly 1,000 throughout the day. Conference activities were largely designed for women and especially women between the ages of 50-64.



A photo and bio of Jean Setzfand was included in the conference brochure and she was mentioned in all promotions and media relations for the event.