State Rep. Paul Baumbach, 23 rd District, joined AARP for its second annual AARP room dedication for caregivers at the Ronald McDonald House of Delaware. AARP donates a room at the House to help provide housing for families whose children are receiving treatment at Nemours/Alfred I. DuPont Hospital for Children and Christiana Care.
This year's room dedication was in honor of the passage of Senate Bill 52, the CARE Act, during the 2016 Legislative session in Delaware. To further express AARP's support of the work of the Ronald McDonald House, AARP staff and volunteers cooked for the families staying at the Ronald McDonald House.
The Delaware Legislature passed the CARE Act to provide more supports for caregivers. When a patient leaves the hospital, their caregivers are often asked to perform complex medical tasks such as wound care or managing medications. The bill makes hospital discharge less stressful by giving patients the opportunity to identify a caregiver; and offering instruction / demonstration of the care needed once they return home.
"I was overwhelmed by the critical support to families with children with significant medical needs provided by the Ronald McDonald House of Delaware, and how it successfully depends on so many organizations such as AARP in providing volunteers to run the House," said Baumbach after he spoke at the event. "It was wonderful to see AARP's sponsorship of a caregiving room at the Ronald McDonald House of Delaware, as a capstone to its key work over the past two years in ensuring the passage of Senate Bill 52 in June, the Care Act, which provides needed guidance to unpaid caregivers. We are all stronger by working together. AARP, the Ronald McDonald House and the General Assembly have accomplished some terrific work."
The Ronald McDonald House has served over 42,000 families since its opening in 1991. In 2015, they served 2,131 families with rooms, meals, a fitness center, sunroom, playrooms and many more amenities to make a caregivers' stay pleasant.
Ronald McDonald House President and CEO Pam Cornforth said, "The Ronald McDonald House of Delaware is so grateful for the community groups like AARP Delaware who provide financial support that enable us to meet our mission of keeping families together during a child's medical crisis. For caretakers having a safe, comfortable place to stay improves their ability to participate in the care of their hospitalized child, a key cornerstone of family centered care."
The CARE Act will take effect in January of 2017. AARP will work with their statewide coalition of partners to implement the many supports that the new law provides, and to ensure caregivers know their rights. Keep informed by liking AARP Delaware's Facebook Fan Page.
RESOURCES: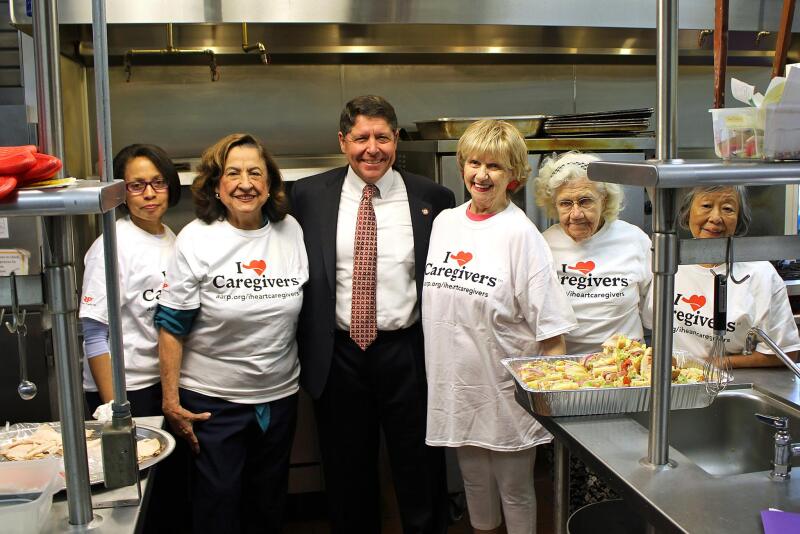 AARP passes the CARE Act https://states.aarp.org/delaware-legislature-passes-care-act/
AARP Caregiving Resource Center http://www.aarp.org/home-family/caregiving/
Share a caregiving story www.iheartcaregivers.com
Ronald McDonald House www.rmhde.org
###