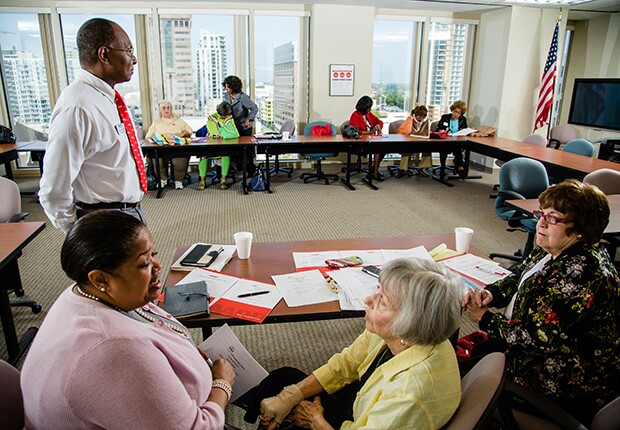 By Novella Cross Holmes

Ann Simmons is excited about the new energy infusing AARP chapters around the state.

The 26 member-led Georgia chapters are holding educational programs, volunteer activities and events that benefit their local communities. "We're sharing best practices from chapter to chapter, and our chapter is working smarter," said Simmons, 66, of Atlanta, president of Chapter #3793, which meets in southwest Fulton County.

Greg Davis, 64, of Warner Robins, president of Chapter #1952 in Houston County, said his group hosts monthly meetings that are open to the community. Issues and projects range from communication and advocacy to education, recruitment and community service.

Recent speakers have included representatives from Habitat for Humanity; Rebuilding Together Warner Robins, which provides older and low-income homeowners with crucial repairs that not only improve the safety and health of their homes, but also revitalizes the community; and the Otis Redding Foundation, founded to motivate and empower youths through education in music.

Davis said some members have pledged to become "adopted grandparents" for children who attend C.B. Watson Primary School. "On the first Thursday and Friday of each month, we will read to the pre-K and first grade students, accompany students on trips as chaperones, and be available to assist the school in any way that we are needed."

In Ellijay, Gloria Nealey, 69, vice president of Chapter #3980 in Gilmer County, is still beaming over the success of a community shredding event last October cosponsored with the Gilmer County Retired Educators Association. Participants, who shredded identity-sensitive documents, were asked to donate food or money for the county's food pantry.

Volunteer opportunities

"When the event was over, we had 855 pounds of nonperishable food and $803 in cash, which we were told was enough to purchase snacks for a whole month for public school children," Nealey said.

Georgia's chapters are guided by AARP policies but operate independently, and chapter members are not required to serve as volunteers.

For those who choose to volunteer, opportunities include advocacy, caregiving education, the AARP Fraud Watch Network, financial resiliency workshops, communications, multicultural leadership, AARP Foundation Tax-Aide, Driver Safety and helping make communities age-friendly.

"We know that chapters often provide a local face—and heart—for AARP," said AARP Georgia state director Debra Tyler-Horton, who last year began building stronger partnerships between the state office and the chapters.

Tyler-Horton invites chapter officers to AARP Georgia's midtown Atlanta headquarters quarterly to review state initiatives and explain the role the chapters could play in helping those efforts to succeed.

"The Volunteer Summit last October was terrific for networking, seeing what others are doing and also for making connections between the state and the chapters," Simmons said.

To become a volunteer, or a member of a chapter, contact Jenny Jensen, AARP Georgia senior program assistant, at 404-870-3786 or jjensen@aarp.org.

Novella Cross Holmes is a retired journalism professor and a freelance writer. She resides in Savannah.