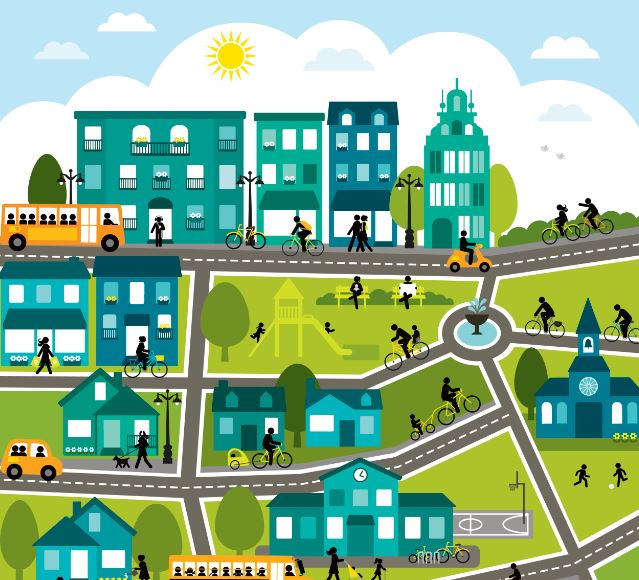 Eunice Glover's southwest Atlanta community boasts tree-lined streets and beautiful green spaces. Yet many residents go to the nearby shopping mall to get their exercise.

"You have a lot of people who want to be outside walking, but the roads are not that safe," observed Glover, 74, volunteer chair of one of the city's 25 Neighborhood Planning Units and a member of AARP Georgia's Age-Friendly Metro Atlanta Advisory Council.

In fact, six of the 10 most dangerous roads in Atlanta for traffic-related deaths and injuries are in the southwest part of the city, according to the Atlanta Bicycle Coalition.

Help is on the way. Thanks to a 2019 AARP Community Challenge grant, the nonprofit coalition will improve safety along Cascade Avenue SW in Glover's neighborhood.

"We believe no one should die during their commute or while using Atlanta roads," said Rebecca Serna, the coalition's executive director.

The AARP Community Challenge program is part of the nationwide AARP Livable Communities initiative that helps localities become better places to live for residents of all ages.

This year, the program distributed nearly $1.6 million to 159 quick-action projects in all 50 states; Washington, D.C.; Puerto Rico; and the U.S. Virgin Islands. Georgia received three grants.


A historic square, new paths

The state's other winners:

Andrew College, a liberal arts institution, is using its grant to revitalize Cuthbert's historic town square. Permanent benches, lighting and a pergola will transform an alley off the square into a gathering space for the entire community.

The upgrades will be finished before the Smithsonian Institution's traveling Museum on Main Street exhibition, "Crossroads: Change in Rural America," comes to Cuthbert in January. "We are really trying to infuse the downtown with the arts," Andrew College President Linda R. Buchanan said. "These wonderful additions help fulfill that mission."

Newnan Downtown Development Authority (DDA) and its Main Street Newnan Program will use AARP grant money to spruce up a neglected alleyway and connect to an interactive trail system that will span the city's downtown.

The alleyway is already being used as a thoroughfare because of a street closure, said Courtney Harcourt, manager of the Main Street Newnan program.

"We want to make this alleyway a more permanent pass-through," Harcourt said. The DDA is asking for residents' input to help implement the project. At present, the passageway is used by people of all ages, she said, "from baby strollers to runners to cyclists to people walking their dogs."

"We saw an opportunity to create a space that the community can use and take ownership of," Harcourt added.

The Newnan Downtown Development Authority is matching the AARP grant, which also is being leveraged to raise additional funds for the project.

To learn more about AARP Community Challenge grant winners and the organization's Livable Communities initiative, visit aarp.org/livable or aarp.org/ga.

More about Livable Communities

The Magic of Murals

6 Examples of a Complete Street

Ann Hardie is a writer living in Atlanta.