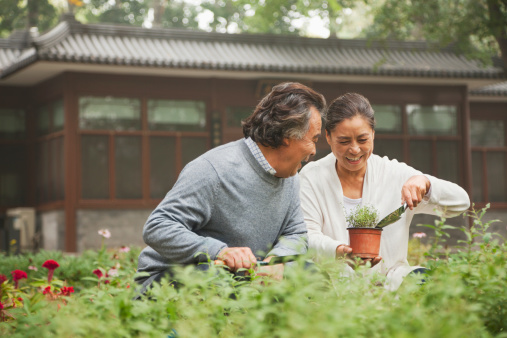 Did you know that April 14 is National Gardening Day? Not only is this hobby a perfect spring activity, but it also has plenty of mental health benefits that will keep you at ease during such a stressful time in the world. If you're interested in creating a garden of your own, keep reading for some tips and tricks on how to get started:

Step 1: Pick Your Plants

Before you set land aside for your garden, it's important to decide what you'd like to grow. Certain plants and vegetables will only thrive in very specific weather conditions, so doing your research in advance is key. To help, the USDA created an interactive Plant Hardiness Zone Map which provides data on the average low temperatures in each state, so you can determine the types of flowers or crops that will work best in your region.

In addition, every plant has certain sunlight and moisture requirements. Keep those in mind as you select your flora, and don't forget to group your plants together based on those needs. You don't want to put a plant that thrives in sunlight under a tree!

Another easy resource is to talk to an expert. If you have a friend or family member who has a green thumb, speak with them about their favorite plants. Calling any local gardening or hardware store is another great place to begin your research.

Step 2: Find a Location

Just like any good real estate property, your garden needs to have an excellent location. Here are a few suggestions:


Back or front yard: These locations are large enough for larger plants, flower beds, fruit trees, or climbing roses
Pots on porches: Perfect for smaller fruits or flowers
Window box: Recommended for herb-lovers
Community garden
Remember, pick plants for your garden that cater to your location. Almost all vegetables and flowers require 6-8 hours in sunlight per day! Additionally, make sure to place your garden in a location that you can comfortably access and is preferably near a water source, like a hose.

Step 3: Get Gardening!

Now that you did your research, here is where the fun begins. If you choose to garden in a front or backyard area, begin clearing the ground and applying your soil. If you prefer potted plants, purchase your pots and fill them with soil. Be sure to move the soil around (also called "tilling" the soil) to provide better access for your seeds to grow. Then, plant away!

Gardening is a solitary activity that can heal your mind and your body. According to a study in the Netherlands, cited by CNN, gardening is a huge stress reliever. Rather than stay indoors while protecting yourself from COVID-19, gardening provides a peaceful outdoor alternative. Additionally, gardening is a form of aerobic exercise! Simple actions like pulling weeds, planting and re-planting your flora, and various twisting and bending motions work all different muscles in your body and can help improve your strength and stamina.

So, this spring, consider trying out gardening as a new hobby. For more information, please visit Better Homes and Gardens or the National Gardening Association to read more about beginning your gardening adventure.