En Espanol | Hawaii is conducting its elections by mail for the first time this year, a sweeping change that coincides with heightened concerns for voter safety during the coronavirus pandemic:

The new vote-by-mail system means by about Oct. 16, all registered voters can expect to receive ballots by mail, with postage-prepaid return envelopes. Voters must sign their return envelopes and are encouraged to return ballots quickly to ensure their votes are counted.
Traditional polling places are being replaced with eight voter service centers, which will be open from Oct. 20 through Nov. 3.

Voters can track the status of their ballots to see if their ballot packet has been mailed — and if it is received and counted after completed ballots are returned to the state elections office.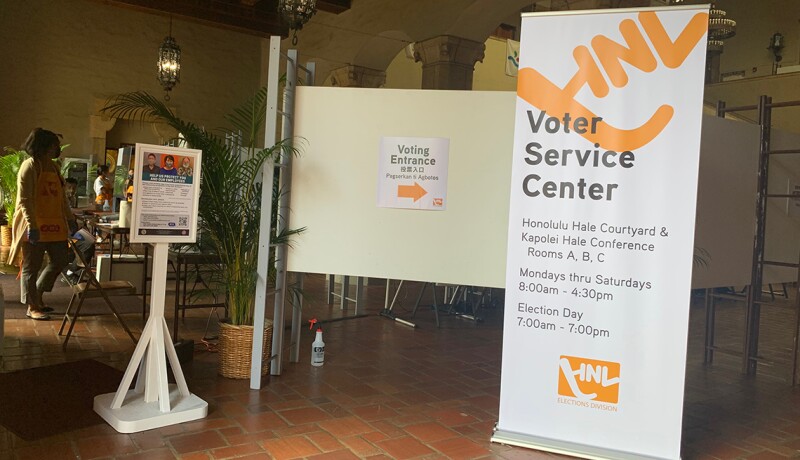 Here's what else you need to know:

How do I register to vote?

You can register online, by mail or in person. Anyone with a current Hawaii driver's license or state ID and Social Security number may register online at the state Office of Elections website. Otherwise, you can download an application and mail it in to your local county clerk's office. Forms also can be picked up or filled out in person at your clerk's office.

Unregistered voters must register by Oct. 5 to have a ballot mailed to them for the general election. If you register later, you can cast your ballot at a voter service center or take it to a secure drop-off site. The state government's website features a map of voter service center locations. You can also call 808-453-VOTE for more information.

Check that your registration information, including the address where your ballot will be sent, is up to date at the Office of Elections website.

How can I get an absentee ballot? Are there important deadlines?

Mail ballots will be sent to all registered voters in Hawaii. Voters who will be away from their residence during the election may request that a ballot be mailed to another address by completing a onetime absentee application. The deadline to request an absentee ballot is Oct. 27. Ballots can be returned through the mail or dropped off in person at your local county clerk's office. Elections officials must receive your ballot by 7 p.m. on Election Day.

"Voting by mail at home is safer than voting in person during this coronavirus pandemic," said Keali'i Lopez, AARP Hawaii's state director. "It's safer for election workers and for older voters."

How do I fill out and return my ballot so my vote will be counted?

Use a black or blue pen and completely fill in the rectangle next to a candidate's name. If you make a mistake, call your county clerk and request a new ballot. Don't forget to sign the envelope in which you return your ballot, and be sure to mail it by Oct. 30 to ensure it arrives before the end of the day on Election Day, Nov. 3. After Oct. 30, consider using a ballot drop box to return your ballot. The state government has an online tool to track your ballot.

When is Election Day? When are polls open?

Tuesday, Nov. 3. Traditional polling places will not be open, but voter service centers will allow you to vote in person on Election Day from 7 a.m. to 7 p.m.

Can I vote before Election Day?

Yes, voter service centers will open Oct. 20 and be available for in-person registration through Election Day, though they will not be open on Sundays. Between Oct. 20 and Nov. 2, the centers will be open from 8 a.m. to 4:30 p.m.

How do I know my mail-in or absentee ballot is secure?

Voters received a signature card in the mail in April to sign and return. That signature — or the most recent signature on file with state elections officials — is compared to the signature on the envelope of the returned ballot. If there's a discrepancy, or if a ballot is returned with no signature, the voter will be notified and have up to five business days after Election Day to correct the problem.

In addition, the return envelope is imprinted with a barcode unique to each voter, preventing a voter from voting more than once. If a voter's mail ballot was already received and scanned, he or she would not be allowed to submit another ballot. The record of a returned ballot also prevents a person from voting at a voter service center. If you vote in person at a voter service center, your mail ballot will be canceled.

What form of identification do I need to vote?

You'll need a state ID or Hawaii driver's license and Social Security number to register to vote online. If registering at a voter service center, a passport or utility bill confirming your name and address will also be accepted as forms of ID. If you are registering to vote for the first time in the state and you choose to do so by mail, you will need to include a copy of a current photo ID or a utility bill or bank statement that confirms your name and address.

The state government recommends you bring a state-issued driver's license or identification card with you if you choose to vote in person. A valid passport or a current utility bill or bank statement that confirms your identity and address will also be accepted. If you don't bring these documents with you, you will have to fill out additional paperwork confirming that you are who you say you are.

What is being done to make polling places safe from coronavirus?

For voters who choose to cast their ballot at a voter service center, machines will be cleaned after every use, social distancing will be followed, and cleaning solution and hand sanitizer will be available. Workers will wear personal protective equipment, including face shields and gloves.

Will I be able to vote in the same place as I always have?

No, polling places are being replaced by eight voter service centers, which will be open Oct. 20 through Nov. 3. You may also leave your ballot in a secure, contactless drop box. Check the state Office of Elections website or call 808-453-VOTE on Oahu or toll-free from the neighbor islands at 1-800-442-VOTE for locations.

What are the key races in my state?

U.S. president
U.S. House: both seats
State House of Representatives: all 51 seats
State Senate: 13 of 25 seats
Honolulu mayor, Hawaii County mayor
Voting rules and procedures may change before Election Day. We'll update this story if they do, so bookmark this page and check back.

AARP is urging older Americans to ask the candidates five key questions:

Just over half of all older Social Security beneficiaries rely on the program for at least 50 percent of their income. If elected, how will you ensure that current and future Social Security benefits are not cut as part of deficit reduction?
Half of the people with traditional Medicare spend at least a sixth of their income on health care. If elected, how will you protect Medicare from benefit cuts, as well as lower health care costs and ensure seniors continue receiving the affordable health care they have earned?
COVID-19 has caused death and suffering for too many older Americans who require long-term care. If elected, how will you make sure seniors can access safe and affordable long-term care at home, as well as in facilities like nursing homes and assisted living?
Also of Interest