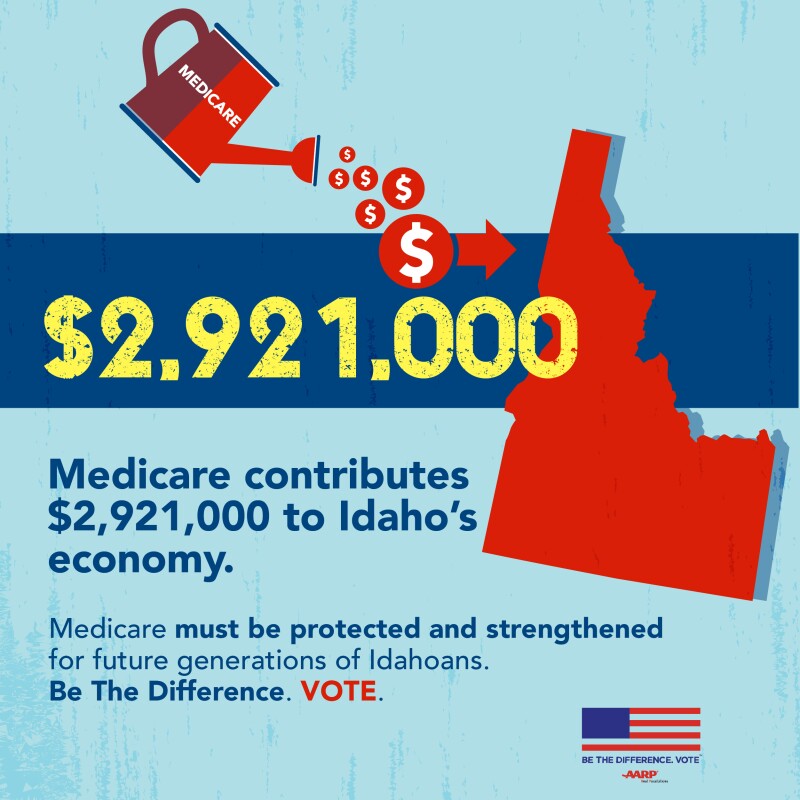 Medicare contributes $2.9 billion to Idaho's economy, equivalent to 23% of state and local government spending in the state, according to a new report from AARP. Medicare also covers more than 290,000 Idahoans.

Older Americans have said Medicare is one of their top issues in the 2018 mid-term elections, and AARP Idaho is working to encourage voter participation this election season.

Also, businesses in Idaho receiving Medicare dollars use them to pay employees' salaries, rent, state and local taxes, and buy equipment, and make capital improvements to their facilities.

Here's how much Medicare* spent in Idaho by health care service sector.

$1.4 billion for hospitals
$563 million for doctors
$99 million health professionals
$458 million for prescriptions and medical supplies
$55 million for medical equipment
Recently, AARP worked to help close the Medicare Part D doughnut hole a year early – a victory for older Americans that the pharmaceutical industry is working to undo. AARP has also long opposed efforts that would reduce benefits or shift costs onto consumers by turning Medicare into a voucher program. Such a move would dramatically increase people's health care costs, and expose current and future retirees to greater financial risk.

AARP has launched a comprehensive voter engagement campaign to support Americans age 50-plus as they vote in the 2018 elections. The campaign, Be The Difference Vote, will provide information on where politicians stand on the issues and help these decisive voters hold politicians accountable for their positions this November.

AARP's effort will seek to get the largest possible turnout of 50-plus voters at the polls in the general election in November. It will also work to ensure issues of particular importance to older voters are front and center—issues like Medicare, Social Security, financial security, prescription drug costs, and caregiving.

*Medicare only covers short-term skilled care in nursing homes, rehabilitation facilities and at home for an illness or injury; it does not cover long-term services at home or in a nursing home. For information on what services Medicare covers, see "What Medicare Covers" at www.Medicare.gov.