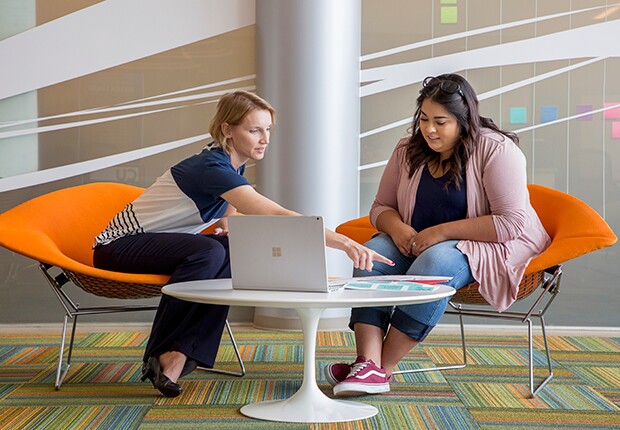 By Lisa Bertagnoli

Yazmine Carbajal, an industrial-design student, wants to help older people benefit from new technology.

She recalled the frustrated attempts to assist her 75-year-old grandmother in using an iPad. Shaky hands made it hard for her to use the device's small buttons, and she kept forgetting the order of multiple functions.

"I thought, Huh, I don't know how she uses this," said Carbajal, 23, who attends the University of Illinois at Urbana-Champaign.

This past summer, she was in the right place to help. Carbajal interned at the Tech Nest, AARP's technology design lab, where a colorful mural urges staffers to "disrupt aging."

Older adults are already using voice-activated and touch-screen systems at home, making it easier to age in place, and self-driving vehicles may improve mobility. But anyone who's ever squinted at a smartphone screen or poked at a tiny tablet keyboard knows that technology could work better.

That's why AARP established the Tech Nest, which opened its doors in June 2016.

The 2,700-square-foot lab is in the university's Research Park, along with more than 100 firms, including Yahoo and Caterpillar. It employs academic talent to create technology solutions for the increasingly tech-savvy over-50 demographic.

Nearly 9 in 10 adults older than 50 own a mobile device, and nearly three quarters of adults in their 50s own a smartphone. Four in 10 Americans age 50-plus own a tablet, according to research last year by AARP.

Fostering independence
The Tech Nest "really affords us an opportunity to marry up leading-edge technology and apply that to our social mission to disrupt aging, and allow folks to live independently and with dignity as they age," said Jose Hernandez, vice president of IT business operations at AARP.

The projects and prototypes at the Tech Nest will focus on artificial intelligence, biometrics, voice-enabled technology and information security. Researchers will work on ideas and prototypes that AARP could develop, though Hernandez declined to discuss specific projects.

AARP chose the University of Illinois after a nationwide search, Hernandez said. The university's College of Engineering ranked sixth in the 2017 edition of U.S. News & World Report's "America's Best Colleges" report.

Research Park's designer in residence, Deana McDonagh, an industrial design professor, said that "products and environments need to be more intuitive and more sensitive to the balance between helping the individual and not taking too much control away."

Students at the university, she added, are already familiar with some of the challenges of aging, as the campus has more than 1,300 students with disabilities and up to 200 wheelchair users.

"When we think of aging, we think of it as an opportunity to grow, learn and live life fully," McDonagh said. "No other campus can offer the expertise, the people living with challenges and overcoming them with innovative solutions."

AARP received 200 résumés for the first class of five interns, who started working at the lab in June 2016. This past summer the lab employed 12 students, and director Miranda Kemp hopes to have 22 in the near future.

Thanks to her work at the Tech Nest, Carbajal now keeps her older relatives in mind, asking a fundamental question when she's working on projects:

"If I give this to my grandma or parents, would they be able to understand it?"

Lisa Bertagnoli is a writer based in Chicago.