En español | Illinois' Nov. 8 general election includes races for the U.S. Senate, U.S. House of Representatives, Illinois General Assembly, governor, lieutenant governor, attorney general, secretary of state and other statewide and municipal offices. The state's primaries took place on June 28.

Essential information:
Mail in ballots: Illinois is a no-excuse vote-by-mail state, permitting all registered voters to safely cast a ballot from home.
Early in-person voting: Cast your ballot early and in person from Sept. 29 until Nov. 7.
In-person voting on Election Day: The general election – a state holiday in Illinois – is Nov. 8. Polls are open from 6 a.m. to 7 p.m.
What's new this year?
The state has approved redistricting maps for U.S. congressional and state legislative seats that may change which candidates appear on your ballot.

What races are on the ballot?
U.S. Senate: incumbent Sen. Tammy Duckworth (D), Kathy Salvi (R)
U.S. House of Representatives: All 17 seats; Illinois lost a seat in the House, as determined by population decline in the 2020 census.
Governor: J.B. Pritzker (D), Darren Bailey (R)
Illinois State Senate: All 59 seats
Illinois House of Representatives: All 118 seats
How do I register to vote?
Online: Use the state's online voter registration portal to register, check your registration status or update an existing application. To complete your registration, you'll need your state driver's license or state ID card number and date of issue as well as the last four digits of your Social Security number. You can also register to vote when you apply for or renew your driver's license or state-issued ID card online or when registering for a hunting or fishing license on the Illinois Department of Natural Resources website. The deadline to register online is Oct. 23.
By mail: You can download a voter registration form from the State Board of Election's website. Print it, fill it out and mail it to your local election authority in your jurisdiction, which you can find by using the search tool on the election board's website. The deadline to register by mail is Oct. 11 for the general election. Make sure your mailed registration form is post-marked before the deadline
In person: Applications are available at some public schools and libraries, military recruitment offices, local election authorities and county clerk offices in some jurisdictions. Contact your local election authority to find out where you can get a voter registration application in your jurisdiction. In-person voter registration is available up to and including Election Day as part of the state's grace period registration process, in which voters can register and cast a ballot at in-person polling sites. Locations are posted online at the Illinois elections website.
How can I get a mail-in ballot application? Are there important deadlines?
Online: Use the Illinois Board of Election's online tool to apply for a mail-in ballot. Applications for mail-in ballots open on Aug. 10 for the general.
Completed vote-by-mail ballots must be postmarked by Election Day and received no later than two weeks following Election Day – that's Nov. 22. You can also place your completed mail-in ballot in a secure drop box or take it to a vote center in your local jurisdiction. Or hand deliver your vote-by-mail ballot at your polling place on Election Day. Contact your local election authority to find out where to drop your ballot on Election Day.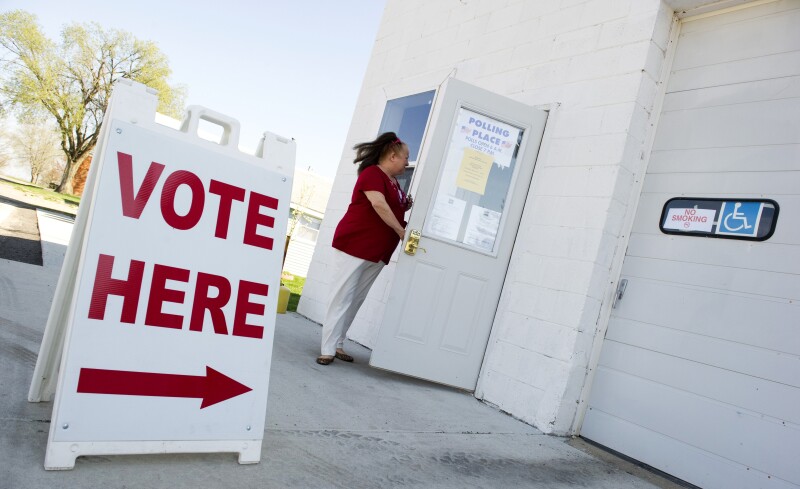 Can I track my mail-in ballot?
Your local election authority may offer online ballot tracking or require voters to call or email the office to check the status of your ballot. Read the instructions sent with your vote-by-mail ballot to find out how your jurisdiction tracks voted ballots. A list of state election authorities and contact information is available on the Illinois Board of Elections website. Call the Chicago office at 312-814-6440 or the Springfield office at 217-782-4141 for more information.

Can I vote in person before Election Day?
Yes. Early voting begins Sept. 29. Use the state board of election's online tool to find locations for early voting and Election Day vote centers.

When is Election Day? When are the polls open?
The general election — a state holiday — is Nov. 8. Polls are open from 6 a.m. to 7 p.m. Find your polling place online.

Do I need identification to vote?
Only if you do same-day registration – registering and voting on Election Day. In that case you'll need two forms of ID, such as a driver's license, a state ID card or Social Security card (at least one ID needs to show your current address). Other acceptable IDs include copy of a current utility bill, bank statement, paycheck, government check, or other government document that shows your name and address.

Your signature is considered your ID and is all you will need if you vote at a polling station on Election Day.

Editor's note: This guide was updated on June 29 with information about how to vote in 2022. The guide was first published on Aug. 20, 2020.


Also of Interest