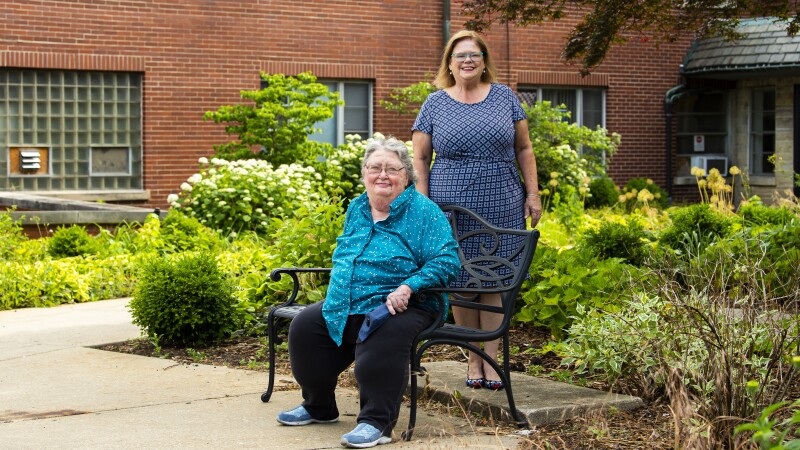 For lifelong South Bend resident Emily Knapp, efforts by local leaders to make the area more livable for people of all ages can't come soon enough.

Access to affordable housing is a top issue for Knapp, 71, who said she expressed her concerns to government officials years ago, when they approved new apartment complexes in downtown, but never received a response.

"Rents are way too high," she said. "If you're an average senior citizen on Social Security, you get $1,200 a month; you can't afford rents that are $1,000 a month."

More affordable housing for older residents is one of eight goals for St. Joseph County, which earlier this year became the first county in Indiana to join AARP's Network of Age-Friendly States and Communities.

One option might be to utilize land surrounding Portage Manor, a century-old assisted living facility that provides affordable housing for older adults and people with disabilities. The county owns the land and leases 70 acres for farming, said County Commissioner Deborah Fleming, who is leading the age-friendly effort.

She said the property is being assessed for possible expansion of housing and other services.

"I'm a dentist, and I've always just wanted to help people," Fleming said. "I want to make St. Joseph County a really nice place to live for everyone."

Next steps are delayed because of the coronavirus pandemic, but officials are using surveys to gather suggestions from residents on how to make their communities more livable. Joining the age-friendly network also involves creating a multiyear action plan.

Transportation on agenda

Livable communities also focus on increasing access to public transportation, making streets safer for walkers and cyclists, and improving outdoor spaces, among other age-friendly improvements.

Hosea Drake, 75, an AARP volunteer and retired United Methodist Church pastor, said he appreciates the new walking and bike path connecting his hometown of Granger to South Bend.

"It is an area of accessibility that seniors want," Drake said. "Right now, with all of us being confined, the only place we feel very safe to walk is in our own neighborhoods."

Kathleen Murphy, marketing director for the Milton Home, a South Bend senior-living facility, suggested the county try working with Habitat for Humanity to build more low-income senior housing in neighborhoods where older residents already live.

"That would be close to a miracle for any city, to allow seniors to stay in the neighborhoods they've lived in," Murphy said.

She also thinks St. Joseph County needs better public transit. Scheduling transportation for older adults to go to doctor appointments can be difficult, especially when the services are provided mostly by volunteers.

"A designated bus system for the elderly—that would be my vision," Murphy said. "Maybe it's not so many of those big buses, but it's five times the number of buses, and they're smaller, and the routes are more flexible."

Learn more about the AARP Network of Age-Friendly States and Communities at aarp.org/livable. To share suggestions on how to make St. Joseph County more livable for all ages, email agefriendly@sjcindiana.com or call 574-235-9534.

Learn about AARP Indiana at aarp.org/in.

Diana Lamirand is a writer living in Noblesville.

More on Livable Communities

What Is a Livable Community?