The Iowa State Fair in Des Moines is the largest event in the state and one of the oldest agricultural and industrial expositions in the country. AARP Iowa will be in the middle of the action for the fair's duration, Aug. 9-19, with an interactive booth in the Varied Industries Building, where attendees can find the latest information on issues impacting the 50+, including Medicare and Social Security, and can take the pledge to vote in the upcoming mid-term election.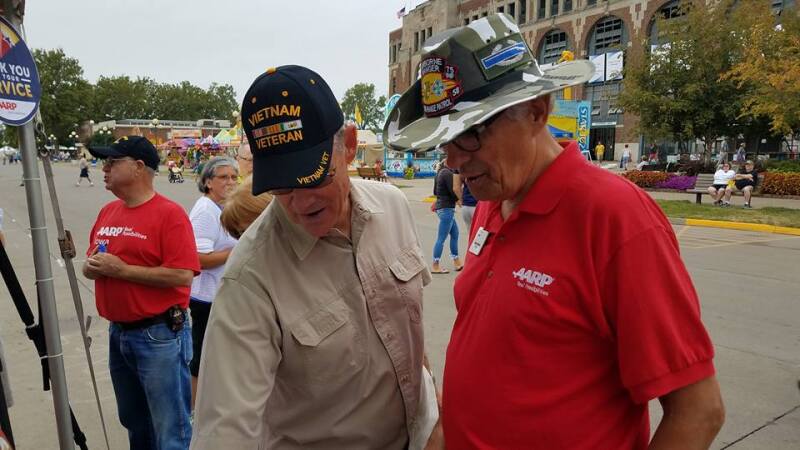 In addition, AARP Iowa will have a tent on the Grand Concourse on Monday, Aug. 13—Veterans' Day at the fair—to provide resources for military families. Veterans who visit the tent are invited to pinpoint where they served on a map, have their picture taken in the photo booth, and receive a commemorative Veterans' star flag lapel pin that honors their service.

"We understand that the transition from successful military life to successful civilian life for veterans and their families is not a one-day, a one-week, or even a one-year experience," said AARP Iowa State Director Brad Anderson. "It takes time, commitment, and perseverance, and the support of friends, family, and community. This is just a small gesture of our gratitude for the many sacrifices our Veterans have made to help preserve our freedom."

AARP is dedicated to providing services, support and resources to Veterans, military, and their families (VMF), and currently serves approximately 4 million AARP members who have served in America's military. The VMF community embodies our founder's vision: Dr. Ethel Percy Andrus believed America's older population to be "an army of useful citizens – to serve others, not to be served." For more information on AARP Veterans' resource, visit aarp.org/veterans.