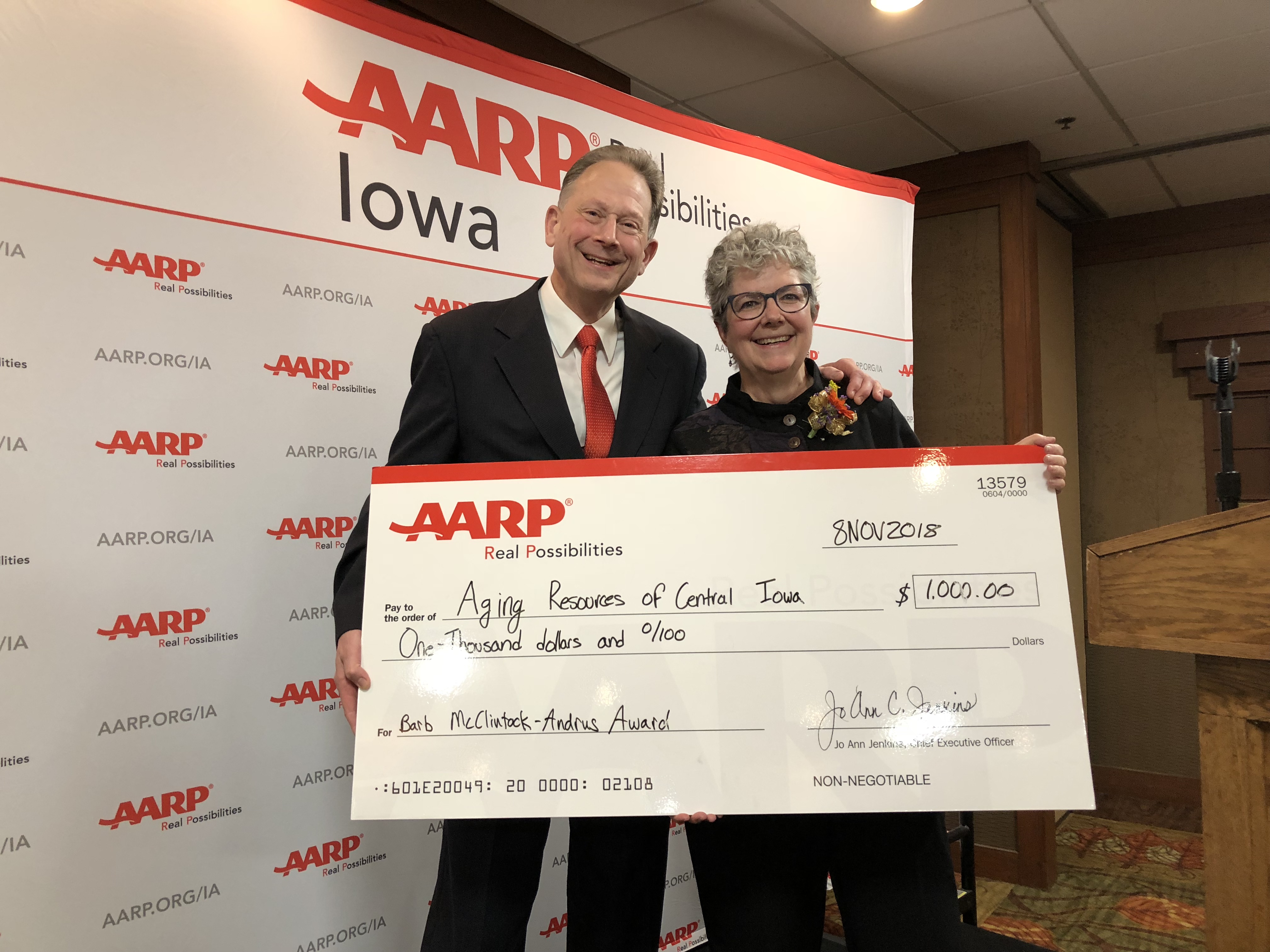 Barbara McClintock of Des Moines was named the 2018 winner of the AARP Andrus Award for Community Service which is AARP's most prestigious and visible volunteer award. The award was presented to McClintock at AARP Iowa's annual volunteer recognition event in Des Moines on Nov. 8. In addition to the award, McClintock received a check for $1,000 to donate to her charity of choice, Aging Resources of Central Iowa.

McClintock was selected for her dedication to advocacy for aging populations. Her work includes being a peer-leader and master trainer for multiple evidence-based health promotion programs, and serving as a volunteer coordinator for age-friendly community initiatives. She also works to empower older Iowans to live independently with dignity by teaching the essentials of fall prevention and chronic disease self-management programs. McClintock trains volunteers for the EVOLVE leadership academy and helped with the founding of the Iowa Falls Prevention Coalition.

"Volunteers are the lifeblood of our communities across Iowa, and nobody understood the impact of volunteering better than our founder, Dr. Ethel Percy Andrus," said AARP Iowa State Director Brad Anderson. "Barbara, with her dedication, natural leadership skills and passion is a particularly worthy recipient of the 2018 Andrus Award. We are incredibly proud to present this award to recognize her outstanding work and dedication to the community."

Among McClintock's accomplishments:

Worked for Polk County managing programs for older adults including nutrition programs, PEER Advocate programs and supplemental food programs for 27 years.
Served as the administrator for six multi-purpose senior centers and 11 dining sites.
Initiated a same day "special transportation" program for people 60+ in Polk County that needed medical care or treatment and could not provide 24 hour notification to use Paratransit.
Helped create the first Iowa Falls Prevention Symposium and the largest Iowa Tai Chi class at the State Capitol in recognition of National Fall Prevention Awareness Day.
Served on the National Institute of Senior Centers executive committee as an Iowa representative.
McClintock, a lifelong Iowa resident, attended Wartburg College in Waverly and has lived most of her life in the Des Moines area. In 1981, she began her career working for Polk County and running programs for older adults. Within her tenure at the County, four new senior centers were built and others were remodeled. She changed the way that the nutrition program worked by making it wellness focused and community based. She also created same day special transportation programs, helped establish multiple evidence based health promotion programs, served on the National Institute of Senior Centers and plays a large role in the Des Moines Age-Friendly City initiative. McClintock is an avid walker and completed her first 10K this past October.

"Barb McClintock is a strong believer in empowerment, providing opportunities for older adults to live independently, with dignity and purpose and to enable them to serve the community around them," wrote Joel Olah, executive director, Aging Resources of Central Iowa, in his nomination of McClintock for the Andrus Award. "Barb plays a key role in recruiting and training volunteers for programs and providing opportunities for the projects to be implemented in designated community settings throughout Des Moines."

AARP's highest award for community service, the Andrus Award, honors the work and legacy of AARP founder, Dr. Ethel Percy Andrus. From the beginning, her motto, "to serve, not to be served," has shaped AARP's community service efforts at the national, state and local levels. The Andrus Award winner is nominated by his or her peers and the award recipient is chosen by the local AARP Iowa Executive Council. Andrus Awards are presented in every state to acknowledge the volunteer work members engage in that enhances the lives of AARP members and prospective members, improve the community for which the work was performed, and inspire others to volunteer.

Finalists for the 2018 Iowa Andrus Award were also honored at the event, including: Dixie M. Jurgens of Cedar Rapids, Leo Duffy of West Des Moines, Tom Townsend of Dubuque, Edward DePaepe of Waterloo, Victoria See of Fairfax, Sybil Schroder of Dubuque, Ruth Hamlin of Council Bluffs and Jane Kent of Coralville. Nominations for the 2019 Andrus Award will open in the spring.