AARP Iowa, Greater Des Moines Partnership, City of Des Moines, local businesses teaming up to create age-friendly, healthy, active block

Bookended by the Iowa State Capitol to the east and the Des Moines River to the west, East Grand Ave. is a corridor to culture, food, shopping and activity in Downtown Des Moines' bustling Historic East Village. Home to some of the best restaurants and retail options that Des Moines has to offer, the section of East Grand between East Fifth and East Sixth Streets is going to get a little brighter, livelier, and safer through a temporary makeover, July 16-19.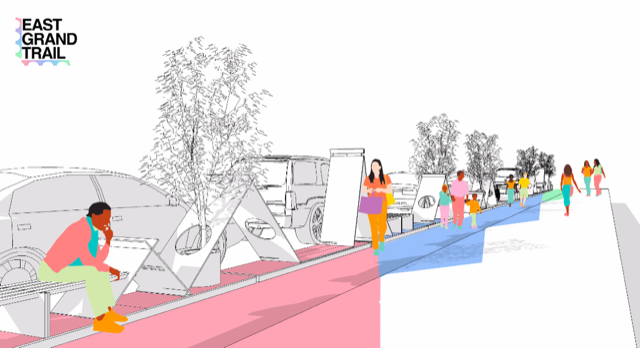 Working with Team Better Block—urban planning experts from Dallas, Texas who specialize in design for community, connection, and commerce—AARP Iowa, the Greater Des Moines Partnership, the City of Des Moines and businesses on East Grand Ave. have convened over the past several months to bring the block-long beautification and accessibility plan to fruition. The pop-up project is intended to promote a healthy, fun and active street through the use of protected and colored bike lanes for cyclists and walkers, landscaped sidewalks with planters and trees, public art and murals, outdoor café seating, revamped intersection crossings, floating parking lanes, string lights and signage.

"I've spent almost 13 years building a retail business in Downtown Des Moines' Historic East Village and have seen the major difference a walkable block can make to a business," said Mike Draper, founder and owner of Raygun, 505 East Grand Ave. "Changes at the street and sidewalk level that may seem small in the big scheme of things can add up to a vibrant neighborhood."

The project complements the Connect Downtown pilot project currently in place on East Grand Avenue between East Second and East Seventh Streets. Connect Downtown is exploring how to make Downtown Des Moines safer, more comfortable and more convenient by improving access to and within Downtown for people walking, bicycling, driving and using public transportation.

"Creating a safe and inviting Downtown for all modes of transportation is good for businesses, workers and residents," said Partnership CEO Jay Byers. "This project is another step toward increasing Downtown accessibility and will offer a vision for the future that we can collectively build upon."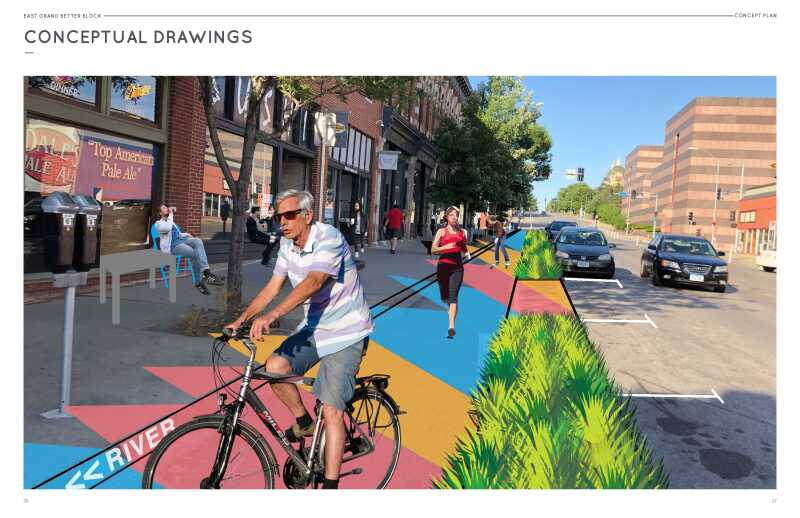 Over the course of the four day Better Block project, dozens of volunteers and community members will be building, painting and landscaping for five to six hours daily to transform the block of East Grand, culminating with an unveiling and ribbon cutting ceremony on Thursday, July 19, at 5:30 p.m.

"A primary objective of this Better Block is to rebrand the infrastructure in place to create something that business owners can fall in love with and take pride in," said Layne Ferguson, project manager with Team Better Block. "By having more options on East Grand for active transportation, and not just cyclists, as well as incorporating more public art, the street can become an even bigger destination in Des Moines."

This is the fifth project that AARP and Team Better Block have partnered on together to make cities across the United States more age friendly and accessible to all demographics. AARP's Livable Communities initiative supports the efforts of neighborhoods, towns, cities and rural areas to be great places for people of all ages.

"We believe that communities should provide safe, walkable streets, age-friendly housing, transportation options, and opportunities for residents of all ages to participate in community life," said AARP Iowa State Director Brad Anderson. "This block of East Grand Ave. is a great example of what a livable community can represent and is an exciting showcase of what streets and neighborhoods across Des Moines can look like in the future."

Volunteers are needed during the Better Block project, Monday, July 16 to Thursday, July 19, to help with building, painting and landscaping. Shifts run daily from 3 to 9 p.m. and individuals or groups can register online at https://aarp.cvent.com/IAVolunteerBBB or can contact Connie Eastman at ceastman@aarp.org.

The Better Block project started in April 2010, when a group of community organizers, neighbors, and property owners gathered together to revitalize a single commercial block in an underused neighborhood corridor. The Better Block process takes a grassroots approach to planning, allowing the community to direct involvement with rapid build-out and construction of revitalization projects. This approach is intended to inspire and educate community leaders and residents to improve safer streets, community vitality, and livability. For more information, visit teambetterblock.com.

About AARP
AARP is the nation's largest nonprofit, nonpartisan organization dedicated to empowering Americans 50 and older to choose how they live as they age. With nearly 38 million members and offices in every state, the District of Columbia, Puerto Rico, and the U.S. Virgin Islands, AARP works to strengthen communities and advocate for what matters most to families with a focus on health security, financial stability and personal fulfillment. AARP also works for individuals in the marketplace by sparking new solutions and allowing carefully chosen, high-quality products and services to carry the AARP name. As a trusted source for news and information, AARP produces the nation's largest circulation publications, AARP The Magazine and AARP Bulletin. To learn more, visit www.aarp.org or follow @AARP on social media.

About the Greater Des Moines Partnership
The Greater Des Moines Partnership is the economic and community development organization that serves Greater Des Moines (DSM), Iowa. Together with 23 Affiliate Chambers of Commerce, more than 6,100 Regional Business Members and more than 330 Investors, The Partnership drives economic growth with one voice, one mission and as one region. Through innovation, strategic planning and global collaboration, The Partnership grows opportunity, helps create jobs and promotes DSM as the best place to build a business, a career and a future. Learn more at DSMpartnership.com.