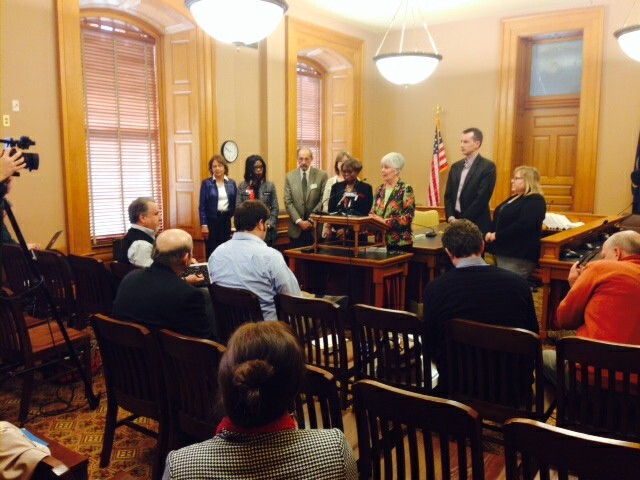 Topeka – AARP Kansas Director Maren Turner and Kansas Insurance Commissioner Sandy Praeger, at a Statehouse news conference today, urged Governor Brownback to veto House Bill 2553, a bill passed by the Kansas Legislature that would allow the state to join an Interstate Health Care Compact and place federal funding for all health care services in the state, including funding for such programs as Medicare, Medicaid, and Healthwave (children's health insurance) under the control of the state legislature and governor. Joining them in support at the news conference were representatives of Kansas Advocates for Better Care (KABC) and the Kansas Medicaid Access Coalition.

AARP Kansas has repeatedly testified in opposition to House Bill 2553 during the 2014 legislative session saying it was "frivolous" and Commissioner Praeger has spoken against the bill because, if approved by the Governor, it will place the health care of not only older Kansans at risk, but also the health care of children, veterans, and people with disabilities. It would also impact rural hospitals, Hospice and federally qualified health centers.
"Medicare is a guaranteed and stable program that more than 448,000 Kansans depend on for their health care needs," said Turner. "Placing this very popular program under the jurisdiction of the state not only increases the size of state government, but joining a health care compact reduces the amount of health benefits and protections as well as the much needed savings beneficiaries now enjoy."
"Supporters of the bill may tell you it doesn't affect Medicare, but that is just not true," said Praeger. "It could jeopardize the coverage and benefits that seniors have come to count on. It would be a serious mistake to turn the Medicare program over to state control. Kansans have paid into this program through payroll taxes and expect to receive the benefits they have been promised."
Since 1965, Medicare beneficiaries have relied on this essential program to provide for their health care needs. As a result, Medicare is one of the most popular federal programs in the country. A Harris Poll released in 2012 found that 88 percent of those polled support the health care program for seniors.
Turner, Praeger and the other supporters are asking Governor Brownback to veto House Bill 2553 on behalf of all Kansans who, if this legislation is approved, would be at risk of losing current benefits, having fewer choices and having less access to health care.