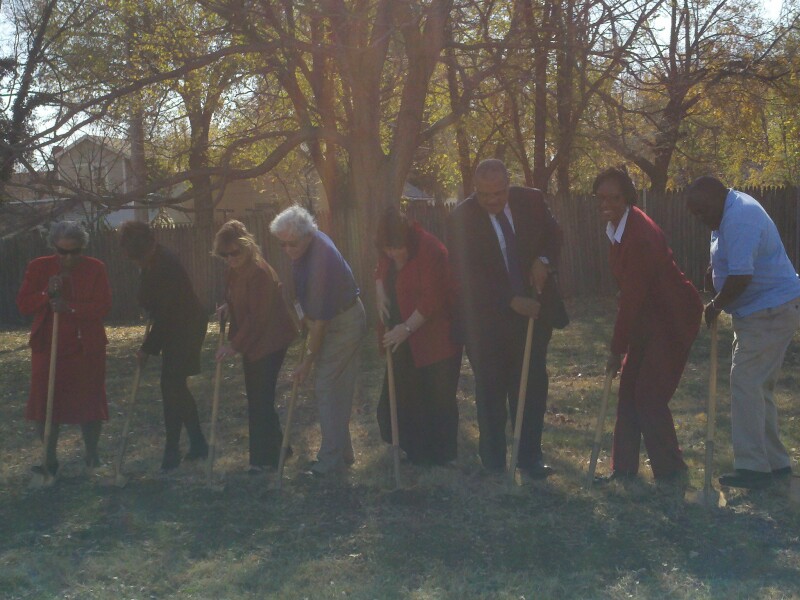 Within the next several months, residents of the Tri-S Neighborhood in Wichita will be seeing the new grandparent park in their area come to life. AARP Kansas State Director Maren Turner and Interim Volunteer State President Ann Garvin were on hand November 9 to break ground for the park, a partnership of AARP Kansas, the Central Plains Area Agency on Aging (CPAAA), the City of Wichita and the Tri-S Neighborhood Association, which consists of residents of the Schweiter, Schweiter East and Sunnyside neighborhoods.

AARP Kansas brought age-friendly community expert and advocate Dan Burden to Wichita last November to work with its partners to identify ways in which the Tri-S neighborhood could become age-friendly and allow people to age in their own homes and neighborhoods. Wichita Mayor Carl Brewer, City Councilwoman LaVonta Williams, city officials, CPAAA, the Older Adult Alliance and neighborhood residents joined with AARP Kansas staff and volunteers to explore ideas and opportunities to make the neighborhood more age-friendly. The neighborhood residents identified the need for a place for seniors to exercise and bring grandchildren and the idea of a grandparent park was born.

The park will be located in what formerly was a vacant lot off Kellogg Drive between Estelle and Volustia streets in South Wichita . It will include a walking path and exercise stations for use by all, but especially geared toward neighborhood residents who are 50 or older. The city of Wichita donated the land and AARP Kansas is funding the first phase of the project which will eventually include a playground for grandchildren.