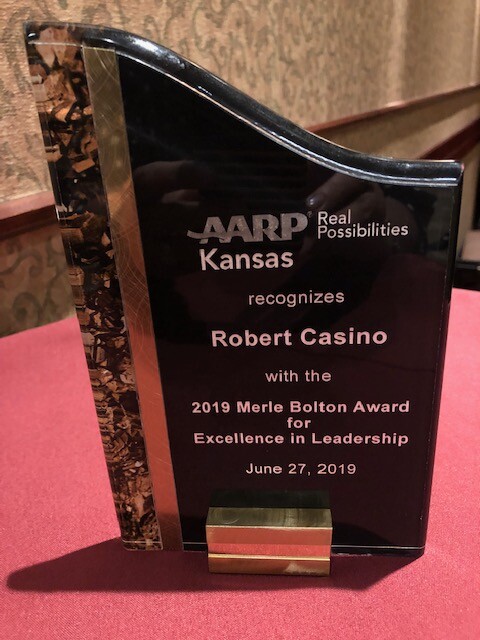 AARP recognizes and values the spirit of volunteerism and the important contributions volunteers make to their state and communities. We couldn't do our work without them. Volunteers provide extraordinary service each day to improve the quality of life for Kansans. In order to celebrate our volunteers, each year we have a special ceremony to thank them for their service and to highlight the work of those who have gone above and beyond in their service to AARP and to our state.
In 2019, AARP Kansas Volunteer State President Judy Bellome and AARP Kansas State Director Maren Turner presented awards to four outstanding volunteers. The first award, the AARP Kansas Merle Bolton Award for Leadership, was given to Bob Casino, Pittsburg, who is president and a long-time member of the Crawford County AARP Chapter 646. In addition to leading his local AARP chapter, Bob has for many years been an AARP advocacy volunteer and for 15 years he was an instructor for the AARP Smart Driver program. Bob is or has been an active volunteer in his community for such groups as the Salvation Army, Wesley House and Habitat for Humanity. He also is an active member of the Kansas Association of Retired School Personne (KARSP). Bob served 20 years in the U.S. Navy and is a Fleet Reserve Association Member as well as a member of the American Legion Association and the John Darby Post #43. (Unfortunately, Bob could not be present at the ceremony.)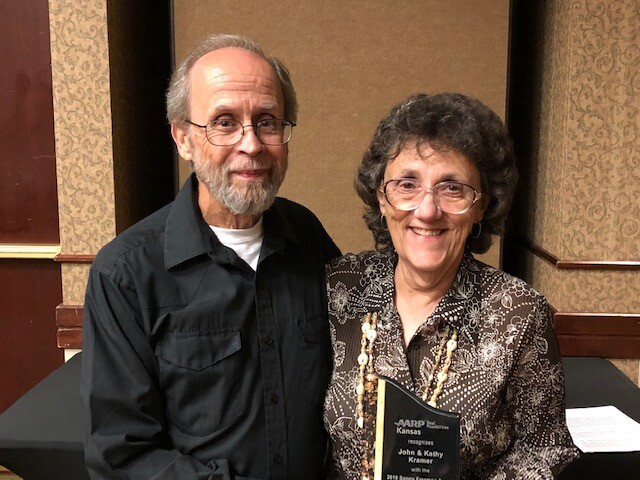 The next award, the AARP Kansas Sonny Freeman Award for Advocacy Service, was presented to John and Kathy Kramer, Wichita. This award recognizes volunteers who are making a powerful difference in their communities. John and Kathy are members of the AARP Wichita Advocacy Group, they volunteer for the AARP Foundation Tax-Aide program, they work on outreach to veterans and they are always willing to assist with AARP activites in Wichita and other areas of the state.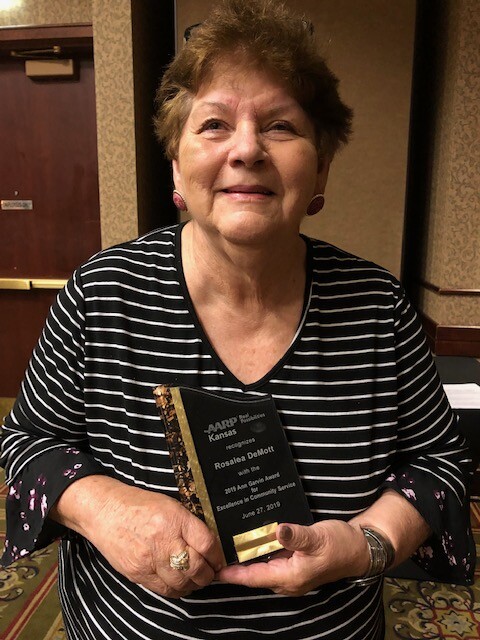 Last, but certainly not least, the AARP Ann Garvin Award for Excellence in Community Service (named after long-time Topeka volunteer Ann Garvin) was presented to Rosalea DeMott, Pleasanton. Rosalea is an active AARP Kansas volunteer serving in a variety of areas, including as a member of the Capital City Task Force which focuses on advocacy, community service, as a member of the Volunteer Support Team and as a volunteer in the state office. She is positive, inspiring and always ready to lend a hand.
AARP congratulates these award winners and thanks them for their continued service to AARP and their state and community.
If you'd like to get involved with AARP Kansas as a volunteer, please reach out to us by calling 866-448-3619 or e-mail us at ksaarp@aarp.org or abozarth@aarp.org.