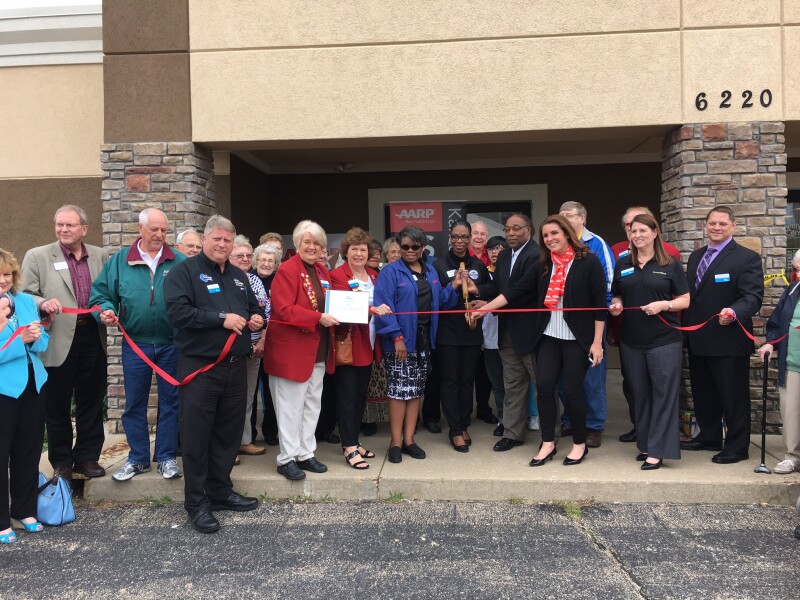 AARP Kansas staff, and volunteers from across the state, were joined by members of the Greater Topeka Chamber of Commerce Ambassadors for a ribbon cutting ceremony at the new state office location on Friday, May 20th. The new office is located at 6220 SW 29 th Street, Suite 300 in Topeka. It's near the corner of 29th and Wanamaker and shares the building with the Community Blood Bank.

The AARP Kansas state office was formerly located in downtown Topeka at 6th and Kansas. The new location allows office staff to be closer to volunteers, members and those who want to find out more about AARP's work in Kansas.

AARP staff and volunteers work across the state to provide support for caregivers, fight unreasonable increases in utility rates, educate Kansans about consumer fraud and scams and how to avoid them, and advocate for Kansans who want to remain in their homes and communities as they age. AARP volunteers also teach the AARP Smart Driver course to help Kansas drivers be safe on roads and highways, and they assist people who need help filing their tax returns each year as part of the AARP Foundation Tax-Aide program. AARP Kansas volunteers serve on the Executive Council, the Diversity Council and as advocacy, community service and office volunteers.

If you or someone you know is interested in volunteering for AARP Kansas, please e-mail us by clicking here, or by calling 1-866-448-3619. You will be asked to fill out an application which helps us to find out your interests in various aspects of our work.

We look forward to hearing from you!