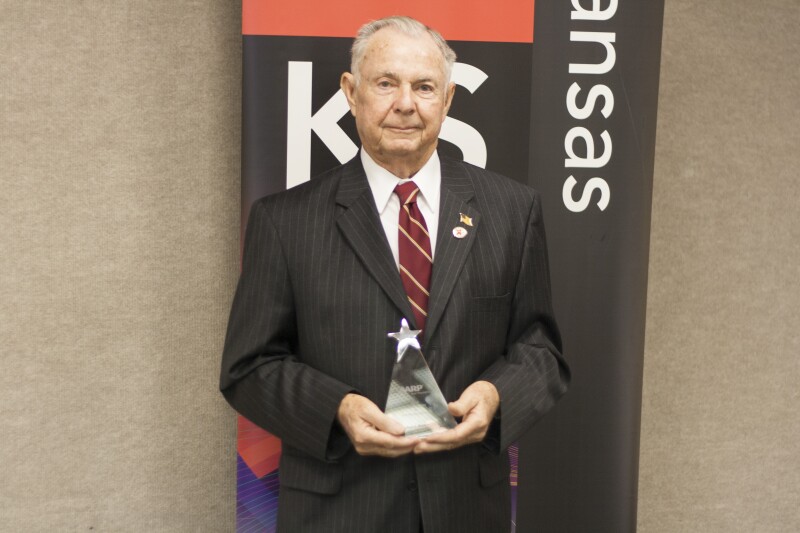 AARP Kansas honored its 2015 outstanding community service volunteer during a luncheon banquet on Friday, November 13, in Pittsburg. Each year, AARP, the nonprofit membership organization for people 50 and over, presents its most prestigious award, the Ethel Percy Andrus Award for Community Service, to an individual or individuals who, through volunteer service, significantly enhance the lives of those in their community. This award symbolizes that individuals have the power and ability to make a difference in the lives of others.
The 2015 Andrus Award for Community Service was presented to Robert J. "Bob" Roberts of Pittsburg. Roberts, is a former printing technology professor at Pittsburg State University who retired as Professor Emeritus after nearly 40 years. Since his retirement, Roberts has been active with the Habitat for Humanity program and was one of the founding members of the Crawford County chapter. In addition, Roberts and his wife, Martha, have been active in their local AARP chapter and as members of the AARP Kansas Capital City Task Force, which is a statewide group of AARP volunteers who are active in advocacy and legislative issues.
"Bob is well-deserving of the award that honors AARP founder Ethel Percy Andrus," said Glenda DuBoise, AARP Kansas Volunteer State President, who presented the award to Roberts along with AARP Kansas Director Maren Turner. "His record of service to his community, and in particular the Habitat for Humanity program, demonstrates his commitment to making a difference in the lives of others.
In addition to being a very active volunteer and founding member of the Crawford County Chapter of Habitat for Humanity, Roberts is also a member of the local Pittsburg AARP chapter, the statewide AARP Capital City Task Force, and the Southeast Kansas Retired School Personnel.
"The Andrus award acts as a symbol to members and the public that we can all work together for positive social change," said DuBoise. "AARP has long valued the spirit of volunteerism and the important contributions AARP volunteers make to their neighbors, communities, and the programs they serve."
Also on hand for the award presentation was AARP National Board Member Joan Ruff. Ruff, a native Kansan, provided information about the history of the Andrus Award and AARP founder Ethel Percy Andrus for whom the award is named.
Other nominees for this year's Andrus award were Diane Taylor, Topeka; Dr. Carla Lee, Wichita; Leonard Schoenberger, Ellis; Duane Draving, Wichita; Carol Strickland, Emporia; and W. "Pete" Hughes, Parsons.