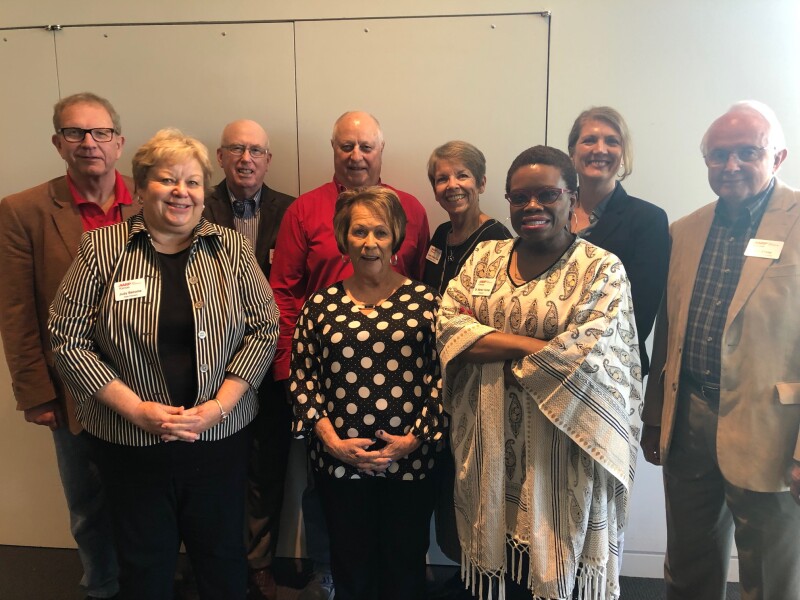 The AARP Kansas Executive Council is part of a team of leadership volunteers, who under the guidance of the State President and State Director, carry out AARP's strategic priorites within the state. The Executive Council supports and reflects the mission of AARP – to enhance quality of life for all as we age, to lead positive social change and to deliver value to members through information, advocacy and service.
The Executive Council:
• Provides input on strategies for accomplishing goals outlined in the state plan,
• Works in partnership with state office staff and leadership volunteers in the development, implementation and monitoring of the state plan; and
• Provides guidance and assistance on a variety of activities such as special projects, research, diversity outreach, community organizing, member engagement.
Members of the AARP Kansas Executive Council are (front row, left to right) State President Judy Bellome, Maxine Goucher and State Director Dr. Maren Turner; (back row, left to right) Paul Babich, George Sonnichsen, Gerald Schmitt, Judy Davis-Cole, Eileen Cain and Stu Ervay.
For information about becoming an AARP Kansas volunteer, call us at 866-448-3619 or e-mail us at ksaarp@aarp.org.