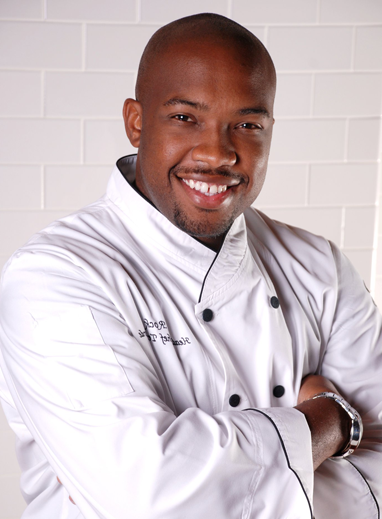 AARP Kansas has invited Hell's Kitchen (Season Three) winner and celebrity Chef Rock Harper to Wichita to conduct a hands-on class on how to prepare healthy meals in order to prevent diseases that are related to obesity. Chef Harper will be in Wichita at the Beech Activity Center, 9710 E. Central, on Saturday, August 2, 2014 from 9 a.m. to 1:30 p.m. for the meal preparation and tasting.
Once the meal is completed with Chef Harper instructing and overseeing its preparation, participants and their guests will enjoy the meal while they hear from Wichita City Councilwoman LaVonta Williams about the importance of healthy eating as a means to make a community more livable for residents as they age.
The cooking class participants will be African American/Black women who have been invited to participate in the class for a variety of reasons. There are a number of diseases that disproportionately impact African American/Black women and communities, including diabetes, high blood pressure, and obesity. Healthy eating may help prevent or at least manage some of these concerns and will be especially helpful for the cooks or their family members who have or may be prone to have diabetes. Diabetes is more prevalent among African Americans than any other population with the exception of Native Americans.
Healthy eating is also extremely important for caregivers (the majority of whom are women) who may feel overwhelmed with their caregiving responsibilities and who may not believe they have the time, knowledge or ability to prepare healthy meals. A recent AARP state-by-state study, the Long-Term Care Services and Supports Scorecard revealed that 38 percent of caregivers in Kansas experience stress because of time constraints. AARP hopes that by provided tips for cooking healthier meals, including time-saving techniques, it will lessen the stress and help caregivers take care of themselves and not incur the reported weight gain that often time comes with being a caregiver.
"We have organized a similar and very successful event with members of the Native American population in Northeast Kansas for the last three years," said AARP Kansas Director Maren Turner. "Because of the classes, participants have made changes in lifestyle and cooking habits. We look forward to sharing this extraordinary experience with members of the African American community in Wichita and are excited that Chef Harper agreed to share his expertise with us."
Throughout his career, Chef Harper has worked at award winning restaurants such as Café Calliope, Burke Station Restaurant, Planet Hollywood, BET on Jazz Restaurant, and as Executive Chef of B. Smith's Restaurant, Ben's Next Door and The Carlyle Club. He currently works at the DC Central Kitchen in Washington, D.C. as culinary instructor.
Before the cooking begins, participants will learn more about chronic illnesses, such as diabetes and high blood pressure, and how even minor changes in food preparation and ingredients can contribute to a healthier lifestyle from AARP Volunteer Barbara Sabol, a Kansan who serves on the AARP National Policy Council. They will also find out more about the CARE Act which AARP will ask to have introduced during the 2014 Kansas legislative session to help provide assistance to caregivers.
Cooking class participants have already been selected; however, there are limited spaces available for anyone wanting to take part in the meal. Reservations for the meal are required and can be made by calling AARP Kansas at 1-866-448-3619 or e-mailing Janet Clearwater at jclearwater@aarp.org.
The event is sponsored by AARP Kansas and the Kansas African American Affairs Commission (KAAAC).
###