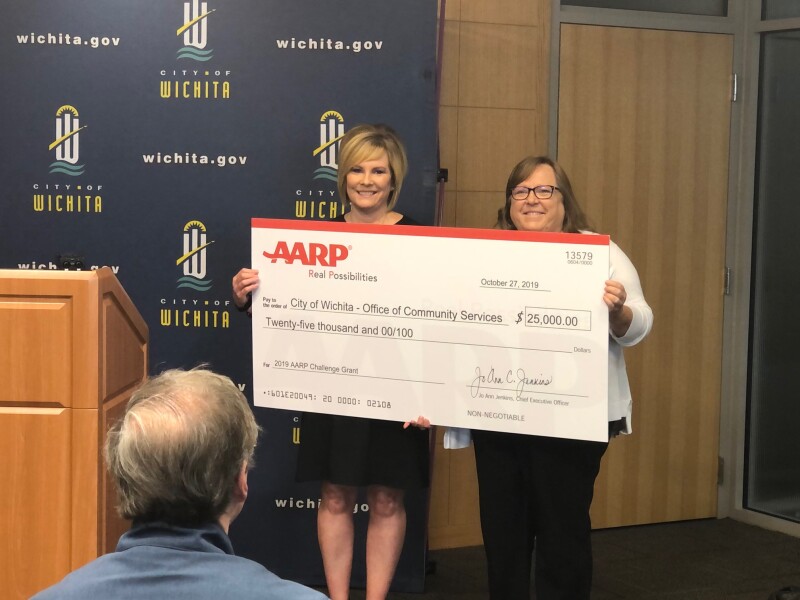 AARP Kansas Outreach Director Andrea Bozarth presented an oversized check to Wichita City Council Member Becky Tuttle as the City of Wichita was selected as a recipient of an AARP Community Challenge Grant for 2019. The presentation was made at Wichita City Hall on Thursday, October 17, 2019. The AARP Community Challenge grant program awarded nearly $1.6 million to fund 159 "quick action" projects across the country, helping communities make immediate improvements and jumpstart long-term progress to support residents of all ages. Nearly 1,700 applications were received from non-profits and government entities for the program, now in its third year. Each of the projects, which must be completed by November 4, is designed to achieve one or more of the following outcomes:

Council Member Tuttle said the Community Challenge Grant for Wichita will be used to help close the digital divide that exists in its lower socio-economic areas. She said the grant will allow the City to provide 20 Hot Spot devices at each of its three neighborhood resource centers. Wichita residents can check them out at no cost for a two-week period. A Hot Spot is a small independent device that provides wireless internet to devices connected to it.

The City ran a two-month pilot project earlier this year which proved to be successful and provided the following data:

None of the hot spots returned remained on the shelf for more than 24 hours before being checked out again.
The two centers in the pilot project always had waiting lists for the Hot Spots.
88% of those checking out Hot Spots resided in low-income neighborhoods
49% of those checking out Hot Spots were over the age of 50.
"AARP Kansas works to support this effort and is excited to be able to provide funding through the AARP Community Challenge grant program," said AARP Kansas State Director Dr. Maren Turner. "We are so pleased that the Wichita Hot Spot program was selected as one of them."

Hot Spots may be checked out at the following locations:

Atwater Neighborhood Resource Center, 2755 E. 19th St. N., 303-8016
Colvin Neighborhood Resource Center, 2820 S. Roosevelt, 303-8029
Evergreen Neighborhood Resource Center, 2700 N. Woodland, 303-8043