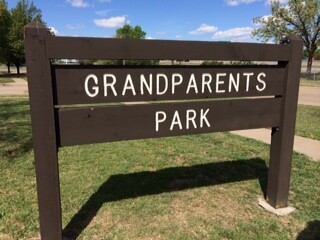 If you live in or near Wichita, please join AARP for the Grandparents Park Fall Festival on Saturday, October 10 from 10 a.m. until noon. The park, located near Estelle and Kellogg in south Wichita, will be full of activity with live music, pumpkin painting, balloon art, face painting, free snacks, drinks and more.
The Grandparents Park came about as a partnership between the city of Wichita, the Central Plains Area Agency on Aging, the Older Adult Alliance, the Tri-S Neighborhood Association and AARP Kansas. It's called a grandparents park because it has activities for young children as well as older adults who live in the neighborhood and want a place to relax and play. The city of Wichita donated the land and AARP provided funding for equipment and other amenities, all with input from the neighborhood residents.
We hope you will join AARP for the Grandparents Park Fall Festival. If you can't be there on October 10, please be sure to stop by the park on another day and enjoy all it has to offer.