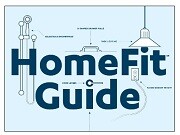 AARP research consistently finds that the vast majority of people age 50 and older want to stay in their homes and communities for as long as possible.
Do you need ideas to make your home more suitable for anyone to live in, regardless of age or physical ability?
You'll find it at the AARP booth at this year's Fall Remodeling and Decorating Expo in Wichita on October 22 and 23, 2016. The show will be at Century II, 225 W. Douglas, Wichita, from 10 a.m. to 6 p.m. on Saturday and 11 a.m. to 4 p.m. on Sunday. Admission is free.
AARP will have information and resources to help people stay in their homes with solutions that range from simple do-it-yourself fixes to improvements that are more involved and required skilled expertise but are worth the expense.

If you can't make it to the Expo, you can access AARP information here .
For more information about the Expo, click here.