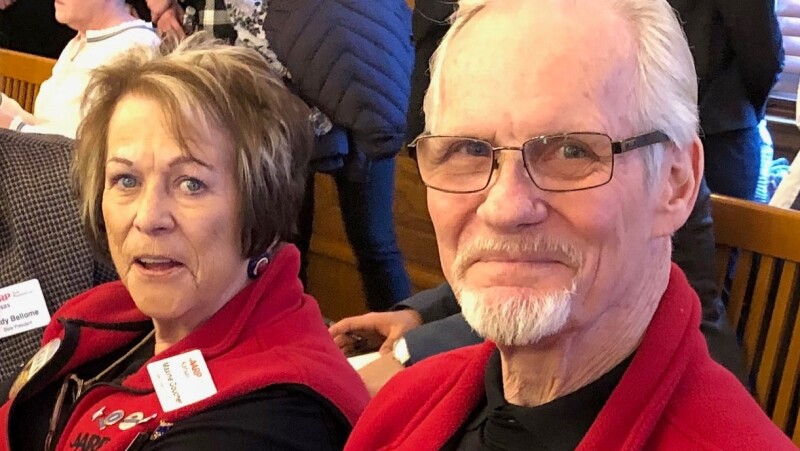 By AARP Kansas Volunteers Maxine and Richard Goucher who took part in the Hidden Heroes Summit on October 6, 2020

AARP is honored to serve more than 4 million members who have served in the military, helping veterans and military families overcome some of the unique challenges they face. We know there are around 211,113 veterans living in Kansas, including 69 percent who are age 50 and older. That's why AARP Kansas is working with local and national leaders to support veterans and their families as they age, through resources, information and programming tailored to this group.

We recently took part in the first ever Hidden Heroes Cities and Counties Summit, along with other AARP state offices and more than 150 experts from across the country. Together, we brainstormed ways to build or expand systems of support for military caregivers at a local level. The summit was sponsored by AARP, the Elizabeth Dole Foundation, Comcast-NBCUniversal and the National Association of Counties (NACo) and included officials from cities, counties and states that have pledged to support those caring for a wounded, ill, or injured service member at home.

One of the experts who spoke at the Hidden Heroes Cities and Counties Summit was AARP's own family and caregiving expert, Amy Goyer. She talked about some of the unique challenges of caring for a veteran, speaking from her own experience caring for her father, who served in World War II and the Korean War. Amy also highlighted AARP resources for veterans, including our free guide to military caregiving, available here.

AARP Kansas was one of several AARP state offices taking part in a lively virtual conversation as part of the Summit, reflecting our commitment to veterans and military families across the nation. In addition to our military caregiving guide, we offer a wide range of information specifically for veterans and military families. One of our newest resources is a tip sheet on caring for a veteran during the pandemic.

We are also working to support veterans and military families within our state:

We work with other volunteers and staff to reach out to veterans and families across the state providing materials and information at veterans and veteran caregiver events. AARP Kansas partners with veterans coalitions through the Wichita Vet Center and two VA Hospitals (the Kansas Soldiers' Home at Fort Dodge and the Kansas Veterans' Home in Winfield) and leadership at Fort Leavenworth to engage in outreach to veterans and families. We provide donations and thank you cards to veterans living at the two state veteran's hospitals. We also have free Veteran Caregiving resources in Spanish.

Military caregivers face many challenges –made even harder by the current pandemic – but AARP is here to provide assistance and support to these everyday heroes. While caring for a wounded, ill, or injured service member or veteran may be one of the most challenging roles one will ever tackle, it also can be one of the most rewarding. AARP is proud to support the 5.5 million military and veteran caregivers nationwide who deliver voluntary, uncompensated care for their wounded warriors every day.

A full library of AARP resources for veterans is available at aarp.org/veterans.