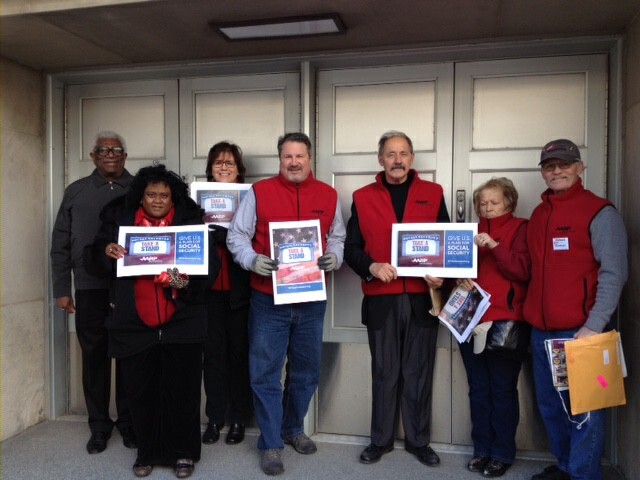 AARP volunteers and staff from Kansas and Missouri attend a presidential campaign rally in Kansas City, Missouri in February 2016


AARP's Take A Stand campaign is calling on the presidential candidates to lay out their plan to keep Social Security sound for future generations.



In Kansas, Social Security helps more than half a million people pay their bills. It keeps millions in the middle class – and lifts 148,000 retirees above the poverty line. Kansas residents depend on Social Security, and they want it to be there for their children and grandchildren.



Social Security is becoming even more important in Kansas and throughout the country. Employer pensions are vanishing. The cost of health care and other necessities keeps going up. Yet more people than ever may live into their 80s, 90s and beyond, with limited means to pay the bills. If our leaders don't act, future retirees could lose up $10,000 a year.



So the stakes really matter. Proposals that candidates offer for Social Security should be fully debated, and people should understand how these ideas could affect them and their families. All proposals should get careful consideration, with a serious discussion of pros and cons.



For example, some candidates support raising the retirement age, noting that people live years longer than when Social Security was created in the 1930s. But what happens to people with physically demanding jobs who can't work longer? Some candidates say Social Security benefits should be increased, noting that many retirees struggle with low benefits. But how do we pay for benefit increases given all the budget realities?



Voters should not be left in the dark about the answers. Americans pay into Social Security throughout their working lives, and they deserve to know – in detail – how every presidential candidate would keep the promise of Social Security for future generations. If someone thinks they're ready to be president, they should be willing to say what they would do to keep Social Security strong.



While some candidates have been more forthcoming than others, major questions remain about all their proposals, and we urge the media to press the candidates harder on Social Security.



Having a real plan to update Social Security is a test of presidential leadership in 2016. Let's find out whether the candidates pass that test.