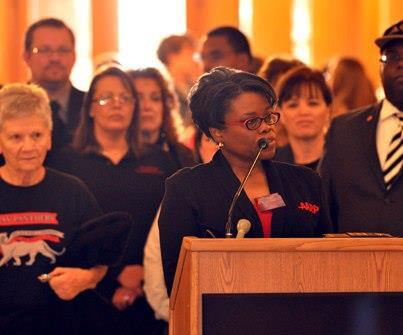 Announcement of Newly Formed Kansas Medicaid Access Coalition—March 12, 2013

Remarks by Maren Turner, AARP Kansas Director

Good morning, I'm Maren Turner, Director of AARP Kansas. AARP Kansas has more than 335,000 members here in the state. We are happy to join our voices with those of our other coalition members to speak about a critical issue for Kansas.

We agree it makes good fiscal sense to expand Medicaid so that people across the lifespan can get the care they need. I'm here to talk about why Medicaid Expansion is good for people over the age of 50. I will make two points:

First, Medicaid Expansion is critical for mature workers who have lost their jobs through no fault of their own. Facing a job loss is challenging for anyone. When an older worker loses a job, however, it takes much longer to get another one than it does for a younger person. If you are between the ages of 50 and 64, you are too young to qualify for Medicare and so many have no health insurance at all. Without insurance, that means they won't be able to access preventative care and my end up in the Emergency Room for concerns that could have been taken care of earlier had they had insurance.

Second, some try to make Medicaid Expansion a partisan issue. I am here to tell you it is not. AARP recently conducted a survey of Kansans over the age of 45 to determine their thoughts about Medicaid Expansion. Our findings are similar to findings released by the Kansas Hospital Association. Some of the respondents were AARP members, but 64 percent were not. Of those responding, more than 50 percent indicated Medicaid Expansion is important for Kansans. Of those more than 50 percent, 40 percent identified themselves as Republican, and 37 percent indicated they were conservative Republicans.

In summary, Medicaid Expansion makes good fiscal sense for Kansas. It is critical for mature workers who may have lost their jobs because they are not old enough to qualify for Medicare. And Medicaid Expansion is not a partisan issue. It is critical no matter what your politics are.

I hope the Governor is listening.