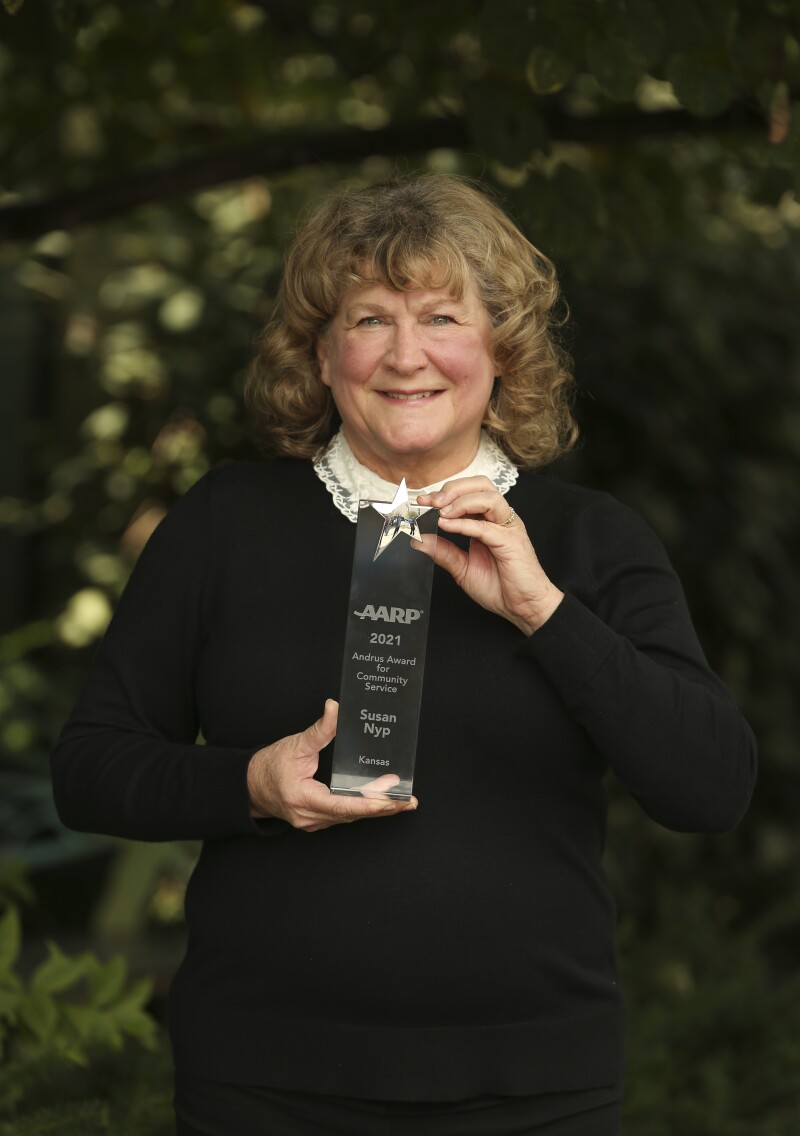 Susan Nyp, Lawrence, has been selected by AARP, the nonprofit organization for people 50 and older, to receive the 2021 AARP Kansas Andrus Award for Community Service, the Association's most prestigious and visible state volunteer award for community service.

AARP Kansas selected Nyp for her remarkable service, which has greatly benefited her community, reflected AARP's vision and mission, and inspired other volunteers. Nyp currently volunteers for Lawrence Habitat for Humanity, Corita's Corner Sandwich Ministry in Topeka, and Douglas County Master Gardening program. As a retired Registered Nurse, Nyp also volunteered her time to give Covid-19 vaccinations. According to her nomination, Susan has volunteered for years, she always gives back to her community and she has no plans to stop.

"This award acts as a symbol to the public that we can all work together for positive social change," says Judy Bellome, AARP Kansas Volunteer State President. "AARP has long valued the spirit of volunteerism and the important contributions volunteers make to their communities, neighbors, and the programs they serve."

"I was pleasantly surprised, grateful and humbled to receive this award," said Susan Nyp. As the Andrus Award winner in Kansas, Nyp was asked to choose a charity to receive a $2,500 donation from AARP in recognition of her honor. She selected the Lawrence Habitat for Humanity Aging in Place program.

Recipients across the nation were chosen for their ability to enhance the lives of AARP members and prospective members, improve the community in or for which the work was performed, and inspire others to volunteer.

Other Kansans nominated for the Andrus Award in 2021 are Ralph Anthony, Caney; Kevin Brown, Kansas City, KS; Lynne Cathey, Overland Park; Regina Gross, Parker; Tony Hazen, Topeka; and Leann Webb, Pittsburg.