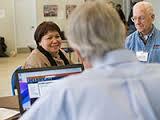 Kansas Tax-Aide sites are temporarily closed to protect our volunteers and clients from unnecessary exposure to COVID-19 virus transmission. Once the Kansas sites are safe to reopen, every effort will be made to reschedule appointments that were canceled due to the COVID-19 response.

As coronavirus (COVID-19) developments change hour by hour, AARP Foundation is doing its part to prioritize the health of taxpayers, our volunteers, and the communities we serve. Accordingly, we have suspended AARP Foundation Tax-Aide services until further notice.

We will continue to assess whether we can open again in some or all Tax-Aide sites now that the tax filing deadline has been postponed to July 15, 2020. Check this web page periodically or call 1-888-227-7669 for updates.

AARP Foundation Tax-Aide is the nation's largest volunteer-run free tax preparation service. Volunteers are trained and IRS-certified every year to ensure they understand the latest changes to the U.S. Tax Code.

To find an AARP Foundation Tax-Aide site in Kansas, or for more information, including which documents to bring to the tax site, click here or call 1-888-AARPNOW (1-888-227-7669).