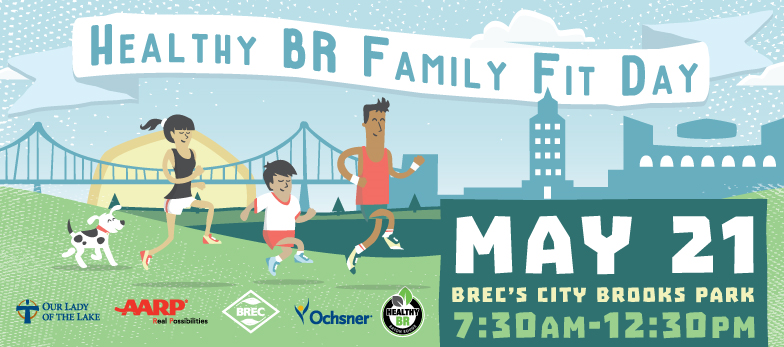 Click the banner to head to Healthy BR's official event page!

Join AARP Louisiana at Family Fit Day!
AARP Louisiana is proud to announce our presenting sponsorship of Healthy Baton Rouge's third annual Family Fit Day, a FREE open streets initiative centered around BREC City-Brooks Park. The event will create temporary paved parks for running, walking, bicycling, dancing, playing, and socializing on May 21st from 7:30AM-12:30PM.
During the event local organizations will offer fitness classes, speakers, healthy cooking demonstrations, kids' activities, bike safety classes, runs, bike rides and much more. The goal of this initiative is to provide a fun, citywide event for all ages to encourage sustained physical activity, increase community engagement, and build support for active, healthy families in Baton Rouge.

AARP volunteers will present information about our Complete Streets and family caregiver initiatives. A complete street is defined as a safe street for all of those who use it – whether its bicyclists, a mom pushing a stroller, an older person crossing the street, someone waiting for the bus or motorists. Denise Bottcher, State Director for AARP Louisiana explains, "A balanced transportation system that includes sidewalks, bike lanes, crosswalks, medians and bus shelters are essential elements for a community that supports a person's ability to live their best lives."
With this event Baton Rouge joins over 90 other cities hosting Open Streets initiatives in the United States and Canada. The streets are open to all abilities to encourage everyone in Baton Rouge who wants to improve their mental, physical, and emotional health to come out, bring their families, and even pets too! Join us for Family Fit Day!
AARP is proud to be a presenting sponsor of this event along with BREC, Ochsner Medical Center – Baton Rouge, and Our Lady of the Lake Regional Medical Center.
THE DETAILS:
WHO: Healthy BR and AARP Louisiana
WHAT: Healthy BR Family Fit Day
WHEN: Saturday, May 21, 2016, 7:30am - 12:30pm
WHERE: BREC City-Brooks Park
1515 Dalrymple Drive, Baton Rouge, LA 70808