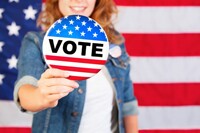 The Bayou State is home to 660,000 family caregivers, and AARP Louisiana is advocating for them in the upcoming state election.

Key issues include long-term care, prescription drug reform and other caregiving concerns. On Saturday, Oct. 12, voters will have a say in who makes decisions on those issues, in the primary election for governor and other state offices.

If no one gets more than 50 percent, the top two candidates will head to the general election on Saturday, Nov. 16.

From Sept. 28 through Oct. 5, Louisiana allows early voting for any reason. AARP does not endorse candidates but encourages all voters, including the state's 477,000 AARP members, to learn about the issues and participate. To become an AARP advocate, call Andrew Muhl at 225-376-1151.