June is Alzheimer's Awareness month, and it's important to recognize the family caregivers who work to provide loved ones with the best treatment possible. Caregiving is a challenging job, but Maryland legislators recently worked tirelessly to pass a law to improve communication between hospitals and designated caregivers - thus providing caregivers with more knowledge of important tasks.


Maryland's new CARE Act law will aid more than 771,000 fearless family caregivers throughout the state, many of whom care for Alzheimer's patients. In recognition of Alzheimer's Awareness month, AARP Maryland would like to highlight the captivating stories behind some of these caregivers and their loved ones. Read below to learn about four Maryland couples.

Mervin and Marilyn Browne-Williams
"In 2008, I went to a neurologist, because my wife noticed that I was starting to forget things. She soon noticed, in addition to having memory problems, that I was losing my sense of smell. I was 59 at the time. We changed primary care physicians three times trying to find answers, and finally in 2013 my wife found a neurologist for me to see. In March 2014 he referred me to a Neuropsycholigist, and I received my Alzheimer's diagnosis on April 16, 2014. My doctor told me that I could no longer drive or work anymore, and from that day on I stopped working and driving.
On April 16, 2014, my wife called the Alzheimer's Association. It was after 7 p.m., but there was someone on the line to support and encourage us. There are so many people who sometimes struggle by themselves, but we feel so blessed to have found the Alzheimer's Association who continue to support and help us."

Laurie and Bill Kelly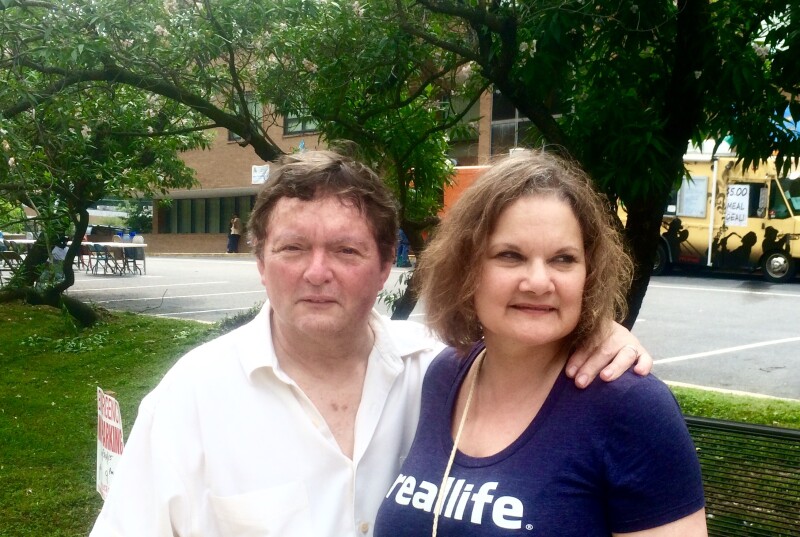 "My husband, Bill, has Parkinson's Disease with mild dementia. When we go to a doctor, dentist or hospital, we need accommodation. As a caregiver, I must answer for him if he cannot remember something. I make decisions with him, as I am the one who will follow up with medications and special care.
I ask to stay with him when doctors perform procedures since he gets nervous and his blood pressure can skyrocket, and I always remind people to give Bill the time he needs to respond to questions instead of rushing him. It is important to realize that their friendliness and listening skills are very important to him."

Evie and Mark Vander Meer
"Mark, a former Pastor, was diagnosed with young-onset Alzheimer's at 60 years old. He is currently 63, and when I look back I can see that there has been a decline since his diagnosis. One of the things he struggles with now is finding the words that he needs to communicate, but as a former pastor, the true meaning of his words often shines through. Our priority has been to try and get together with family - we have a huge family, extended all across the United States. We actually recently came back from a two-week trip into the Midwest, around Iowa, Missouri and South Dakota. For us, family-fun includes board games, cooking, eating, and of course lots of conversation and laughter.
I use the Alzheimer's Associ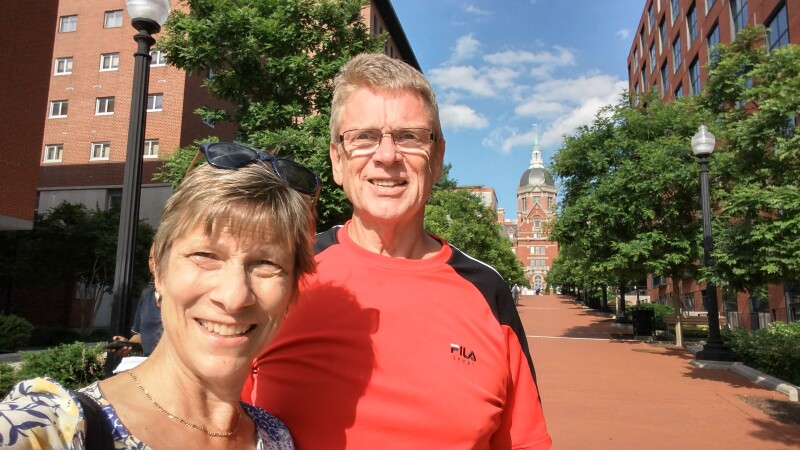 ation website frequently to learn more information about the disease, as well as information about the brain. I am learning about what to expect with each stage of Alzheimer's, as well as educating myself. This is a life-long journey, so I want to learn as much as I can about the disease and how to help Mark.
Now, my hunger for education is more on the caregiver side. I want to hear what the professionals are saying about the trials and research, and what will happen to Mark's brain as he starts to progress. This is why it's important for us to share our story: it's how we can be productive, and how we can learn to be an encouragement to others."

Kathy and Jerry Howe
"In 2012, I started having trouble finding places that I had been driving to for years. When I was unable to find my way home, my husband, Jerry, and I scheduled a doctors appointment to better understand what was happening to me. We were told I had mini-strokes. Later on during the diagnosis journey, we went to NeuroExpand, and I worked on a 12-week memory training program. It was after completing that training that I was diagnosed with Mild Cognitive Impairment.
Since then, we have been learning about the 'new normal' especially since I can no longer drive. Luckily, Jerry works from home, so I don't spend my days alone. It's hard because I don't know how fast my disease will progress and what I will be dealing with in the years ahead, but I like to attend the Alzheimer's Association's Walk for a Cure and any other events where I can share my story. A recent highlight for me was going to the National Alzheimer's Advocacy event on Capitol Hill. Along with other families, Jerry and I talked about the struggles of living with young onset Alzheimer's, and maybe that will help toward someday finding a cure.
I try to live every day to the best of my potential, and I want to do everything I can do to enjoy time with Jerry so we can have a high quality of life together for as long as possible."

Learn more about AARP's resources for caregivers.