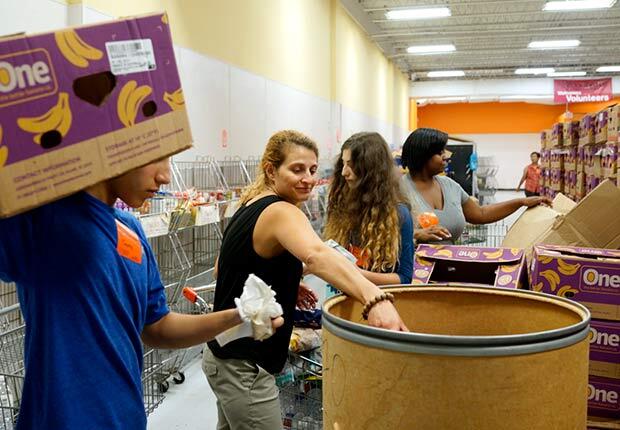 The 2018 AARP Maryland Spring Harvest Food Drive was one of the best yet! Because of the integral roles our volunteers played in planning and executing the drive, we were able to engage over 100 volunteers who solicited donations at 14 grocery stores, and assisted with filling local pantry shelves to feed many families in need. We couldn't have done it without their leadership!

Volunteers around Maryland will hold "stuff a bus" events at select grocery stores in their own communities to encourage shoppers to purchase food donations and stuff the bus! As the founder of our food drive, Larry Adam, once said, "hunger knows no holiday." Let's continue our work to refill the shelves in local pantries!

The 2019 Spring Harvest Food Drive will be on Saturday, June 8, 2019, from 10 am to 2 pm.
We hope that you'll be able to make a donation at the participating grocery store closest to you!
Wondering where the closest participating location is near you? See below for an up-to-date list of locations:



Anne Arundel County

Giant Food, 2323 Forest Drive, Annapolis, MD 21401

Food Bank: Anne Arundel County Food Bank

Baltimore City

Giant Food, 1020 W. 41st St., Baltimore, MD 21211

Eddie's of Roland Park, 5113 Roland Avenue, Baltimore, MD 21210

Food Banks: Experience Corps; Franciscan Center

Baltimore County

Giant Food, 9934 Reisterstown Rd., Owings Mills, MD 21117

Food Bank: Maryland Food Bank

Frederick County

The Common Market, 5728 Buckeystown Pike B1, Frederick, MD 21704

Food Bank: The Asian American Center of Frederick

Montgomery County

Giant Food, 5400 Westbard Ave., Bethesda, MD 20903

Safeway, 10101 New Hampshire Ave, Silver Spring, MD 20903

Food Bank: Manna Food Center

Prince George's County

Shoppers Food, 10501 Martin Luther King Jr. Hwy., Bowie, MD 20720

Food Bank: Zion Church Food Pantry

Worcester County

Food Lion, 11007 Manklin Creek Rd., Berlin, MD 21811

Food Bank: Sarah's Pantry

Washington County

Sam's CLub, 1700 Wesel Blvd, Hagerstown, MD 21740

Food Bank: Hagerstown Senior Center


What foods should you donate?
Here are the kinds of food donations we're looking for: Canned Proteins, Pasta & Rice, Canned Vegetables, Soups & Stews, Breakfast (cereal, oatmeal, granola bars), Fruits & Juices (in light syrup or its own juices, fruit cocktail, apple sauce, juice boxes), and Dairy (shelf-stable milk, evaporated milk, infant formula).



Hunger persists long after the holiday spirit of giving winds down.

If you have any questions, please email Maria Olson, our staff lead for this year's Harvest, at Molson@aarp.org with the subject line "Harvest Volunteer Question." We look forward to hearing from you and learning how we can make Harvest 2019 our most successful statewide food drive yet! Please let us know if you have any questions.


---

Check out some highlights from the 2018 Spring Harvest for the Hungry Food Drive.