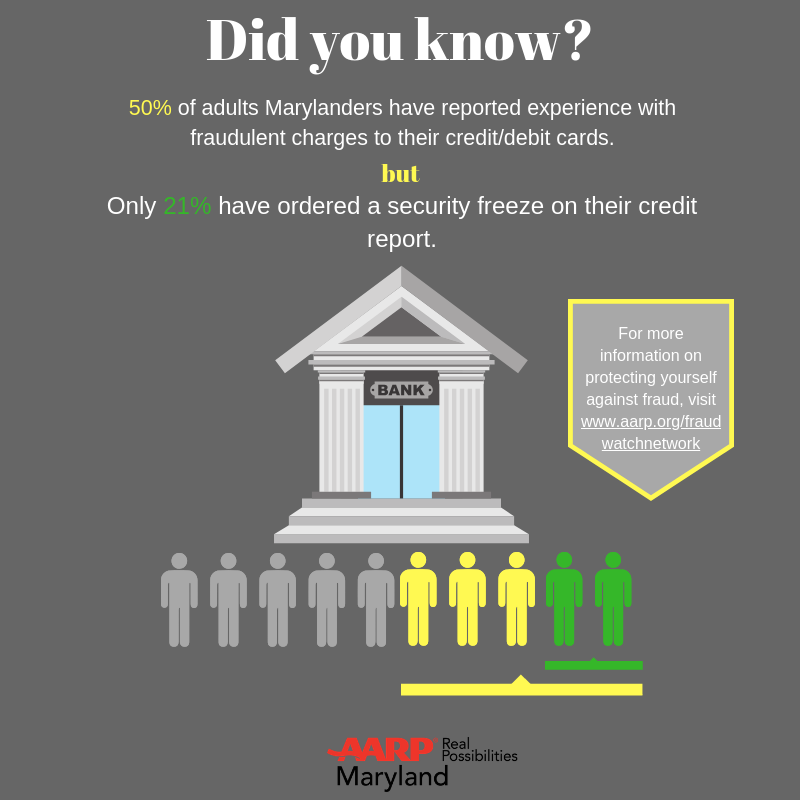 Technology is at a level that people hundreds of years ago would have never imagined. With this new level of tech comes more and more ways to breach your personal security. Companies with millions of dollars in assets and products have even fallen victim to data breaches and loss of information. Protecting your digital identity is becoming ever important.
AARP Maryland and the AARP Fraud Watch Network launched a campaign to raise the awareness of identity theft risks and educate consumers on how to protect their personal information. Based on the results of a recent survey for AARP Maryland, many people put themselves in higher jeopardy due to their risky online behavior:

Password Re-use – More than half (52%) of adults have used the same password for more than one online account.
Bank Account Access - Only 4 in 10 (48%) respondents reported having online access to all of their bank accounts.
Credit Report - Half of adults (50%) reported that they have experienced fraudulent charges on their credit or debit card, yet very few (21%) have ordered a security freeze on their credit report.
Digital ID Know-How - 6 of 10 adults (67%) failed a quiz testing their "digital identity IQ".
You may be thinking, "I don't put any information online". However, that alone doesn't protect you from scammers and hackers. Some experts say almost all consumers have likely been affected in some manner by a data breach. Just because you may have been affected doesn't mean you can't protect yourself from future attacks. The AARP Fraud Watch Network has offered a few tips and tricks to protect your identity digitally:

Order a Freeze - Put a security freeze in place with the three credit reporting bureaus so that no one can access your credit file or open a new credit account with your information. For a guide to the process, visit aarp.org/CreditFreeze. Traditionally there has been a fee for placing a freeze on your credit report, but beginning later this month the process is free thanks to legislation passed by Congress in May.
Set up Digital Access - Set up online access to all of your financial accounts – bank accounts, credit cards, 401(k)s, etc. -- and regularly monitor the accounts so you can stay up-to-date on all transactions and recognize any fraudulent activity that may occur.
Use Separate Passwords - Make sure you use unique passwords for each of your online accounts. That way, if one account is hacked, it does not put your other accounts at risk. A good way to manage all of those unique passwords is to use a digital password manager. These services keep all your passwords secure and help you create different, strong passwords for each of your online accounts.
AARP has a wealth of additional knowledge and resources available online to ensure the security of your information and the information of loved ones at www.aarp.org/FraudWatchNetwork . The AARP Fraud Watch Network even allows you to sign up for a "Watchdog Alert" that emails information about scams. You can also call a toll-free helpline at 1-877-908-3360 to speak with volunteers trained in fraud counseling.