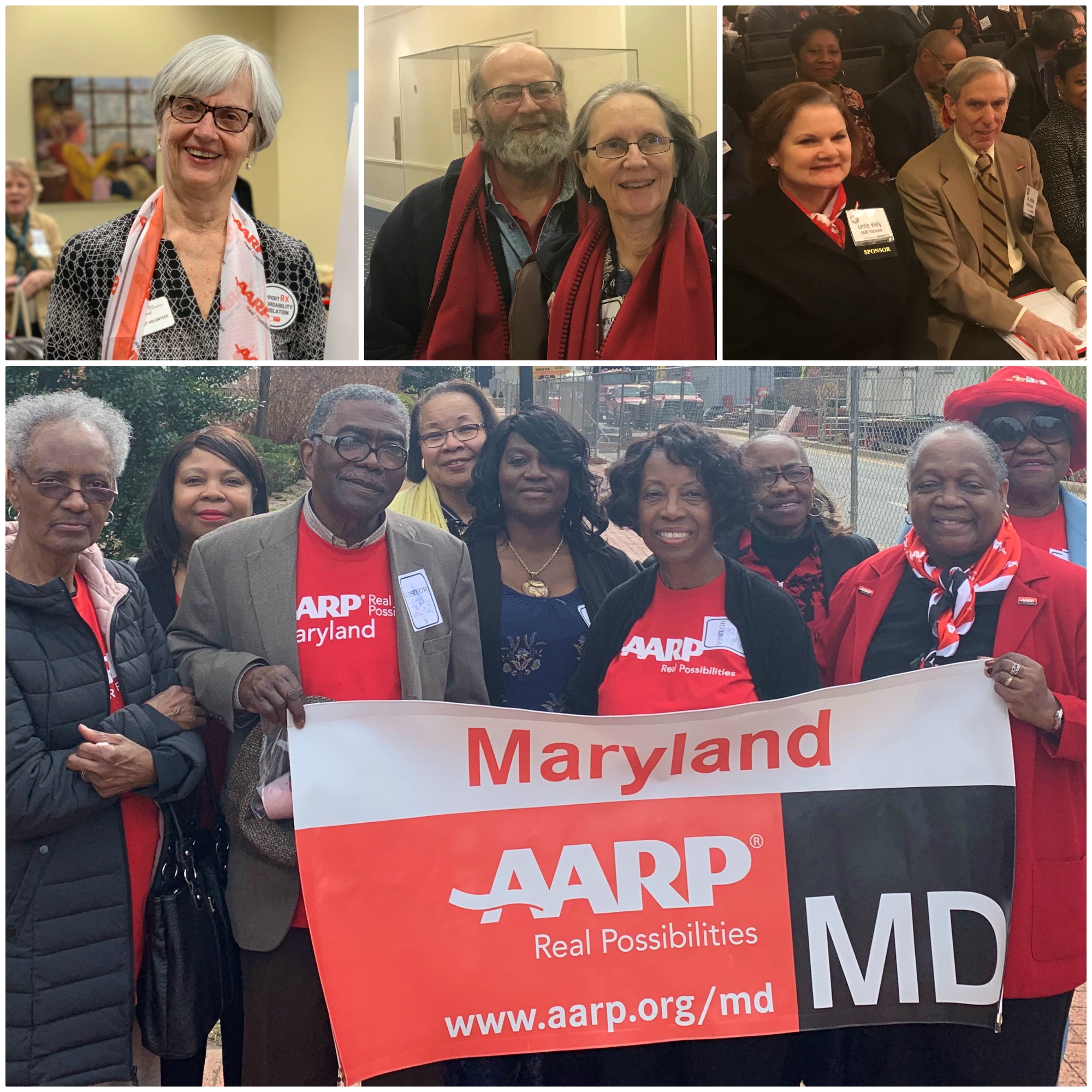 On the night of Sine Die, AARP Maryland advocacy volunteers are celebrating a slew of legislative victories during the 2019 General Assembly Session, including measures to promote affordable prescription drugs, protect nursing home patients, support veterans and combat energy rate hikes.

"Our remarkable AARP volunteers and staff fought valiantly this session to address the high cost of prescriptions and many other measures of importance to the 50+ and their families.  And our efforts paid off" said Hank Greenberg, State Director of AARP Maryland.
AARP Volunteer Advocates Descend on Annapolis
"Against tremendous industry opposition, as the clock inched toward midnight the House and Senate conferees met to hash out last minute details and passed a groundbreaking measure to establish a prescription drug affordability board. It was an amazing night and day lobbying legislators, said Tammy Bresnahan, AARP Maryland's associate state director for advocacy. "The move puts Maryland at the forefront of states seeking to combat the high cost of pharmaceuticals."

"We could not have succeeded without the commitment, passion and perseverance of our corps of volunteer advocates," said Bresnahan. "Week after week since January, they took to the halls of the State House, met with their representatives, explained the issues and made sure they knew where we stand. They spent countless hours helping with testimony and sharing their personal stories in an effort to bring about positive change in Maryland."

HB 768 Prescription Drug Affordability Board
The bill creates a first of its kind prescription drug affordability board. This board would be empowered to evaluate the cost of particularly expensive medications, or those whose prices increase significantly. If after such a review, the board determines that a particular medication presents an affordability challenge, it would recommend to set an upper payment limit for that medication for people covered by state or local government health care plans other than Medicaid.

Protection for Utility Ratepayers
Despite the best efforts and massive spending by the energy lobby, AARP volunteer advocates rose up to defeat HB 653/SB 572 Electric Companies and Gas Companies Alternative Rate Plan. The legislation, which would have upended the ability of the Public Service Commission to protect Maryland ratepayers from arbitrary rate increases and surcharges, sailed through the House of Delegates. However, after an outpouring of opposition from thousands of AARP volunteer advocates, with the Public Service Commission, Office of Peoples Counsel and Office of the Attorney General on their side, the measure was stymied in the Senate Finance Committee. The Washington Post and Baltimore Sun editorial boards agreed that bill would have been a boon to utility companies, who would no longer have to back their rate requests with historical data, but would have been able to claim them based on future expense projections, whether or not the expenses would actually be incurred.

Health Care Affordability
The 2019 General Assembly session was a bas that as premiums continued to spike in the rest of the nation, they actually went down in Maryland, staving off what could have been a death spiral for the individual market.

SB 301, the Hospital Patient's Bill of Rights and its corresponding bill HB 145, passed their respective chambers unanimously. The measures ensure that patients are treated with dignity and respect, and that they are part of the decision-making process for their own health care. The Marylanders for Patient's Rights Coalition (of which AARP is a member), is grateful for this overwhelming support by the Maryland General Assembly and urges Governor Hogan to sign it into law.
SB 178 / HB 570 Outpatient Mental Health Centers – Medical Directors Telehealth. This bill provides for an increased use of telehealth in the delivery of behavioral health services specifically in hard to sernner year for health care affordability and access in Maryland, with members of both parties working together on HB 814/SB 802 for the creation and funding of a reinsurance pool to drive down costs in the state's Affordable Care Act exchange. AARP Maryland supported this measure with written and oral testimony. The result wave areas including Western Maryland and Eastern Shore. Each of these bills passed unanimously in their respective chambers.
HB 605/SB 524 Maryland Medical Assistance Program – Telemedicine Psychiatric Nurse Practitioners and Psychiatrists. The measure requires the Maryland Department of Health's Medicaid Telehealth Program to approve psychiatric nurse practitioners and psychiatrists to provide treatment remotely or mobile treatment services to Maryland Medical Assistance Program recipients.
Protections for Nursing Home Patients
HB 592/SB 669 Health Care Facilities - Comprehensive and Extended Care Facilities - Discharges and Transfers. AARP joined the Attorney General in supporting legislation to prohibit a nursing home from dumping its patients without an approved discharge plan.
SB 699/HB 832 Maryland Medical Assistance Program – Home – and Community Based Waiver Services – Prohibition on Denial. Both the House and Senate overwhelming supported the legislation, which prohibits the Maryland Department of Health (MDH) from denying an individual access to a Medicaid home and community-based services waiver due to lack of funding for the waiver if five specific conditions are met.
Food Security
HB 838/SB 752 Food Supplement Program - Restaurant Meals Program. Passed by the General Assembly in a bipartisan fashion, the bills require the Department of Human Services (DHS) to create a Restaurant Meals Program by filing a waiver with the federal government to expand food access to individuals who do not have a place to store and cook food, may not be able to prepare food, or do not have access to a grocery store. The measure addresses the needs of older people who may face special obstacles in maintaining an optimal diet.
Veteran's Legislation
The Maryland House and Senate overwhelming supported Veteran's legislation during the 2019 legislative session. Our advocacy lead and retired Veteran, Brian Smith had a very busy session working on Veterans issues! He worked with coalitions including the American Legion, VFW, and Maryland Veterans Affairs Secretary George Owings. Brian was in Annapolis at least three times per week and the following legislation was successful because Brian represented AARP Maryland at every step of the way.

SB 105 Maryland Veterans Services Animal Program – Therapy Horses allows the Maryland Veterans Service Animal Program, and provides grants to additional nonprofits, to provide equine therapy sessions for disabled Veterans.
HB 1093 Income Tax Subtraction Modification Retirement Income ensures that the surviving spouse of a service member would not pay state income tax on any death benefits received.
SB 95 Natural Resources Recreational License Donation Program and Fund, allows the Recreational License Program to donate hunting and fishing licenses, and make grants, to nonprofits that deliver these programs to our Gold Star families and disabled Veterans.
SB 521 Veteran Suicide Prevention Comprehensive Action Plan directs the MD Department of Health to produce a comprehensive action plan to address Veterans suicide. Overwhelmingly the House and Senate supported this comprehensive plan.
HB 81 Property Tax Credit – Surviving Spouse of Veteran ensures the surviving spouse of a military retiree would remain eligible for a county-optional property tax break, no question the bill sailed through both chambers.
HB 672 Housing- Local Housing Grants Program for Homeless Veterans establishes a local housing grant program for homeless Veterans and victims of domestic violence.
About AARP
With more than 895,000 members in Maryland, AARP is the nation's largest nonprofit, nonpartisan organization dedicated to empowering people 50 and older to choose how they live as they age. With a nationwide presence and nearly 38 million members, AARP strengthens communities and advocates for what matters most to families: health security, financial stability and personal fulfillment. AARP also produces the nation's largest circulation publications: AARP The Magazine and AARP Bulletin. To learn more, visit www.aarp.org or follow @AARP and @AARPadvocates on social media.



###