Maryland Lawmakers: Please Don't Raise Our Gas & Electric Rates!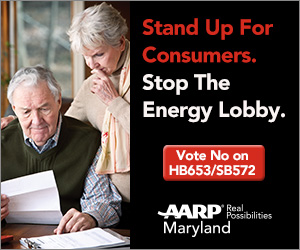 On behalf of AARP Maryland and our 895,000 members statewide, we are urging you to vote "NO" on HB 653/HB 572. Managing utility costs are already a major headache and a strain on the household budgets of Maryland families. Now, lawmakers want to strip the Public Service Commission's role in protecting ratepayers.

This anti-consumer legislation is NOT okay.

Energy companies should not be able to use arcane formulas to forecast people's gas and electric usage and charge them for services they have not yet used.

We are relying on you, our ELECTED REPRESENTATIVES, to stand UP to the energy lobby and stand FOR Maryland ratepayers.

The Baltimore Sun Editorial Board agrees! Click here to see what they have to say about this harmful legislation.

The Washington Post Editorial Board agrees as well! Click here to read the article they've published about this legislation.

Listen to what some of our 895,000 members in Maryland have to say:



We need you to consider the burden the passage of this legislation may have on lower-income and fixed-income ratepayers such as seniors and the disabled, as well as the toll on businesses and local governments. Don't give utility companies like Exelon, BG&E, Pepco, Delmarva Power and Washington Gas the flexibility to increase utility rates as they see fit, on a whim.

The House failed us when they took the side of energy lobbyists over working Maryland families. We're counting on the Senate to help kill this bill.