The following edition of Veterans Corner is written by Navy Veteran Brian Smith.

A somber note to start this edition is the passing of President George H.W. Bush. A prominent member of the greatest generation, his loss is a poignant reminder of how quickly we are losing these amazing World War II Veterans.

According to U.S. Department of Veterans Affairs statistics, only 496,777 of the 16 million Americans who served in World War II are alive in 2018. Sadly, we are losing nearly 400 of these Veterans each day.

Please take a moment to read this statement by AARP CEO Jo Ann Jenkins on the passing of Former President George H.W. Bush.

Wreaths Across America Update

On Saturday, December 15, I joined tens of thousands of volunteers across the country in laying wreaths at veterans cemeteries as part of the annual Wreaths Across America remembrance event. In previous years, I volunteered my time at Arlington National Cemetery. This year I decided to spend time at Cheltenham Veterans Cemetery in Prince George's County.

The weather outside was definitely wet, yet nearly 1,000 willing volunteers turned out to remember our fallen U.S. veterans, honor those who serve, and teach our children the value of freedom. Sadly, of the nearly 23,000 veterans and family members buried there, many thousands of graves did not receive a wreath … there were simply not enough donated. In addition to laying a wreath on the grave of Navy veteran Warren Hicks, I visited as many of the unadorned graves as possible, reading those names aloud (if only to myself) to remember those veterans as well.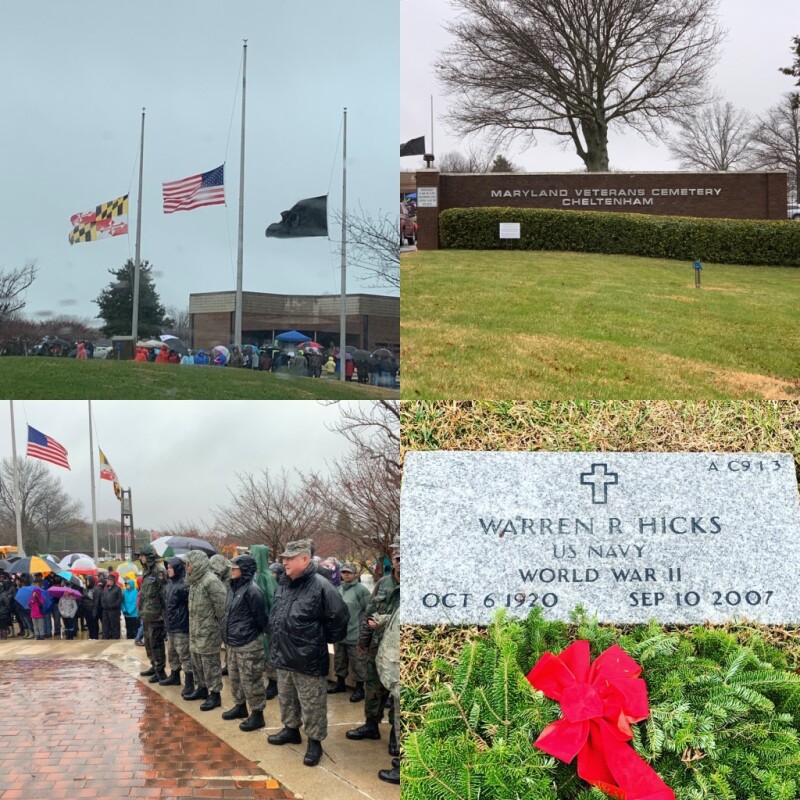 If your AARP chapter is looking for a rewarding veteran-related service opportunity, please consider supporting Wreaths Across America. In addition to donating to provide wreaths and laying wreaths, they also need volunteers to assist in wreath removal and cleanup. Check out their website for more details.

Veterans Employment (courtesy of Hiring Our Heroes)

Last month, I introduced Hiring Our Heroes, the program of the U.S. Chamber of Commerce Foundation that helps veterans, transitioning service members, and military spouses find meaningful employment opportunities. I mentioned their hundreds of job fairs held nationwide each year. Well, we have one coming up in the area soon!

Join Hiring Our Heroes and event co-host Paralyzed Veterans of America at the Washington Hiring Expo with the Washington Wizards on Wednesday, January 9. Spend the day connecting directly with recruiters and hiring managers from more than 100 local and national companies of all sizes.

Prior to the hiring expo, join us for a free Career Connections employment workshop from 10:30 a.m. to 12:00 p.m., focused on:

Mock interviews, skills translation and resume review;
Resources for connecting with veteran-ready employers; and
Best practices for digital networking and job search techniques.
All registered veteran and military spouse job seekers who attend the hiring expo are eligible to receive:

Raffle tickets at the employment workshop for a chance to win signed Washington Wizard memorabilia;
One-on-one resume review and career coaching from Leidos; and
Up to two free tickets to attend the evening's game between the Washington Wizards and the Philadelphia 76ers.
If you are a veteran in search of a job (and like basketball!) learn more and register here.

Disabled Veterans Sports Opportunities

Disabled Sports USA is a nationwide nonprofit organization whose mission is to provide national leadership and opportunities for individuals with disabilities to develop independence, confidence, and fitness through participation in community sports, recreation and educational programs.

There are several of their partnering organizations providing services to Maryland veterans that are worth mentioning. I covered the Salute to Military Golf Association in my October newsletter and if you haven't checked it out, do so!

Another great one is Project Healing Waters Fly Fishing, dedicated to the physical and emotional rehabilitation of disabled active military service personnel and disabled veterans through fly fishing and associated activities including education and outings. Learn the art of tying flies and fly fishing! Check out their National Capital Chapter's website for specific program locations in the DMV! I'll talk more about Disabled Sports USA and more local opportunities next month.

Maryland Property Tax Credit for Certain Veterans or Military Retirees (courtesy Maryland Department of Veterans Affairs)

Some local jurisdictions in Maryland are provide a partial property tax credit for disabled veterans and/or military retirees. Here is the information the Maryland Department of Veterans Affairs currently has available:

For more information, please contact your county Office of Assessments and Taxation.

Note: Veterans who are rated 100% permanently and totally disabled by the United States Department of Veterans Affairs may apply for a full property tax exemption on their primary residence. Here's the link to the application.

Veterans and Beer

Are you familiar with our "AARP On Tap" events? These are AARP Maryland-sponsored get-togethers once a month, or so, at various Maryland-based breweries. The events provide great opportunities to try a local brew and enjoy camaraderie with your fellow AARP Maryland members, as well as attract new members who just don't know all the great things they are missing!

It occurred to me that there are dozens of Veteran-owned breweries throughout the Free State. So, this month, I plan to start featuring these great businesses whenever I stumble across one or out of one.

In my first-ever selection, this month's featured brewery is Full Tilt Brewing located at 5604 York Road, Baltimore. The owners are cousins, Nick Fertig and Dan Baumiller. Nick is a former Navy submarine service sailor, Dan works as a contract specialist supporting the Navy. Hmmm, Navy and beer, good combo.

They have been brewing since 2012 and are noted for their famous Baltimore Pale Ale. The big news is their new taproom, which opened just before Christmas. I'm a big fan of supporting Maryland businesses, more so when they are Veteran owned!

Check 'em out on Facebook, Twitter, and Instagram, then get thee to the Full Tilt Brewing Taproom for a beer!

Service Dog in Training of the Month

This month's winner is Zeke, another service dog in training at Hero Dogs in Gaithersburg. Zeke is currently doing well in advanced training and his fans are looking forward to his graduation!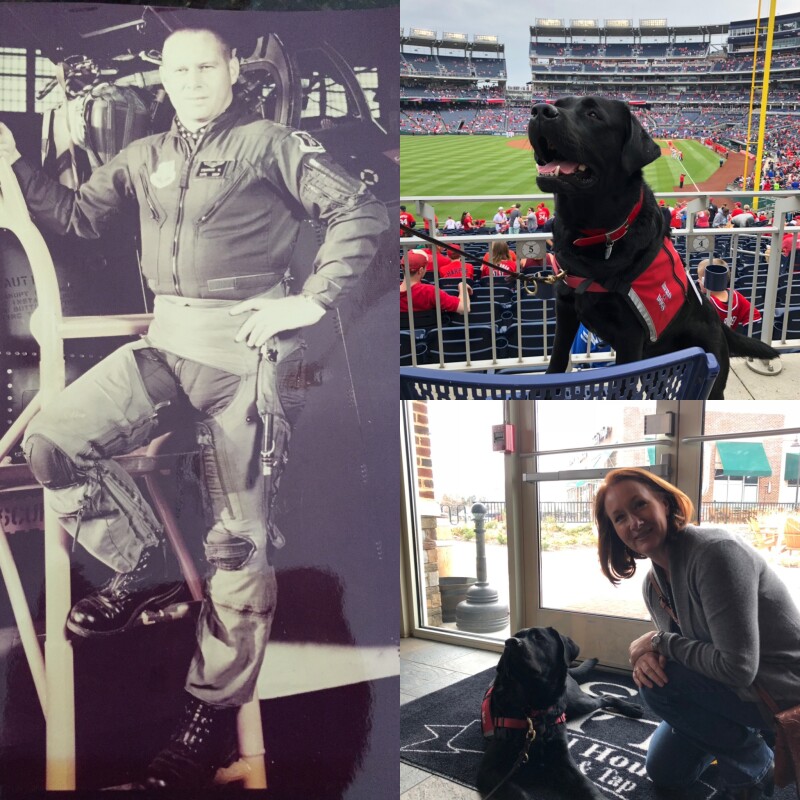 Zeke is more formally known as Hero Dogs Major Werner "Zeke" Ziehmann, USAF. Major Zeke Ziehmann served as a weapons systems officer on F-4 aircraft during the Vietnam War. A "River Rat" and a "Wild Weasel", he was awarded three Distinguished Flying Crosses and 25 Air Medals for valor during combat missions. Tragically, he was killed during a training mission after the war. Service dog Zeke helps keep his memory alive and will soon be paired with a disabled veteran or first responder, helping that person to enjoy the freedoms their sacrifice provided us.

Conclusion

In closing, I am amazed that in barely two weeks, the Maryland state legislature will convene for the 2019 session! Rest assured, many AARP advocacy volunteers led by Tammy Bresnahan, our inimitable state advocacy director, will be representing our seniors in Annapolis!

What might this portend for Free State Veterans, you ask? Well, I'm hearing some interesting rumblings: another attempt to exempt military retirement pay from state income taxation, improving federal-state coordination of veterans mental health services, and a second veterans retirement home! AARP Maryland supported the first two items last year and I can't wait to get a look at the third! I'll be spending most days, most weeks in Annapolis during the upcoming legislative session, fighting the fight for those that fought for all of us! JOIN ME!



For more veterans resources, visit AARP Maryland's Veterans Resources page at aarp.org/mdveterans .