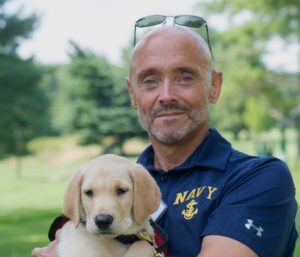 It is hard to believe that it has been 17 years since 9/11/01. A career Sailor, I was "thirty-something" on the day America was attacked, and now I'm a "fifty-something" military retiree supporting AARP Maryland on veterans issues. Reflecting on this really brought home to me how many of our veteran seniors have served and fought in the post-9/11 military!
On that note, here are my monthly newsworthy items:
Share the Veterans Crisis Line Number to Save a Life.
You have probably heard the statistic that 22 veterans commit suicide each day. That, sadly, is an all too accurate figure. In Maryland, we lose nearly 100 veterans to suicide each year!
Please share this life-saving resource: the Veterans Crisis Line. This confidential, toll-free, 24-hour-a-day hotline serves veterans and their loved ones year-round. Reach qualified, caring responders:

by phone at 800-273-8255,
by text message by texting 838255.
Dogs, dogs, and more dogs!
Have you heard of the Maryland Veterans Service Animal Program and Fund? Enacted in 2017, this initiative promotes and helps raise funding for three amazing Maryland-based service dog providers. In fact, I had the opportunity to advocate on behalf of this program in the Maryland legislature earlier this year. The real treasure rests in the three participating organizations themselves. In additional to providing trained service and other assistance dogs, each of these wonderful organizations offer so many volunteer opportunities! Puppy raising, puppy sitting, and many other incredible, enriching activities. Check 'em out!

Hero Dogs (Gaithersburg, MD) improves quality of life for our nation's heroes by raising, training, and placing service dogs and other highly skilled canines, free of charge with lifetime support of the partnerships. Veterans of the U.S. military and first responders with disabilities are eligible to apply. Disabilities do notneed to be service connected. FYI, Scruggs, the dog in my photo is a Hero Dogs alum, now serving as a skilled in-home companion dog.
Warrior Canine Connection (Boyd, MD) trains and places service dogs for physical and psychiatric disabilities; facility dogs; and military family support dogs. Their programs are tailored to veterans exclusively. Definitely check out their website for additional eligibility information.
Fidos for Freedom (Laurel, MD) enhances the quality of life for people in the Washington-Baltimore Metropolitan community by providing specially trained hearing dogs, service dogs, and therapy dogs to veterans. Fidos also educates the public about individuals with disabilities and about the benefits of assistance dogs and therapy dogs and the work that these specially trained dogs do for individuals with disabilities, children with reading difficulties, and patients in health care facilities. Program eligibility is not limited to veterans.
Military Retirees, Take Note
There are nearly 50,000 Old Line State military retirees and most of us should be pretty happy! One of the most important, state-level military retiree retirement security issues is state taxation of military retirement pay, which is not taxed in 28 states. Veterans service organizations have advocated on the issue for nearly two decades in the Maryland legislature. Last year, AARP Maryland reported for duty on this issue as well. As an AARP Maryland legislative volunteer, I had the privilege of testifying in both the Maryland House and Senate for a full state income tax exemption for military retirement pay. While we did not get the full exemption, for the first time ever, we moved the needle! We obtained an exemption on the first $15,000 for retirees age 55 or older. Rest assured, we will reattack on this issue next year. State governments do not make this decision only to thank you for your service, states do it because it makes fiscal sense due to the incredible economic value brought by our military retirees! Stay tuned!
Post-9/11 Veteran stuff
Are you a service member or veteran of the U.S. Armed Forces wounded or injured (incl. PTSD and TBI) while conducting overseas contingency operations post-9/11/2001? Are you looking for a new way to stay active and socialize? If so, you are eligible to participate in the free Salute Military Golf Association Clinic Series. This nationwide program is locally available at the Olney Golf Park, in lovely Olney, Maryland! You will be able to take a series of free group classes, taught by a PGA pro! After you complete the Clinic Series you can become an SMGA member, which includes a set of fitted golf clubs and the ability to play at a variety of courses and in select tournaments gratis! I did it, I am a member, and it is AMAZING! Check it out!
Flu shots – I got mine! You got yours?
Are you enrolled in the U.S. Department of Veterans Affairs Health Care System? If so, you can receive your annual flu shot at your local Walgreens pharmacy at no cost to you. When you get your shot, it will update your VA health record. Can't beat that!
Hey, the General Election is right around the corner! In fact, early voting runs from Thursday, October 25, 2018 through Thursday, November 1, 2018 from 10 am until 8 pm. Don't forget, REGISTER AND VOTE!
For more veterans resources, visit AARP Maryland's Veterans Resources page at aarp.org/mdveterans .