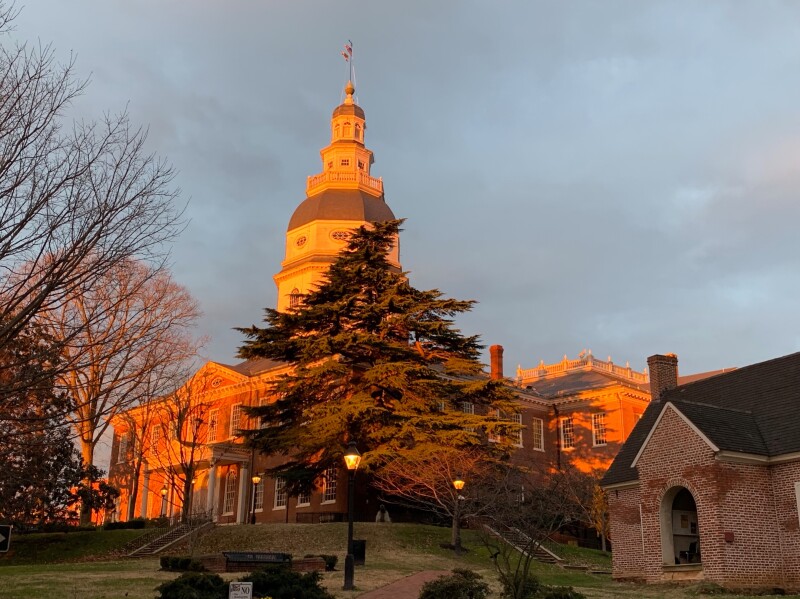 The following edition of Veterans Corner is written by AARP volunteer and Navy Veteran Brian Smith.

The Maryland General Assembly session wraps up on Monday, April 8 th. You know what that means? Time to shift focus to BASEBALL SEASON — GO NATS! It is also time to start gearing up for next years legislative session! Regardless of this sessions' outcomes, there is still so much work remaining to make Maryland a more retirement friendly state.

Last month, I mentioned testifying in support of Senator Bryan Simonaire's Senate Bill 105. In fact, it was the first bill I testified for this session, on 30 January. This bill enables the Maryland Service Animal Program Fund to provide grants to Maryland nonprofits that provide equine therapy programs to disabled Veterans. I'm happy to report that this bill passed both the Senate and the House of Delegates and will be signed into law in the near future.

On Friday, 29 March, in my final appearance of the year, I testified in support of Senator Mary Beth Carozza's Senate Joint Resolution Five, which would proclaim 27 July as "Welcome Home Korean War Veterans Day." As many of our readers know, the armistice ending the Korean War was signed on 27 July 1953. I'm hopeful that this resolution will pass!

In between Senate Bill 105 and Senate Joint Resolution Five, I offered testimony on over thirty other bills. I will do my best to summarize in my next report!

Newsworthy Notes:

Military Times recently published an article on the high incidence of service-connected disabilities for post-9/11 Veterans.

This Washington Post article discusses the plans for a memorial on the Washington D.C. mall to honor our Native American Veterans.

Stars and Stripes recently covered VA Secretary Robert Wilkie's recommendation that the Department of Justice not challenge a court decision to extend VA disability benefits to our Blue Water Veterans who were exposed to agent orange during the Vietnam War! A big, big, win!

Baseball and Veteran-Owned Breweries

There are three factors influencing a baseball game: beer, weather, and outcome. If you choose wisely, you can always ensure the beer is great. If you get either good weather or a win, you have had a pretty good day! My first two Nationals games this season offered great beer and good weather, and that was about it…toward that end, let's talk about GREAT BEER, in this case, beer brewed by a Free State Veteran!

Patriot Acres Farm Brewery is located on Maryland's Eastern Shore, in Sudlersville. It is owned and operated Brian Truitt, a Veteran who served eight years in the U.S. Army and thirteen years in the National Guard. Brian and his family live on a 103-acre farm that has been in the Truitt family for over 100 years. They use hops and other ingredients from the farm in crafting their beers. They operate a tasting room and food is readily available from a nearby restaurant that delivers amazing eats! They usually have eight beers on tap and their tasting room is open on Saturdays and Sundays! Check out their website for more details, then go over for a great beer!

Veteran to Veteran Outreach

If you are a Veteran and looking for a high-impact volunteering opportunity supporting Veterans as they approach the ends of their lives, consider volunteering with an organization such as Capital Caring or Hospice of the Chesapeake. Both of these nonprofit organizations support Marylanders in need of hospice or palliative care. Each has meaningful opportunities to support many wonderful people in their final days, as well as provide respite support to their caregivers. They each have Veterans programs to ensure that Vets under their care are honored for their service and have a chance to spend time with other Veterans.

So many of our World War II, Korean War, and Vietnam War Veterans would enjoy nothing more than spending time talking to another Veteran. I am a Veteran outreach volunteer with Capital Caring and have spent many incredible hours with World War II Veterans listening to their amazing tales of service and sacrifice. Check out Capital Caring and Hospice of the Chesapeake programs for Veterans! You won't regret a single minute you invest!

Service Dog In-Training of the Month

This month's winner is Dip, a service dog in training with Hero Dogs in Gaithersburg, Maryland. Dip is still in "basic training" with his puppy raiser.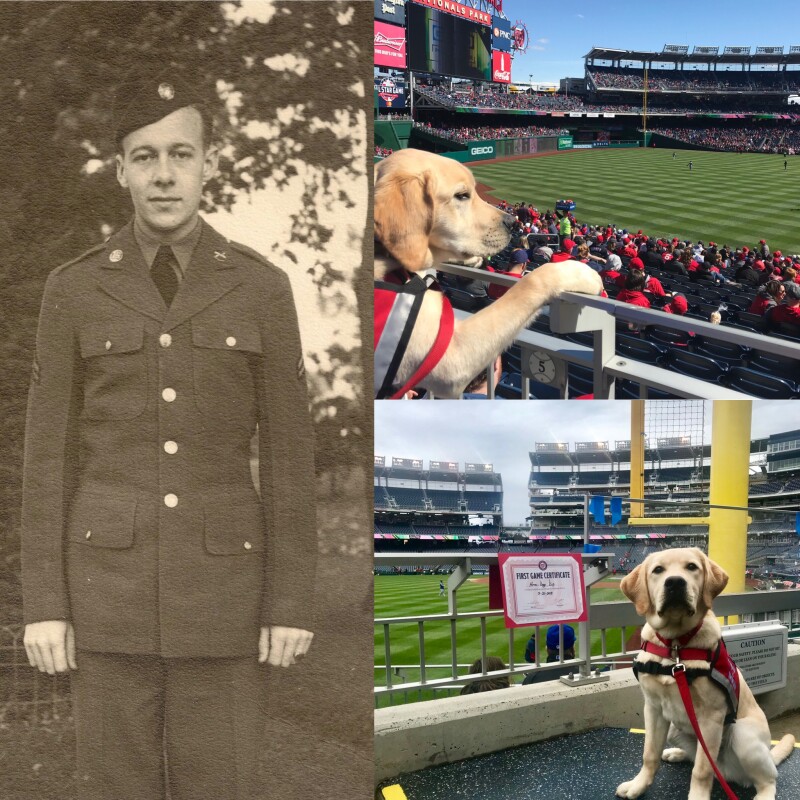 Dip is more formerly known as Hero Dogs PVT Dorance Pershing Alquist. Dorance was drafted into service in 1941. He and his friends decided to call each other by their initials and therefore DPA became "Dippy" and eventually just "Dip." The nickname was easier to say than Dorance and so it stuck. He served in the Army during the entirety of WWII and dutifully wrote letters and took photographs to document his experience. Many of his letters and photographs are captured online at Air Mail From Dip. Check out this amazing website!

In Closing

As I mentioned, the Maryland General Assembly session will end none too soon! As I always point out, you probably won't get what you deserve, but you just may get what you fight for! Rest assured, AARP Maryland is in Annapolis fighting to make Maryland a better place for our Seniors, and all Marylanders! We need your help in Annapolis on a variety of issues and look forward to having more of you join us next year! For information on our volunteer advocacy program, please contact our Tammy Bresnahan, our state advocacy director!



For more veterans resources, visit AARP Maryland's Veterans Resources page at aarp.org/mdveterans .