The following edition of Veterans Corner is written by AARP volunteer and Navy Veteran Brian Smith.

So, what did AARP Maryland actually accomplish for Veterans during the 2019 Maryland General Assembly session? Well, now you will find out! After offering testimony on over 30 legislative initiatives, we were successful in the passage of SEVEN Veteran-friendly items!

Senator Will Smith and Delegate Jheanelle Wilkins sponsored bills (two bills, one law) guaranteeing that the surviving spouse of a military retiree will attain eligibility for a partial, county-optional property tax exemption, even if the military retiree passes prior to reaching the age of eligibility.
Senator Doug Peters and Delegate Geraldine Valentino-Smith sponsored bills that allow the Governor to add funding to future budgets to provide housing grants to support homeless Veterans and the survivors of domestic violence.
Delegate Pat Young sponsored a bill that specifies that any death benefits paid as a result of service in the U.S. Uniformed Services qualify for the existing military retirement subtraction modification.
One of Senator Bryan Simonaire's bills expands the scope of the Maryland Service Animal Program to allow for grants to Maryland nonprofits that provide equine therapy programs to disabled Veterans.
Another of Senator Simonaire's bills enables the Maryland Department of Natural Resources to continue issuing donated recreational licenses or stamps for use by a Gold Star recipient, a disabled veteran, a disabled member of the armed forces of the United States, or a permanently disabled person who requires the use of a wheelchair.
Senator Smith sponsored legislation that requires the Maryland Department of Health to craft a multi-year, comprehensive action plan to address Veteran suicide.
Senator Melony Griffith sponsored legislation that requires the Maryland Department of Labor, Licensing, and Regulation to develop expedited processes and reporting for occupational licenses for Veterans, military service members, and their Spouses.
While we are thrilled to get so many bills through the Maryland General Assembly, many, many important bills never so much as made it out of committee. If we are going to reshape Maryland as a more Veteran-friendly state, we are going to need the active involvement of many more of our 380,000+ Free State Veterans! We need your ideas and we need you in Annapolis for the 2020 legislative session!

Free State, Free Stuff

This item is a repeat, but it is worth repeating now that warmer weather is here and so many outside sporting opportunities happening! Do you like to attend sporting events, concerts, performing arts, educational and family activities? Would you like to do so for FREE?

Well then, check out Vet Tix, the Veteran Tickets Foundation. Vet Tix is a nonprofit organization that provides tickets to all branches of currently-serving military and Veterans, including the immediate family of service members killed in action.

Basically, you sign up for an account online and Vet Tix verifies your military service. Then you will be able to request tickets to events of interest. I mean quality events: Redskins, Ravens, Nationals, Orioles, Capitals, Wizards, local college sports teams, concerts, etc. Check this one out!

Beer, Beer, Beer

You may have noticed I like beer, particularly if it is made in Maryland! We have so many great small brewers, it can be a challenge to find out who they are and where they are located. In the interest of getting that next cold one in your hands expeditiously, please check out the Brewers Association of Maryland. It is a nonprofit trade association representing many Maryland small breweries. It is also my first stop for finding Veterans-owned breweries! Support your local brewer!

Service Dog In-Training of the Month

This month's winner is Maverick. You may recognize Andrea McCarren, his amazing puppy raiser. Andrea, formerly an Emmy Award winning investigative reporter with WUSA Channel 9 in Washington, D.C., is now a Vice President & Chief Content Officer, PenFed Digital with Pentagon Federal Credit Union.

She recently received Maverick from Canine Companions for Independence. He will be the third service dog Andrea has raised, following in the proud paw prints of Bunce and Nigel (a previous winner). Maverick will receive his basic training through the Capital Chapter of Canine Companions for Independence.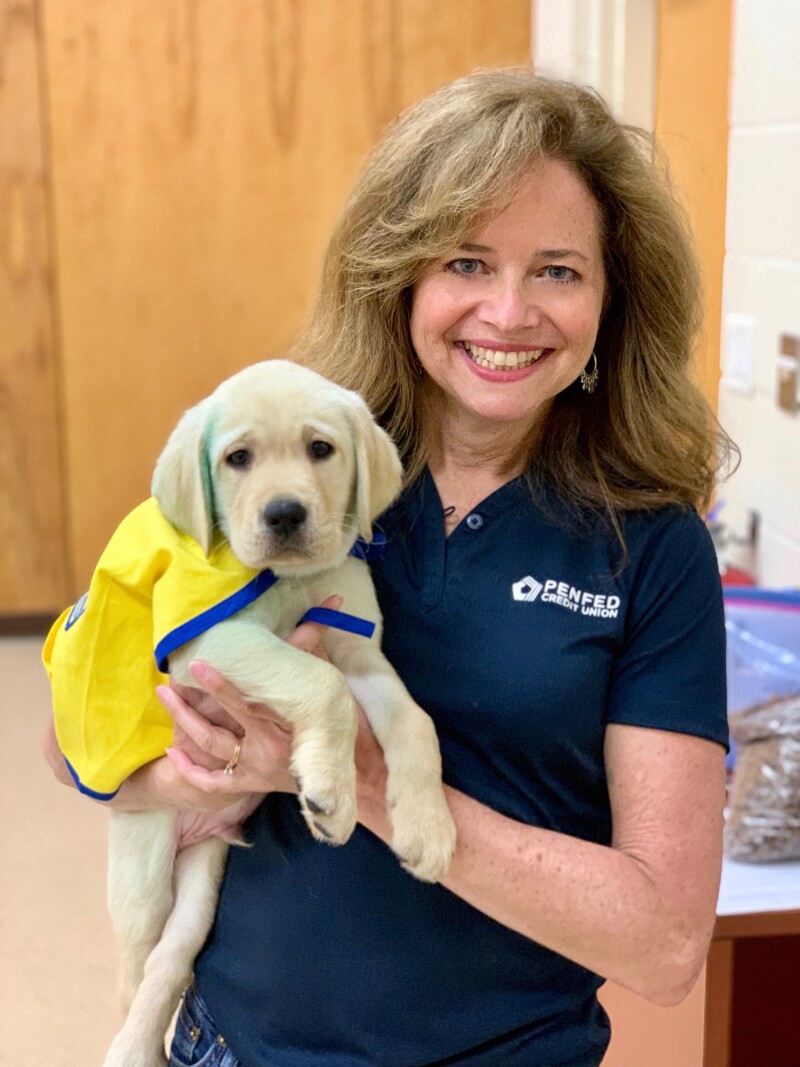 This amazing, nationwide nonprofit enhances the lives of people with disabilities by providing highly trained assistance dogs at no charge to the recipient. CCI is also a leader in the effort to provide service dogs to Veterans suffering from PTSD. If you have a qualifying disability and need a dog, or just want to get involved in raising a service dog, you WILL NOT find a BETTER ORGANIZATION! Andrea is an incredible advocate for Veterans issues. You can and should follow her on Twitter @AndreaMcCarren.

In Closing

There is still so much to do in Annapolis, and we need you there to do it. If you are looking for a high-impact volunteering opportunity, get involved with our volunteer advocacy program! Please contact Tammy Bresnahan, our state advocacy director for more information!

For more veterans resources, visit AARP Maryland's Veterans Resources page at aarp.org/mdveterans .