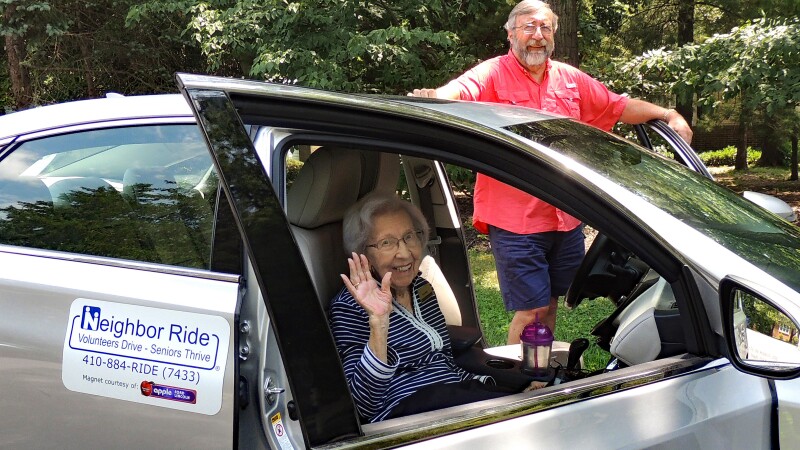 Established in 2001,Neighbor Ride is a pioneer in the modern ride sharing phenomenon. The Howard County based organization saw a need facing county seniors through a study conducted by the Howard County Office on Aging. The study indicated that transportation was severely lacking for seniors. The Office presented their findings to Transportation Advocates and urged the grassroots group to find a solution to the problem of inadequate transportation options. Over three years, Neighbor Ride's volunteer based transportation model was developed! Borrowing from best practices from programs across the country and shaping it to meet the needs of county seniors and other resources the initiative blossomed. With 20 volunteers on board, Neighbor Ride launched its volunteer-based transportation service on November 17, 2004.

Today, a team of 400 volunteer Drivers and Ride Coordinators work to fulfill Neighbor Ride's mission to enhance the health and quality of life for Howard County seniors by offering transportation for health care appointments, cultural and social outings, volunteer activities, fitness and educational pursuits, faith services, shopping, and other day-to-day needs. Each month, over 1,400 trips are provided - giving local seniors the "wheels" they need to remain active, independent, and connected to the community.
"I started volunteering with Neighbor Ride when it was an infant," says Nancy McCord, volunteer. "It is a young adult now and I'm proud to say my husband and I have been supporters for the past 15 years! It's one of the best things in Howard County - both delivering an invaluable service for seniors and providing a flexible and meaningful volunteer opportunity for retirees and others. In the process, it's connected people across the county - creating a wonderful sense of community."
Beyond the direct benefits of the transportation Neighbor Ride provides, it has become increasingly clear that the organization fills another essential role in the community. Together, volunteer drivers act as extra sets of "eyes" and "ears" looking out for the well-being of aging clients. This role especially impacts the many seniors who are living on their own, with no family nearby to regularly check-in with them.
Learn more about Neighbor Ride and how you can get involved or utilize their services here: http://neighborride.org/wordpress/
With 5 in 8 of the organization's drivers in the 60-plus age range themselves, Neighbor Ride also offers a flexible and meaningful volunteer experience for retirees embarking on a new chapter in their lives. As research has shown, volunteer activities such as this have a profound effect on individuals' physical health, mental well-being, and overall life satisfaction.
Finally, a by-product of Neighbor Ride's service model of neighbor (volunteer) serving neighbor (client) is the sense of community and connections it creates. In any given year, 4,500 unique volunteer/client pairings occur - adding up to nearly 30,000 different connections during the course of the organization's 15-year history. These connections and friendships make a real difference in the lives of members of the aging population who are at a higher at risk for experiencing social isolation.
"Driving for Neighbor Ride connects me to my community in a very easy and pleasant way, and I enjoy the relationship with my regular Rider, learning local history he shares along our route. He connects me to an even wider circle of volunteerism, using the ride to serve as a Chaplain for the Veteran's Administration in Baltimore City, where he impacts MANY more individuals than I could ever hope to help!" exclaimed Victoria Hathaway, volunteer."I feel strongly about driving for Neighbor Ride, and I appreciate the chance to serve my community's older adults. Meeting their need for transportation, keeping them "connected" and helping (them to) maintain their pride and independence has also brought me joy along the way!"
AARP Maryland recognizes the efforts of Neighbor Ride and its contributions to making Howard County a livable community for those of all ages. Livable communities support and enable people to become engaged with their community and those within it. Though not on the level of modern ride-sharing apps like Uber and Lyft, this organization is making a larger impact centrally within the county.
"Neighbor Ride is about so much more than getting from point A to point B. It's about giving seniors the "wheels" they need to stay healthy and to remain engaged in the life of the community - enjoying time out with friends, shopping, attending faith services, participating in wellness activities, or even sharing their time and talents as a volunteer." - Colleen Konstanzer, Community Outreach Coordinator