En español | Massachusetts expanded mail-in voting options this year, allowing all registered voters to safely cast ballots from home amid the coronavirus pandemic, and also extended its early voting window:

Voters won't need an excuse to cast an absentee ballot this year, and state officials are sending mail-in ballot applications to all registered voters. A first wave of applications has been sent to voters who were registered before July 1, with a second wave coming in September.
Early in-person voting for the November general election will be open from Oct. 17 to Oct. 30.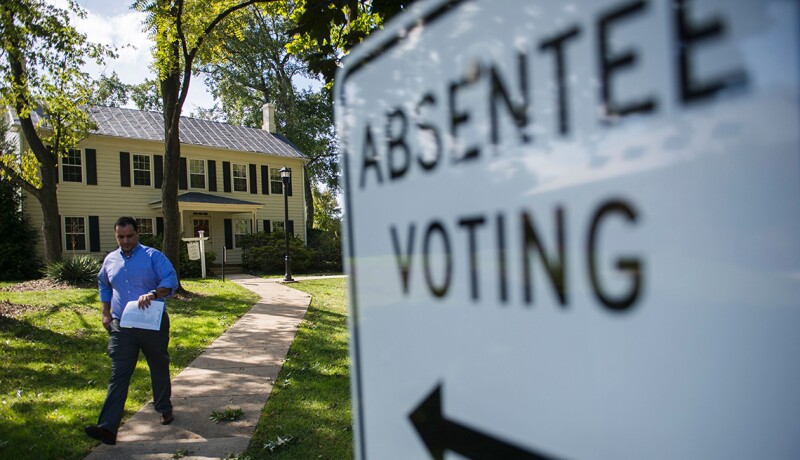 Here's what else you need to know:

How do I register to vote?

You can register online, by mail or in person. The secretary of the commonwealth's website allows you to register to vote, to update your address or party affiliation and to check if you're already registered.

If you prefer to register to vote by mail, download a voter registration form from the secretary of the commonwealth's website and submit it to your town clerk or election official. You'll need to include your driver's license number or the last four digits of your Social Security number. If you don't have a driver's license or Social Security number, or if you forget to submit the information, you'll need to include a copy of a valid photo ID, utility bill, bank statement or paycheck confirming your name and address. You can also present this information at your polling place on Election Day.

You can register to vote in person at any city or town hall, at the Registry of Motor Vehicles (RMV) or at the Massachusetts secretary of the commonwealth's elections division in Boston. And starting this year, Massachusetts residents who are also U.S. citizens will be automatically registered (unless they opt out) if they apply for or renew their driver's license or state identification through the RMV. You'll be similarly registered if you apply for health insurance through MassHealth or the Commonwealth Health Connector.

Oct. 24 is the last day to register to vote or change your party for the Nov. 3 general election. Massachusetts does not have same-day voter registration.

How can I get a mail-in ballot? Are there important deadlines?

No-excuse mail-in ballot applications will be sent to all registered voters this year. If you were registered to vote before July 1, you should have received an application. A second round of mail-in applications will be sent out in September to voters who are newly registered and haven't already applied for a mail-in ballot. You can also apply for a mail-in ballot at the secretary of the commonwealth's website. Applications must be received by your local election office by Oct. 28.

Mail-in ballots can be returned by mail or in person to your election office by 8 p.m. on Nov. 3. You can also drop your ballot into a designated ballot box before the end of the day on Nov. 3. Contact your election office to find the box nearest you.

Ballots sent by mail must be postmarked by Nov. 3 and received by election officials no later than Nov. 6.

Are mail-in ballots and absentee ballots the same thing?

Not in Massachusetts. A mail-in ballot can be cast without an excuse. But you'll need an excuse to cast an absentee ballot, which have traditionally been for voters who are out of town on Election Day, have a disability that will keep them from voting in person or have a religious belief that prevents them from going to the polls.

Members of the military and registered voters who live outside of the U.S., as well as incarcerated voters and those who have been admitted to the hospital within a week of Election Day, can also apply for an absentee ballot. Absentee applications can be submitted by mail, email or fax and can be obtained from your election office, by calling 800-462-VOTE or by emailing elections@sec.state.ma.us.

Your election office must receive your application by Oct. 28. If you received your application in the mail, you'll also receive a pre-addressed, postage-paid return envelope. Gov. Charlie Baker has been using federal funds from the CARES Act to help cover postal costs of vote-by-mail ballot applications.

How do I know that my mail-in ballot is secure?

Ballot envelopes have bar codes that local officials scan when they receive the ballots. The state voter database records when each ballot has been received so that the same person cannot vote twice. Election officials verify authenticity of a mail-in ballot by matching the signature on the ballot's envelope with the signature they have on file. Officials keep ballots in vaults or in other secure facilities.

You can track your ballot through a tool on the secretary of the commonwealth's website.

When is Election Day? When are polls open?

Tuesday, Nov. 3. Polls are open from 7 a.m. to 8 p.m. Some communities may opt to open polls earlier, so contact your election office to determine when and where to cast your ballot.

Can I vote in person before Election Day?

Yes. Early in-person voting will be held Oct. 17 through Oct. 30. Each city and town determines the hours and locations for early in-person voting. But this year, all cities and towns will be required to offer early in-person voting on Saturdays and Sundays, as well as weekdays.

The state government will post a list of early-voting dates, times and locations for each community at least one week before early voting starts.

What form of identification do I need to vote?

You'll be asked to show ID if this is your first federal election in Massachusetts, if you're casting a provisional or challenged ballot or if you haven't voted in a long time. Acceptable forms of ID include a state driver's license or a state ID card. You may also present a utility bill, a lease, a copy of a voter registration affidavit, or some other form of ID that confirms your name and address. The secretary of the commonwealth's office has a list of acceptable forms of identification.

What is being done to make polling places safe from the coronavirus?

Social distancing will be practiced inside polling places, and workers will use face coverings and hand sanitizer. The governor's office has encouraged all voters to wear a mask or face covering while inside polling locations, even when they are able to maintain a distance of 6 feet from others.

Depending on local conditions and public health guidance, you may have to bring your own mask and hand sanitizer and practice social distancing.

Will I be able to vote in the same place as I always have?

Not necessarily. In some Massachusetts communities, voting locations are being consolidated to larger venues to encourage social distancing and to account for an expected shortage of poll workers. Check the state's online voter portal to find the polling place closest to you.

What are the key races in my state?
U.S. president
U.S. Senate: Incumbent Sen. Edward Markey (D) vs. Kevin O'Connor (R)
U.S. House: All 9 seats
State Senate: All 40 seats
State House: All 160 seats

How can I learn more about accommodations regarding voting for persons with disabilities?

The Elections Division of the Secretary of the Commonwealth of Massachusetts is committed to making voting accessible for all voters. Learn more at this link.

Voting rules and procedures may change before Election Day. We'll update this story if they do, so bookmark this page and check back.

AARP is urging older Americans to ask the candidates 5 key questions:

Just over half of all older Social Security beneficiaries rely on the program for at least 50 percent of their income. If elected, how will you ensure that current and future Social Security benefits are not cut as part of deficit reduction?
Half of the people with traditional Medicare spend at least a sixth of their income on health care. If elected, how will you protect Medicare from benefit cuts, as well as lower health care costs and ensure seniors continue receiving the affordable health care they have earned?
COVID-19 has caused death and suffering for too many older Americans who require long-term care. If elected, how will you make sure seniors can access safe and affordable long-term care at home, as well as in facilities like nursing homes and assisted living?
Also of Interest