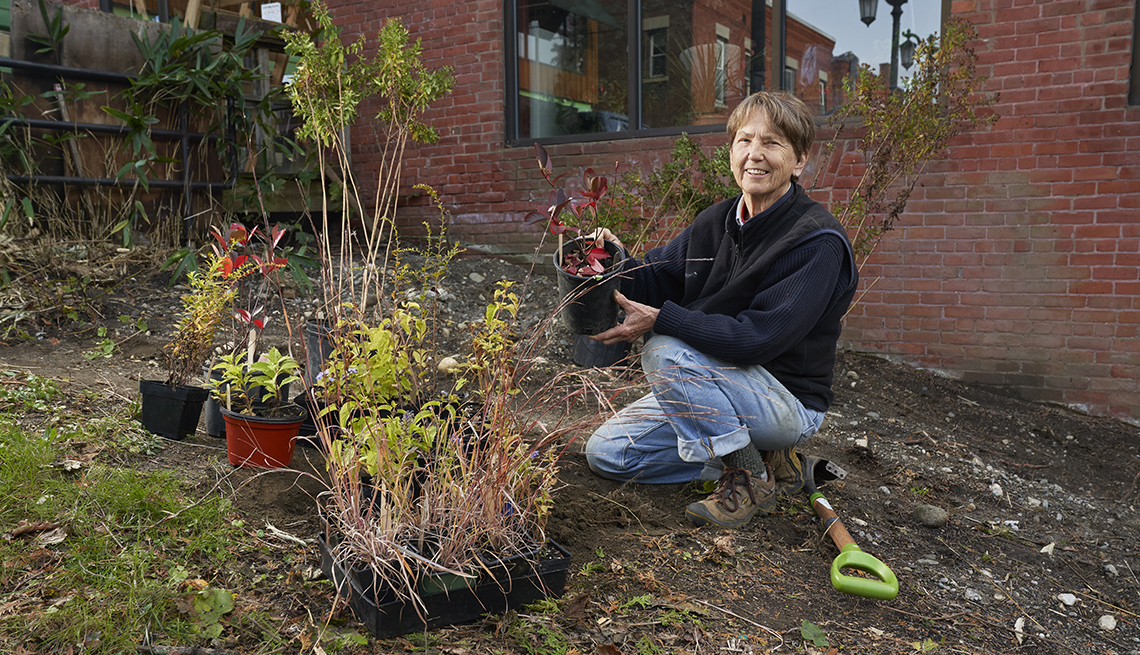 Wisty Rorabacher knows that planting even a small neighborhood garden can transform a vacant lot overgrown with weeds into a vibrant public space. That's why Rorabacher, 74, and her fellow volunteers for the nonprofit We Garden spend time in the community weeding, watering plants and chatting with neighbors.

"People see that energy and that gets things going," said the retired teacher from Greenfield. "It feeds on itself."

Now they're using their green thumbs to turn a half-acre parking lot in downtown Greenfield into a garden and small park.

City officials, working with We Garden, won a $23,000 AARP Community Challenge grant to cover engineering, construction, landscaping, supplies and signage for the project.

It's part of AARP's nationwide Community Challenge grant program that supports quick-turnaround projects that make places more livable for people of all ages.

This year more than $2.4 million in grants is funding 184 projects nationwide.

"This green space will provide a wonderful respite to anyone who is downtown," said Carole Collins, Greenfield's director of energy and sustainability. "It will be small but beautiful."

The project includes installing a bench, a chess table and a bicycle-repair station, surrounded by green space. A new rain garden with native plants will help manage stormwater runoff. The city will handle construction, and We Garden volunteers (most of them over 65) will do the planting and maintenance.

Fighting social isolation

Two other Massachusetts groups, in Beverly and Boston, received 2020 AARP Community Challenge grants.

Beverly Main Streets, an organization that advocates on behalf of small businesses downtown, was awarded $10,000 for its own gardening project.

The money will pay for 50 raised beds, soil, plants and watering cans to be distributed to older residents of the North Shore city. They will be paired with younger families, who will help plant the gardens.

"Our intention is that the seniors and their family teams will create and maintain a connection with each other," said Gin Wallace, executive director of Beverly Main Streets.

The project will not only beautify the city but also help combat social isolation, she added.

Fighting social isolation is more important than ever at a time when many older adults who are especially vulnerable to COVID-19 are staying at home, said Antron Watson, AARP Massachusetts age-friendly director.

"These projects all create opportunities for people to connect," he said.

The Dudley Street Neighborhood Initiative, which serves residents in Boston's Roxbury and North Dorchester communities, is using its $10,000 grant to create an intergenerational-
dialogue series held via Zoom.

"People can talk about what they are experiencing and how they are being affected by COVID-19" and other issues, said Enin Rudel, the initiative's operations director.

Topics include wellness and resources for the unemployed, said Rudel, who hopes the series will continue after the current crisis has passed.

Learn more at aarp.org/communitychallenge.

Jill Gambon is a writer living in West Newbury.

More on Livability
Learn more about AARP Community Challenge grants
Find out more about AARP's Livable Communities initiative

What Is a Livable Community?