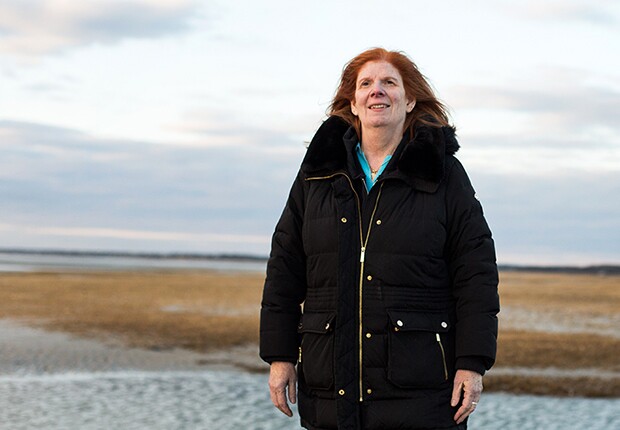 By Jill Gambon

Fran Lautenberger, a retired theater professor, doesn't mind getting up in front of strangers and talking. Looking for volunteer opportunities after moving to Cape Cod from Alaska, she signed up with AARP Massachusetts to give workshops on fraud prevention.

She liked the idea of learning something new and sharing the information with others. She went through training to master the material and now gives presentations to community groups and at libraries, senior centers and other venues.

"I'm used to giving PowerPoints, and I have no problem speaking in public," said Lautenberger, 60, who lives in Orleans. "A lot of people are victims of fraud, so it's important that people are aware of what's going on."

The presentation on fraud is one example of the expertise available through the AARP Massachusetts Speakers Bureau, which offers free workshops geared to groups of older adults.

Other topics include caregiving, financial resilience, Medicare and Medicaid, Social Security and HomeFit, which covers ways to adapt residences to help keep them safe and comfortable for people as they age.

Volunteer Beth Gray-Nix, a retired occupational therapist, said HomeFit workshops allow her to draw on her 30 years of experience while helping others.

The presentation provides a room-by-room overview of changes, such as adding grab bars in bathrooms or widening thresholds to accommodate walkers or wheelchairs. Participants also get a workbook they can take home.

"People generally have questions about what's legal, what are the costs and how can they get help," said Gray-Nix, 62, of Natick.

New Topics, More Volunteers

AARP Massachusetts has long offered workshops on several subjects. New topics like financial resilience and entrepreneurship are being added, and more volunteers are being recruited, said Cindy Campbell, communications director.

"We want to engage our volunteers in new ways, with some short, 30- or 60-minute presentations on a variety of topics," Campbell said.

Volunteers should feel at ease in front of groups and be able to learn the material and communicate it to others, said Kara Cohen, community outreach director for AARP Massachusetts. Training is provided online or in person.

An AARP staff member schedules the workshops and handles the logistics. The volunteers can lead as many or as few sessions as they like. "It's very easy on the presenter," Gray-Nix said.

Dennis Hohengasser, a retired training and staff development professional, leads about 15 workshops a year for groups of retirees. He regularly updates his presentations with the latest statistics and trends about scams.

His latest worry: the new Medicare cards being sent out to millions of older residents. Scammers may target Medicare recipients for identity theft during the transition to the new cards, he said.

"It's important for people to share information. Information is power. It's one of the most important ways to stop fraud," said Hohengasser, 68, of Taunton.

Lautenberger said she enjoys the interaction with people: "I like the energy I get and the feedback. I like to get out there, and if I think I can save one person from being taken, that's kind of nice."

To volunteer with the Speakers Bureau or to request one of the workshops, call 866-448-3621 or email ma@aarp.org. The greatest need for volunteers is in the Worcester area and western parts of the state.

Jill Gambon is a writer living in West Newbury, Mass.